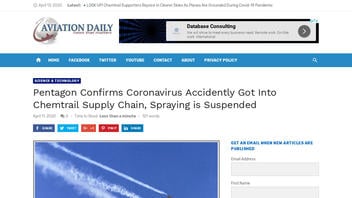 Did the Pentagon confirm that the novel coronavirus accidentally got into the chemtrail supply chain? No, that's not true: The site publishing the claim creates satirical content for aviation buffs (think The Aviation Geek Club meets The Onion). However, many people did not know it was satire and shared the post as if it were true.
The claim originated in an article (archived here) published by Aviation Daily on April 11, 2020, under the headline "Pentagon Confirms Coronavirus Accidently (sic) Got Into Chemtrail Supply Chain, Spraying is Suspended." It opened:
WASHINGTON, DC - The Pentagon has issued an indefinite hold order to all military air wings and airlines to immediately stop spraying chemtrails until it can be determined how the Covid-19 virus found its way into the chemtrail fluid supply.

According to an unofficial Pentagon source, speaking on the condition of anonymity, "The entire chemtrail program is on hold until we can figure out who coughed onto a batch of chemicals being manufactured at one of our supplier's factories."

News of this apparent confirmation that chemtrails are real spread online like a virus. FOX News reported that President Trump is considering using the spraying capabilities of the chemtrail program to immunize the entire country from Covid-19 when the vaccine is ready.
Users on social media saw this at the time of this writing:
The story is a work of fiction. The Pentagon did not confirm that the novel coronavirus accidentally found its way into condensation trails, otherwise known as chemtrails, that are left in the sky by aircraft.
Lead Stories has previously debunked suggestions that COVID-19 can be "transported" in trains, planes or automobiles. Instead, doctors and scientists say the viral respiratory illness is believed to be transmitted through person-to-person contact.
Even so, this story originated from a site that creates aviation-themed satire. Here is the strangely worded "About" page that mentions this (Lead Stories has added emphasis):
This site was founded by veteran pilots who saw two major trends on a collision course. On one hand, the founders saw that what we called "websites" were in fact becoming online applications: locations that were complex, distributed, and broad in scope of functionality. On the other hand, they saw that advancing mobile technology was leading end users to access these applications on new and different devices in addition to, and even in place of, their PCs.

Today, online businesses struggle to provide optimal digital experiences that make people laugh thanks to the continuing rise in complexity of apps and the requirement to deliver them to smaller and slower devices. As a result, end users' expectations for online experiences now far outstrip the reality of what is delivered to them. This site publishes satire; if you don't have a sense of humor that is unfortunate. We call this discrepancy the "experience of fact checking gap."

Our mission is to help aviators enjoy the experience of the Internet with an intelligent platform that puts a smile on their faces across all devices.
The page on which the story appears did not label the story as satire, though, and hundreds of people have shared it on Facebook. Some people realized it was satirical, but not everyone who shared it got the joke.