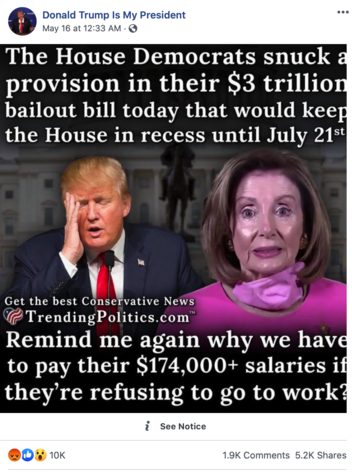 Did House Democrats sneak into their $3 trillion stimulus bill tied to coronavirus relief a recess that would keep them out of having to work -- but with fully pay -- until July 21? No, that is not true. HR 6800, which passed the House on May 15, 2020, does not contain the word "recess." Speaker Nancy Pelosi would not need legislation to send her members on a two-month recess. It could be done simply by passage of a motion.
The claim has been widely shared in a meme, including on Facebook post on the Trending Politics Facebook page, and in a post (archived here) on the President Donald Trump Is My President fan page on May 16, 2020. it read:
The House Democrats snuck a provision in their $3 trillion bailout bill today that would keep the House in recess until July 21st. Remind me again why we have to pay their $174,000+ salaries if they're refusing to go to work?
This is what the post looked like on Facebook at the time of writing:
Here is a screenshot of the post: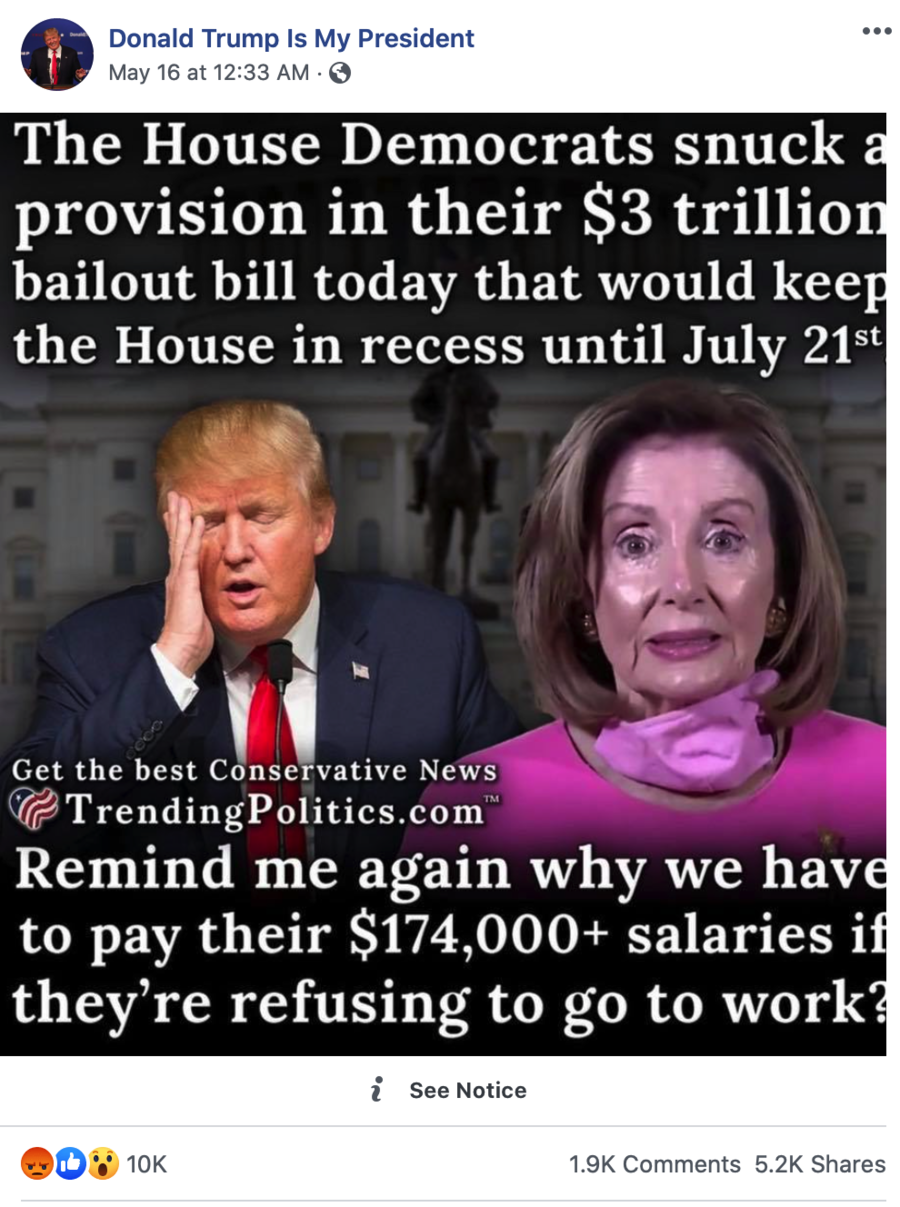 This is just not true, and the claim has already been debunked by USA Today on May 17. No recess provision is allowed for in HR 6800, and there is no refusal to work. The bill, in fact, is aimed to keep them working.
And even while Trending Politics issued a "correction" on its page, acknowledging that "The recess language was not in the stimulus bill itself," which is called the HEROES ACT, the Facebook page says it "was included in measure HR 967." But the word "recess" also doesn't appear in House Resolution 967, introduced on May 14 -- a day before the vote on the $3 trillion relief bill.
On the summary page and full read-out of the HEROES ACT -- Health and Economic Recovery Omnibus Emergency Solutions Act -- which was first introduced May 12, "recess" is not mentioned. Here is the summary of what's provided for in the act.
Health and Economic Recovery Omnibus Emergency Solutions Act or the HEROES Act

This bill responds to the COVID-19 (i.e., coronavirus disease 2019) outbreak and its impact on the economy, public health, state and local governments, individuals, and businesses.

Among other things, the bill

provides FY2020 emergency supplemental appropriations to federal agencies;
provides payments and other assistance to state, local, tribal, and territorial governments;
provides additional direct payments of up to $1,200 per individual;
expands paid sick days, family and medical leave, unemployment compensation, nutrition and food assistance programs, housing assistance, and payments to farmers;
modifies and expands the Paycheck Protection Program, which provides loans and grants to small businesses and nonprofit organizations;
establishes a fund to award grants for employers to provide pandemic premium pay for essential workers;
expands several tax credits and deductions;
provides funding and establishes requirements for COVID-19 testing and contact tracing;
eliminates cost-sharing for COVID-19 treatments;
extends and expands the moratorium on certain evictions and foreclosures; and
requires employers to develop and implement infectious disease exposure control plans.

The bill also modifies or expands a wide range of other programs and policies, including those regarding

Medicare and Medicaid,
health insurance,
broadband service,
medical product supplies,
immigration,
student loans and financial aid,
the federal workforce,
prisons,
veterans benefits,
consumer protection requirements,
the U.S. Postal Service,
federal elections,
aviation and railroad workers, and
pension and retirement plans.
The bill's spending was broken down by the Washington Post on May 15 this way:
The 1,800-page legislation contains a large number of provisions: nearly $1 trillion for state, local and tribal governments; another round of direct payments to individuals, up to $6,000 per family, including to unauthorized immigrants; $200 billion for hazard pay for essential workers; $75 billion for coronavirus testing and tracing; increased spending on food stamps; $175 billion in housing support; student loan forgiveness; and a new employee retention tax credit and extension of unemployment benefits...

It also includes measures less directly related to the economic impact of the coronavirus crisis. It would require all voters to be able to vote by mail beginning this November and temporarily repeal a provision from the 2017 GOP tax law that limited a federal deduction for state and local taxes, something that would largely help higher-income areas. The legislation would provide $25 billion for the U.S. Postal Service, spending President Trump has vociferously opposed as he has pressured the agency to charge higher rates to Amazon and others.

"The bill is simply a Democratic agenda masquerading as a response to the coronavirus pandemic," said Rep. Tom Cole (R-Okla.). "The bill will go nowhere and go there fast. ... Why we're going through this exercise rather than negotiating in a bipartisan manner is beyond my understanding."
HR 967, which does provide for "adjournment" at any time by the House Rules Committee Chair James McGovern, a Massachusetts Democrat, was to provide for remote voting by proxy during the health crisis. The summary of the resolution is here:
Sets forth the rule for consideration of the resolution (H. Res. 965) authorizing remote voting by proxy in the House of Representatives and providing for official remote committee proceedings during a public health emergency due to a novel coronavirus, and for other purposes; providing for consideration of the bill (H.R. 6800) making emergency supplemental appropriations for the fiscal year ending September 30, 2020, and for other purposes; providing for proceedings during the period from May 19, 2020, through July 21, 2020.
Here is what The New York Times reported on May 15 about the HEROES Act:
A divided House on Friday narrowly passed a $3 trillion pandemic relief package to send aid to struggling state and local governments and another round of direct $1,200 payments to taxpayers, advancing a proposal with little chance of becoming law over near-unanimous Republican opposition.

As retail sales plunged and jobless claims mounted, the prospect of more aid from Washington remained uncertain. Democratic leaders characterized the $3 trillion measure, which President Trump has promised to veto, as their opening offer in future negotiations over the next round of coronavirus aid, forging ahead in passing it even amid rifts within their own ranks.

With nearly $1 trillion in aid to battered states, cities and Native American tribes, and another round of bolstered jobless benefits and direct government payments to Americans, the measure was an expansive sequel to the $2.2 trillion stimulus enacted in March, reflecting Democrats' desire to push for a quick and aggressive new round of help.

Mr. Trump and Republicans have vacillated about whether they would commit to another phase of federal assistance, and have made it clear they are in no rush to provide it.

The bill passed on a tight margin, 208-199, as some moderate Democrats from conservative-leaning districts rejected it as a costly overreach that included provisions unrelated to the pandemic.
The bill is aimed to help Americans during the worst economic downturn since the Great Depression. But there is, again, no use of the word, or provision for, "recess" until July 21. And while adjournment is used in HR 967 by the committee chair, there is no implication that work would be adjourned until July 21. Rather, it appears worded to keep operations running as normal as possible during the crisis as people work remotely.
Here is how the Times covered HR 967:
The House voted on Friday to begin allowing lawmakers to vote remotely using proxies and for committees to meet via online conferences, changing its rules to allow Congress for the first time in the chamber's 231-year history to meet without its members physically being together.

For an institution steeped in tradition and precedent, the changes were a reflection of the profound ways in which the coronavirus pandemic is reshaping American life. The party-line vote was 217-189, with Republicans unanimously opposing a change they called a power grab by the majority.

The new rules will allow a member to vote remotely by providing precise instructions to a proxy who is able to be present on the House floor. The vote also paved the way for House members to cast votes remotely using technology in the future, but only after a feasibility study is conducted to ensure that such a system could operate securely.

Democratic leaders said they hoped the new rules would allow the chamber, which has mostly been sidelined by the virus since March, to begin conducting more rigorous oversight of the Trump administration's pandemic response and restart the legislative process on spending and defense bills even as lawmakers remain scattered across the country.
So, not only is the meme wrong, but the Trending Politics' correction is off as well.
Here is the full text of Trending Politics' correction:
CORRECTION: The recess language was not in the stimulus bill itself, but was included in measure HR 967.
The measure states the House 'could' stay in recess until July 21st, not that it absolutely 'would'.
That means the language of 'refusing to go to work' was inaccurate in this specific meme.
The correction quotes the word "could" in reference to staying in recess until July 21. But that word, just like "recess," does not appear in the language of HR 967.