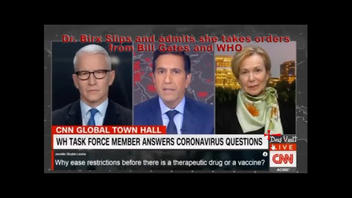 Did Dr. Deborah Birx, the coronavirus response coordinator for the White House, have "a Freudian slip" and acknowledge that she actually works for billionaire philanthropist Bill Gates and the World Health Organization? No, that is not true: Birx, who appeared on CNN in April, did say the word "gates," but that was in reference to markers used for states to go through for certain processes, including testing and contact-tracing, for the novel coronavirus. She did not utter Gates' name, nor did she reference WHO during the town hall.
The claim is made in a video (archived here) posted to YouTube on April 22, 2020, titled, "Dr Birx Slips and admits she works for Gates and WHO". The text on the YouTube page reads:
Durin a CNN interview Dr. Birx has a Freudian slip and almost accidentally admits that she takes her orders from Bill Gates and the WHO"
Click below to watch the video on YouTube:
On the 40-second YouTube video, posted by The Deus Vault, a text overlay reads across the top, quoting a question by CNN Chief Medical Correspondent Dr. Sanjay Gupta: "Do we have enough infrastructure to contact trace the way that we need to?"
Birx is then quoted as saying: "I think that's why the criteria that you can see the Gates-- that the federal government has recommended."
That is wrong. First, she didn't say "Bill Gates," and she was using the lingo of the administration with "gates," or markers, that need to be met for increased contact tracing by states.
Our review of the original video on CNN.com reveals this is what Dr. Birx said: "I think that's why the criteria that you can see, the gates, uh, that, that the federal government has recommended."
The video still below shows the video's claim: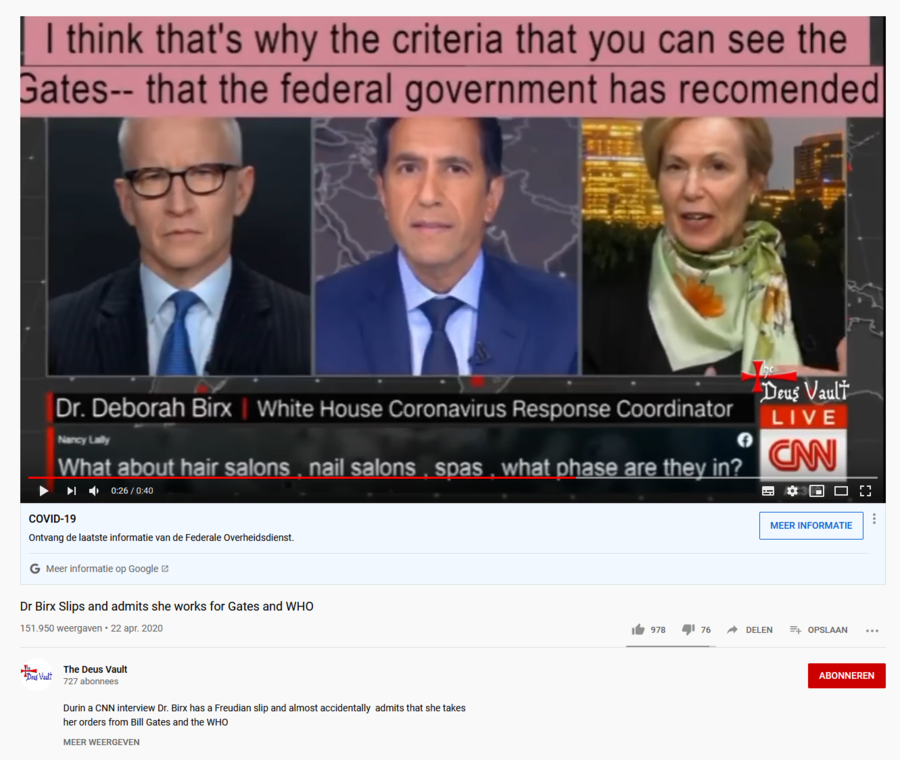 Here is the original April 16 CNN town hall with Birx, Gupta and CNN's Anderson Cooper. The exchange referenced is just two minutes into the video:
And here is a link to the town hall transcript, which is a first draft and does not contain the word "gates" nor the name "Gates."
Conspiracists have tried during the months of the COVID-19 pandemic to cast Gates, the co-founder of Microsoft who has given $300 million to fight the coronavirus, as some villainous person out to control humanity and depopulate the globe through controlling the virus and disease, using microchips implanted in people to track their health and other data -- and manipulate immune systems -- as well as forcing everyone to be vaccinated.
All of the claims about Gates -- as well as Birx supposedly admitting to working for him -- are false. They have been debunked in the past. Here is a list of some of our stories about Gates' alleged conspiracies to dominate the world and do evil to its population:
Fact Check: Italian Government Did NOT Call For Arrest Of Bill Gates On Charges Of 'Crimes Against Humanity'
Fact Check: Video Does NOT Reveal That Coronavirus Vaccine Was Patented By Bill Gates In 2006
Fact Check: Bill Gates, WHO & World Bank NOT 'Trumped' By President Amid Coronavirus
Fact Check: Bill & Melinda Gates Foundation HQ Does NOT Read 'Center for Global Human Population Reduction'
Fact Check: No Proof Is U.S. Planning to Force Vaccinations With Bill Gates Amid Coronavirus
Fact Check: Fact And Fiction About Microsoft Patent Application 'WO2020060606 - CRYPTOCURRENCY SYSTEM USING BODY ACTIVITY DATA'
Fact Check: 496,000 Children In India Were NOT Paralyzed From 'Bill Gates Polio Vaccine' From 2000-2017
Fact Check: Bill Gates CANNOT Prescribe Drugs, And 'Dr. Sebi' Was Barred From Practicing In Some States
Fact Check: India Is NOT Suing Bill Gates For Vaccination Deaths
Fact Check: No 'Deep State' Operators Trying To Ban Hydroxychloroquine
Fact Check: Bill Gates Does NOT Have Access To Your DNA And Does NOT Have Ownership In WHO
Fact Check: Bill Gates Did NOT Write Open Letter Saying COVID-19 Reminds 'We Are All Equal'
Fact Check: NO Plan By Bill Gates And The Vatican To Depopulate World With Coronavirus Vaccine; Video Misinterprets Gates' Speech
Fake News: Bill Gates Did NOT Help Fund Patent For Coronavirus
Fake News: 'High-Level Exercise' Conducted 3 Months Ago Did NOT Show That A Coronavirus Pandemic Could Kill 65 Million People
Fake News: Bill Gates Did NOT Admit Vaccinations Are Intended To Reduce Population
Fake News: Melinda Gates Did NOT Say We Must Discriminate Against All White People
Fake News: Former Bill Gates Doctor Did NOT Say Billionaire Refused To Vaccinate His Children