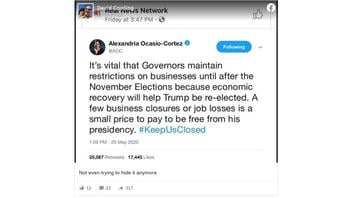 Did Rep. Alexandria Ocasio-Cortez tweet that governors should keep businesses closed in an effort to hinder Donald Trump's reelection effort? No, that's not true: This is a fake tweet. It does not appear in the archives of Ocasio-Cortez tweets or the archive deleted tweets. The New York congresswoman never posted it.
The claim appeared in post (archived here) shared on June 22, 2020. The fabricated tweet was purportedly from May 20, 2020. It reads:
It's vital that Governors maintain restrictions on businesses until after the November Elections because economic recovery will help Trump be re-elected. A few business closures or job losses is a small price to pay to be free from his presidency. #KeepUsClosed
This is what the post looked like on Facebook at the time of writing:
(Source: Facebook screenshot taken on Tue Jun 23 16:05:46 2020 UTC)
Ocasio-Cortez does not currently have any tweets from May 20, 2020, that resemble the one above. There is also no evidence that Ocasio-Cortez tweeted this statement and later deleted it, according to ProPublica's project, Politiwoops, that archives public officials' deleted tweets.
The tweet also features the number of likes and retweets at the bottom of the image that are out of step with Twitter's usual formatting. Here they are as they appear in the fake tweet:

According to Twitter's usual formatting, the numbers should read: 25K Retweets 17.4K Likes.
By all indications, this is a fabricated tweet.