STORY UPDATED: check for updates below.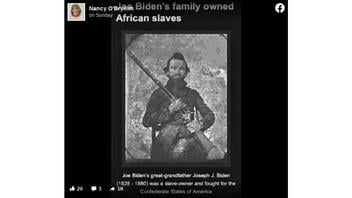 Did Joe Biden's Great-Grandfather Biden own slaves and fight for the Confederacy? No, there is no evidence that either is true. The former vice president's Great-Grandfather Biden was not born until 1867, two years after the end of the U.S. Civil War. His father Joseph Biden -- the presumptive Democratic presidential nominee's great-great-grandfather -- lived in Maryland, a Union state, his whole life and there is no record in the database of Confederate or Union soldiers of his having served. Maryland was a slavery state, but there is no record in the Maryland slave holder database of him owning slaves. The maternal side of Biden's family immigrated from Ireland to Pennsylvania, where slavery was outlawed, just a decade before the war. The photo purportedly showing the elder Biden as a rebel soldier is traced to a webpage about a Mississippi regiment.
Update: There are documents supporting the claim that one of Biden's 16 great-great-great-grandfathers, who was born in 1776 on the paternal side of his family tree, owned slaves, and one of those slaves was inherited by a great-great-grandfather when he was a child. Details can be found below.
The claim can be found in a post (archived here) shared on Facebook on June 21, 2020. The post is a meme featuring a monochrome photo of a soldier with a rifle. The text reads:
Joe Biden's family owned African slaves... Joe Biden's great-grandfather Joseph J. Biden (1828-1880) was a slave-owner and fought for the Confederate States of America.
This is what the post looked like on Facebook at the time of writing:
(Source: Facebook screenshot taken on Tue Jun 23 19:35:23 2020 UTC)
Here is a screenshot of the meme: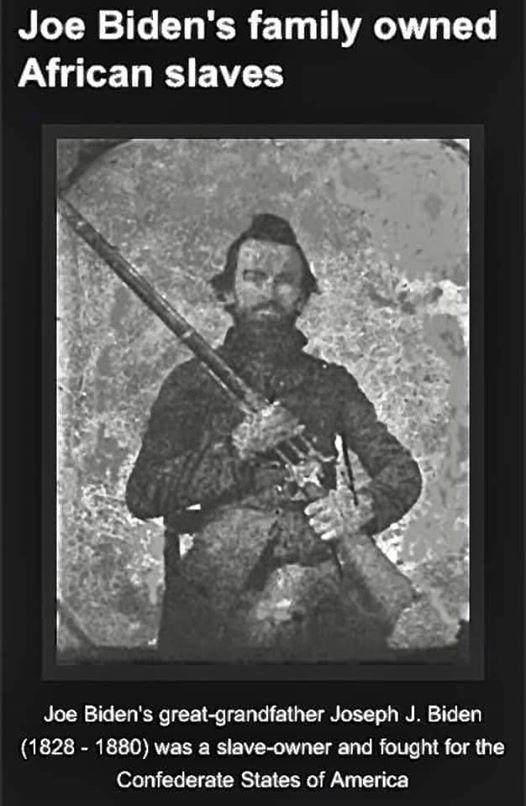 The earliest version of the claim appeared in a blog named TRUTH FIRST posted on August 28, 2008, soon after Barack Obama chose the Delaware senator to be his vice presidential running mate. The TRUTH FIRST entry gave no supporting evidence of the slave-owner and Confederacy claims.
But the photo also appeared in an online history article about a Mississippi regiment, apparently The 2nd Mississippi of Evander Law's Brigade.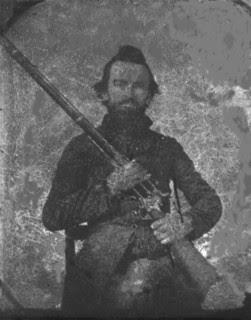 The article does not identify the solider in the picture, nor does it mention "Biden" anywhere.
Another Facebook post from June 22 is found here, on the page "NEVER Another Democrat EVER:" It went further, reading:
Joe Biden's family owned African slaves - TRUE...
FACT - Joe Biden's family owned African slaves. Joe Biden's great-grandfather Joseph J. Biden (1828 - 1880) was a slave-owner and fought for the Confederate States of America
In 1975, Biden scoffed at the idea of the country needing to address slavery and its legacy, stating, "I don't feel responsible for the sins of my father and grandfather. I feel responsible for what the situation is today, for the sins of my own generation. And I'll be damned if I feel responsible to pay for what happened 300 years ago." So go ahead BLM do what you do best...attack this slave owner family!
The claim also appeared in an Instagram post from June 23, 2020, found here that looked like this:
There is no evidence that Biden's family ever fought on the side of Confederates. In fact, a search of a database of Civil War soldiers makes no mention of a Joseph J. Biden. In this article on Medium from February 16 about Biden's mother's side of the family, there is also no mention of slavery or the Confederacy. Nor does this piece on the presidential candidate from Biography.com. And neither does a profile of Biden in the Baltimore Sun from 2008.
And last, a database of slave owners here shows no record of a Joseph J. Biden holding slaves in Maryland, where Biden's family lived.
Here, in fact, appears to be the actual obit for Joseph Biden from the Baltimore American and Commercial Appeal in 1895: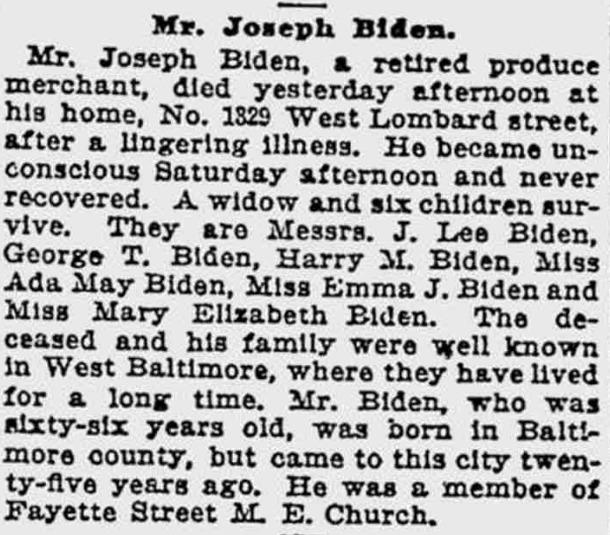 Note that the date of death is different -- 1895 versus 1880 -- from the meme. Also, according to this site, his great-great grandfather was Joseph J. Biden and died in 1895.
Another claim emerged on social media regarding slave ownership on the paternal side of Biden's family tree. Lead Stories reviewed the documents published with the claim and concluded that there is evidence that his Great-Great-Great-Grandfather Jesse Robinette, who was born in 1776 and died in 1832, did own slaves. While this 188-year-old probate document is hard to read, it does appear to outline the distribution of those slaves to his widow and children -- including a reference to "(a minor) boy Joshua valued at six hundred dollars" left to "Moses J Robinette," who was about 13 years old at the time. Moses Robinette is one of Biden's eight great great grandfathers. There was no documentation that he retained ownership of Joshua.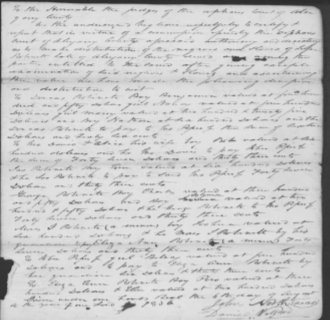 This image was included a pdf document (view it here) examining Biden's paternal family tree.
While the 18th and early 19th century Robinette ancestors apparently profited from owning slaves, there is evidence that Biden's great-grandfather George Hamilton Robinette was not pro-slavery. He joined the Union Army as a soldier when he was 18 in 1862, as evidenced in this document: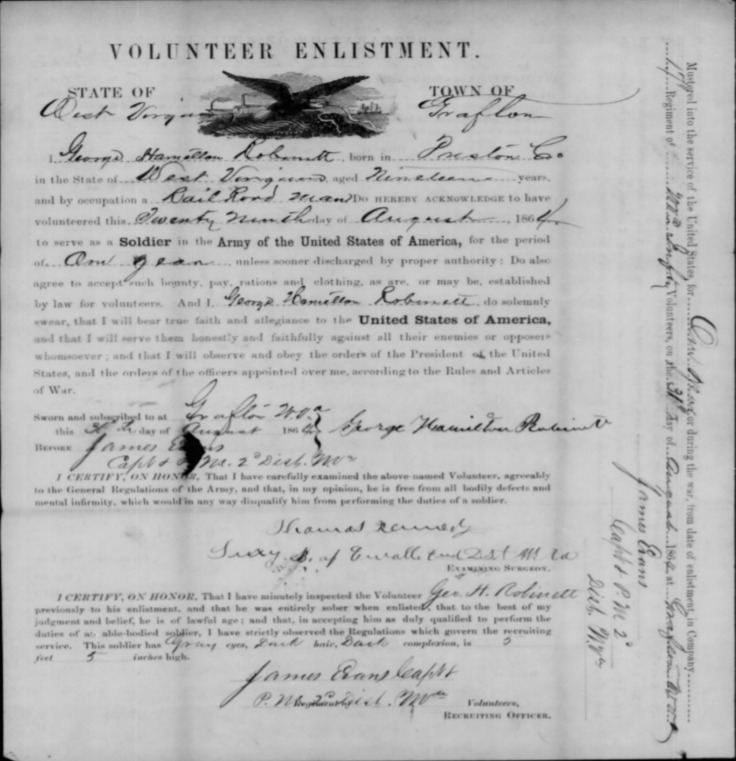 His service for the North in the Civil War, which brought an end to slavery, earned Robinette and his wife a soldier's pension, as documented in this image: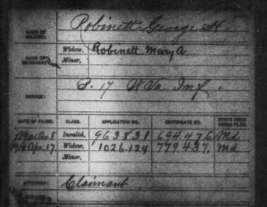 2020-10-21T15:49:29Z

2020-10-21T15:49:29Z

Documents support the claim one of Biden's 16 great-great-great-grandfathers on the paternal side of his family tree owned slaves