STORY UPDATED: check for updates below.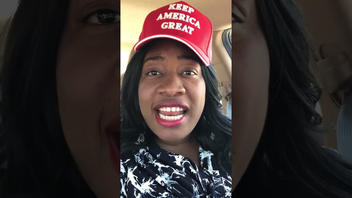 Is George Floyd alive and was video of him dying under the knee of a Minneapolis police officer faked? No, that's not true: Two autopsies -- one by a medical examiner, and a second private examination -- confirmed that Floyd is dead. Video recorded from various sources and angles showed Floyd suffering injuries that led to his death. Claims to the contrary by a Republican congressional candidate in Missouri offered no evidence.
The claims were made in a video (archived here) posted here on YouTube on June 3, 2020, under the title "Dr Winnie Heartstrong claims George Floyd IS ALIVE and the video is FAKED. History is the conspiracy." The video opened:
I'm Dr. Wendy Heartstrong. I'm running for Congress to represent Missouri, and I was born in Minneapolis. This hospital where George Floyd supposedly took his last breath is where I took my first breath so I'm very concerned about what's happening right now in my home state. I wanted to ask a few questions, and the thesis of what I have to say today is George Floyd is alive. Prove me wrong."
YouTube and Facebook have deleted the video from their platforms for violating community standards, but copies have been reappearing.
Here is a screenshot of what it looked like: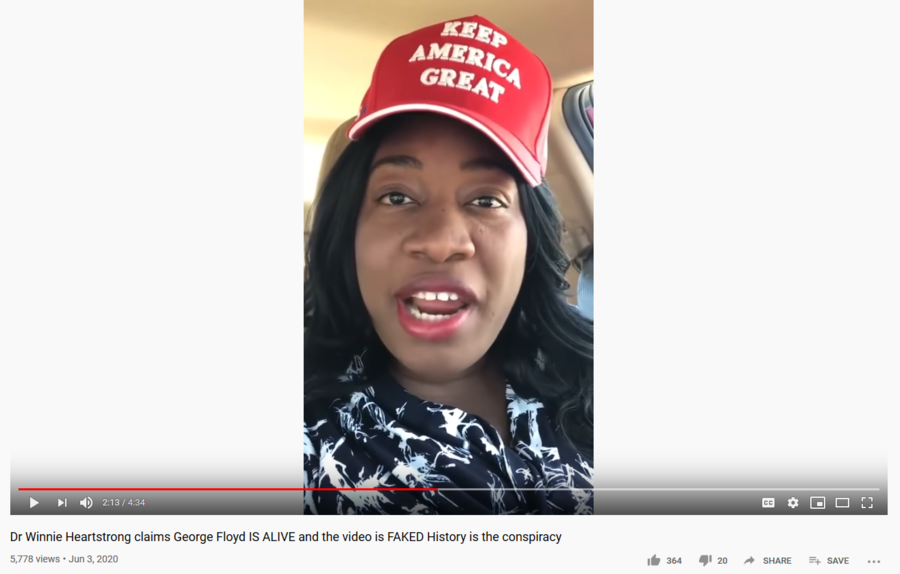 Heartstrong, originally from Minneapolis but running for the U.S. House in Missouri's 1st Congressional District, made her claims in a four-and-a-half-minute video recorded in a car as she wore a red "Keep America Great" hat. She said the "thesis" of her video was "George Floyd is alive. Prove me wrong." Heartstrong, who recently changed her name from Nma Winnie Obike, earned a Ph.D. in communications from the University of Maryland in 2019. She said she was "part of the MAGA movement," a reference to President Donald Trump's "Make America Great Again" campaign slogan.
I am part of the MAGA movement. There's a concerted effort to quash the MAGA movement, but that's not going to happen because there's a worldwide awakening and people around the world are waking up.
In the video, she implores black Americans to "wake up and stop being so emotional [and] stop crying" over Floyd, whom she suggested could have been a homeless man, drugged, then killed. She also claims that the autopsies could have been performed on the wrong person.
Her first point was to question the very existence of George Floyd:
George Floyd supposedly is being choked to death and he's crying out for his mom. We haven't heard anything about the mom. We haven't seen a family photo. We haven't seen any evidence of them together as a cohesive unit. Floyd might be a fake name for all we know. What I know for sure is that there's a Floyd's in south Minneapolis that's a hotspot, a gathering place for African Americans in that city and it's a barbershop. So, if I was going to murder the psyche of a people, I would give him a Floyd name, John Floyd, George Floyd.
The claim that there are no photos of Floyd with his mother is disproven by this picture in Time magazine from June 4, 2020, showing a young George Floyd with his mother, Larcenia: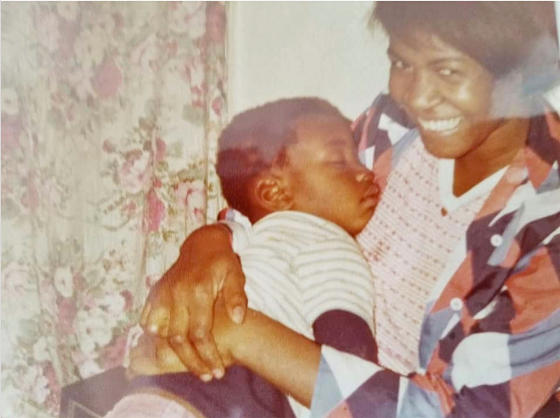 Yes, there is a Floyd's Barbershop in Minneapolis. In fact, there are two. They are part of the a national franchise that includes 125 Floyd's Barbershops around the United States. But they are not known as "a hotspot, a gathering place for African Americans." In fact, the company was started by three white brothers from Denver as "a rock n' roll-themed barbershop for men and women," according to the company website.
Heartstrong's next claim in that the police officer seen in the video with his knee on Floyd's neck is a fake:
The person that has been booked now, the photo of this Chauvin officer, is not the same person in the video who is strangling him. There are cameras from around the world gathered right now in Minneapolis and there is no video evidence of this guy being arrested. So, we're supposed to believe that the person who is in jail right now is the person we've seen in the video?
She did not explain why the conspirators who she alleged produced the fake video could not have used the same actor to pose for a mugshot. The two images do appear to be the same man: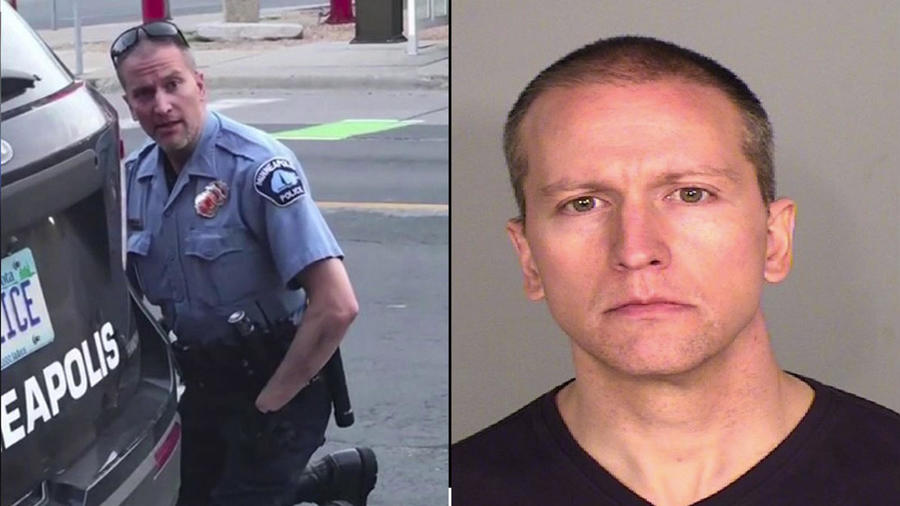 The video host next made a series of claims to support her contention that the video was staged:
Even in the video, you see behind the officer that the gas prices that are listed, those aren't coronavirus gas prices. Where I'm at gas prices are, you know, much cheaper than that. Ok, we see that the numbers on the police cars are changing. One car has one number, when the video changes angles it's a different number. So, what's happening here? We see that the officer's badge is all crooked and he's not even really matching his colleague. They don't have the same police badge. So what is really going on here? If the cabal was able to present a body double for the Kennedy assassinations, who's to say that George Floyd isn't 10 different people at this point.
Let's address these points one by one.
First the gas prices:
There is a Speedway gas station across the street from the death scene and one camera -- a park police officer's bodycam does show a brief view of a sign that shows the gas price at 8:14 p.m. local time.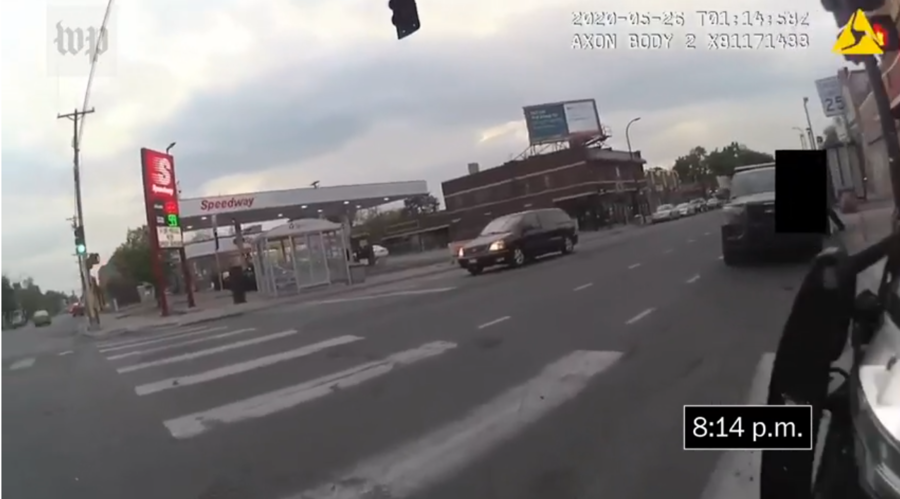 The sign is not clear, but the red numbers that display the price of a regular gallon of gas appears to show either $1.69 or $1.99. While no one answered the phone at this location, the clerk at a Speedway gas station three miles to the west told Lead Stories that the price at that store was $1.69 a gallon on May 25, 2020.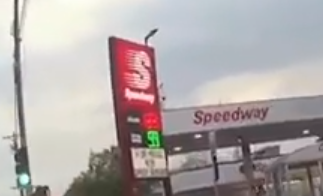 The Minneapolis Star-Tribune reported in a story titled Gas prices slip below $1 a gallon at some Minnesota gas stations on April 1, 2020, that gas prices were even lower eight weeks earlier:
This is not a cruel April Fools' Day joke. A gallon of gas on Wednesday morning was going for less than $1 at a few Minnesota gas stations, and prices at some stations in the metro had dropped to $1.06.

Analysts say the lowest gas prices in nearly two decades have been brought on as the demand for oil has dropped precipitously as lockdowns such as Minnesota's "Stay at Home" directive to combat the coronavirus pandemic has kept drivers off the roads.
If you take a look at the same gas station on Google Street View and zoom in on the sign you can clearly see the green 99 cents price is actually for a cup of coffee: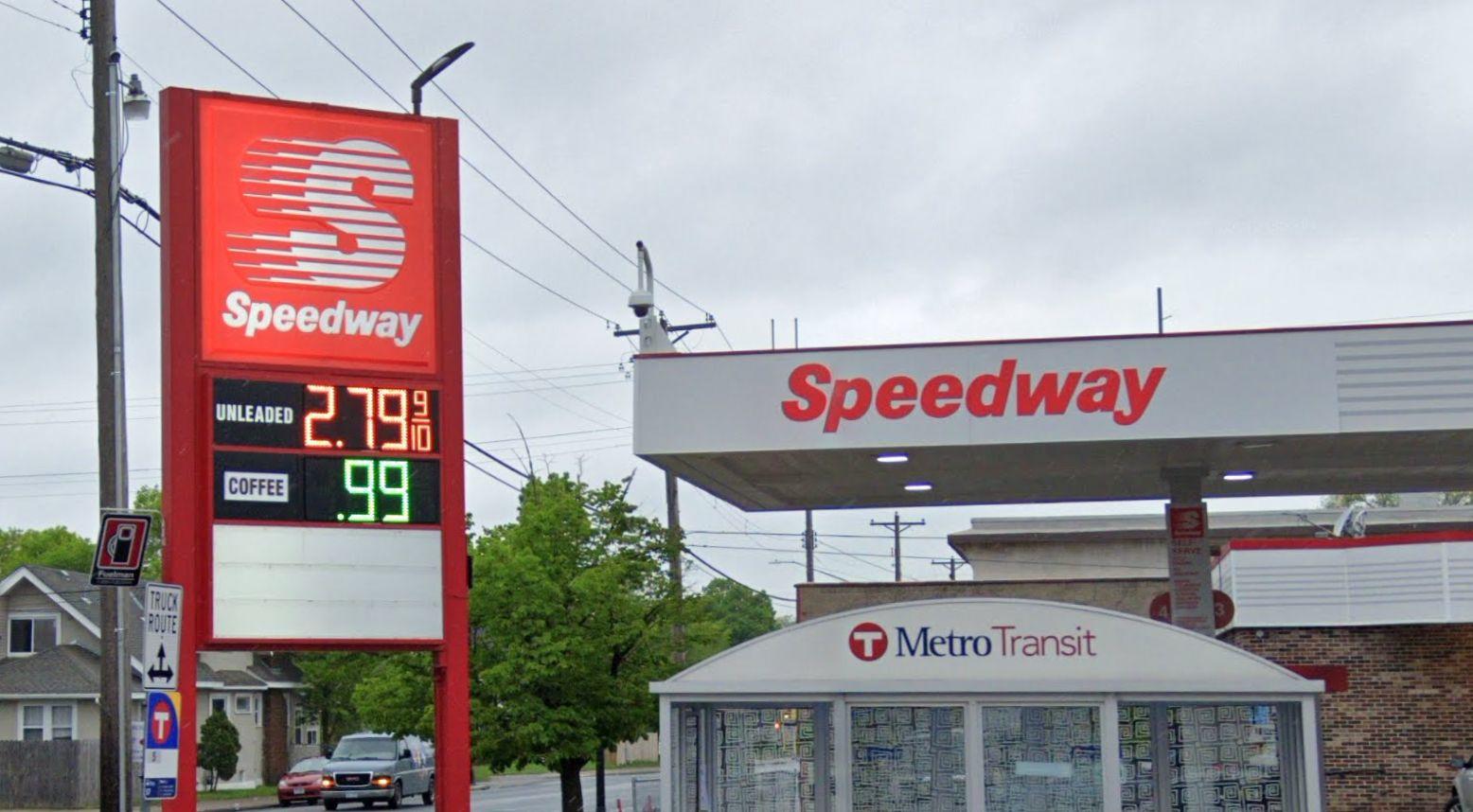 Next, the "changing numbers" on the police car: review of the footage simply shows multiple cars being present, each with a different number, as you can see in this video compilation from The New York Times that reconstructs which car arrives when: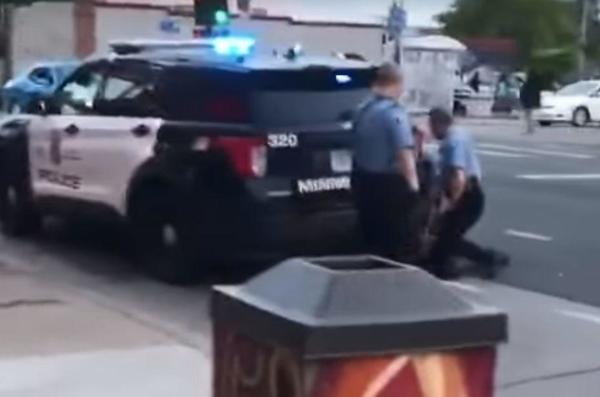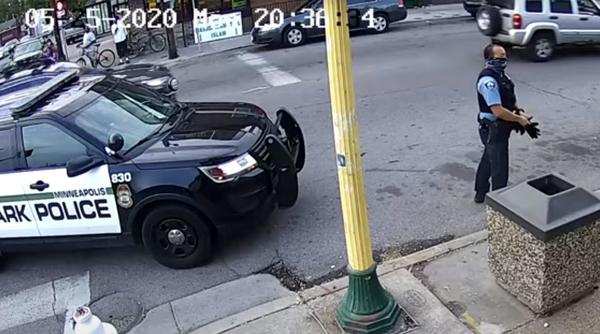 Third, the crooked badge.
A crooked badge does not seem to be a clue of a conspiracy, just a sign the officer maybe is preoccupied with something other than his badge. All of the officers appear to be wearing similar badges. And would it be so out of the ordinary for a uniform badge to go a bit off-kilter after being involved in a struggle? The video does show Chauvin pulling Floyd out of the police car and wrestling him to the ground only seconds earlier.
As for a cabal killing President Kennedy and using body doubles, we will save that for another debunking day.
The Washington Post closely examined another video of the incident captured by a security camera across the street:
The fact is that Floyd, 46, is dead, murdered, according to prosecutors, during a May 25 arrest attempt, where officers, including fired Derek Chauvin, pin him to the ground for eight minutes and 46 seconds during a videoed incident that sparked national and global protests against police brutality. Of particular concern to protestors was the killing of blacks at the hands of police -- an occurrence that happens far more often against African Americans than against whites or other races or ethnicities.
Chauvin, on June 3, 2020, had his original third-degree murder charge elevated to second-degree murder in Floyd's death. Three other officers were also charged the same day, June 3, with abetting murder, according to reports everywhere in the media -- and according to official documents here and here.
As for Floyd and Chauvin, she says:
George Floyd is probably somewhere enjoying his rich reward, and so is this officer."
She ends the video, again with no evidence, by saying, "George Floyd is alive, America. Prove me wrong."
2020-06-05T15:17:54Z

2020-06-05T15:17:54Z

Added price of gas info in the area for May 25, 2020

2020-06-05T09:12:14Z

2020-06-05T09:12:14Z

Added Google Street view photo & photos of the various police cars.