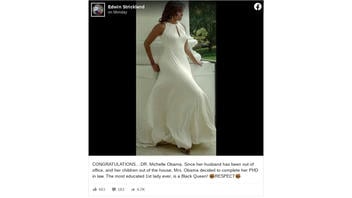 Did Michelle Obama complete a "PhD in law" since leaving the White House? No, that's not true. The former first lady holds a Juris Doctor from Harvard Law School, but her office confirmed to Lead Stories that she has not gone back to school to earn a PhD degree in any area.
The claim appeared as a post (archived here) shared on Facebook on June 22, 2020. It read:
CONGRATULATIONS....DR. Michelle Obama. Since her husband has been out of office, and her children out of the house, Mrs. Obama decided to complete her PHD in law. The most educated 1st lady ever, is a Black Queen! ✊🏾RESPECT✊🏾
This is what the post looked like on Facebook at the time of writing:
(Source: Facebook screenshot taken on Fri Jun 26 15:45:53 2020 UTC)
Michelle, 56, graduated cum laude from Princeton University in 1985 and earned her J.D. from Harvard Law in 1988. She is the third first lady to have a post-graduate degree - following Hillary Clinton and Laura Bush.
Obama's office confirmed to Lead Stories that she did not earn her PhD in law since leaving the White House in 2017.
Since leaving the White House she has remained in the public eye. Obama released her best-selling memoir "Becoming" in November 2018 which sold 10 million copies in five months.
She also starred in a Netflix documentary based on her book and life that was released in May 2020.
Michelle's husband Barack graduated magna cum laude from Harvard law in 1991.
Obama's most recent interview was with Harper's Bazaar magazine on June 22, 2020, telling Shondra Rimes how she is working to make voting safe and accessible amid the election year COVID-19 outbreak.
MO: Nobody should have to choose between their health and making their voice heard. We all deserve safe ways to register and vote, which is why my nonpartisan When We All Vote initiative is working overtime to ramp up efforts to expand access to vote by mail, early in-person voting, and online voter registration. People shouldn't have to endanger themselves or their families to participate in our democracy, especially when the public health risks can be so easily avoided and an election can still run smoothly and fairly. And as we've seen for years, options like voting by mail and early in-person voting help make voting easier for Americans of all walks of life.