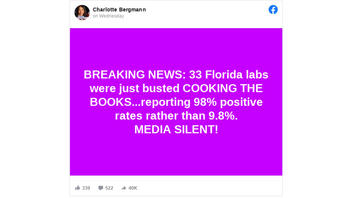 Did 33 Florida labs just get busted for "cooking the books" on coronavirus testing, and is the media silent on the story? No, that's not true: There have been some mistakes with how results are reported in Florida, but there is no evidence to suggest that any lab is intentionally manipulating data. Local media has covered the story from the start.
The claim appeared as a meme (archived here) on Facebook on July 15, 2020. It read:
BREAKING NEWS: 33 Florida labs were just busted COOKING THE BOOKS...reporting 98% positive rates rather than 9.8%. MEDIA SILENT!
This is what the post looked like at the time of writing:
(Source: Facebook screenshot taken on Fri Jul 17 14:57:18 2020 UTC)
The meme cited no sourcing for its claim nor did it offer anything to substantiate the numbers used in the claim.
The meme does not specify which labs it's talking about.
There has been a recent controversy around how COVID-19 test results were reported in Florida -- including some small labs that were not including negative results in their reporting, according to the state health department -- and, in particular, how the results from Orlando Health, a Florida-based hospital and medical group, were reported.
FOX 35, a station in Orlando, did a story saying that some labs had reported a "100% positivity rate," meaning that every person who was tested, tested positive for COVID-19, while other labs reported "very high positivity rates." The report read:
How could that be? FOX 35 News investigated these astronomical numbers, contacting every local location mentioned in the report. The report showed that Orlando Health had a 98 percent positivity rate. However, when FOX 35 News contacted the hospital, they confirmed errors in the report. Orlando Health's positivity rate is only 9.4 percent, not 98 percent as in the report.
Various media outlets, including the Orlando Sentinel and PolitiFact, a fact-checking group run by the Poynter Institute in St. Petersburg, Florida, followed up on the FOX 35 report.
Orlando Health spokeswoman Kena Lewis told PolitiFact that there was confusion over how the Department of Health reported results. She provided data showing the positive rate for the Orlando Health system was only 10%. (It was 9.4% as of July 12, she said, according to PolitiFact.) Another spokeswoman for Orlando Health, Alayna Curry, told the Orlando Sentinel:
There appears to be an error with Orlando Health's number on that report ... We're looking into how this happened.
The Florida Department of Health released a statement saying that some small labs had failed to report negative test results. According to the Sun Sentinel, the statement read:
In recent days, the Florida Department of Health noticed that some smaller, private labs weren't reporting negative test result data to the state. The Department immediately began working with those labs to ensure that all results were being reported in order to provide comprehensive and transparent data. As the state continues to receive results from various labs, the Department will continue educating these labs on proper protocol for reporting COVID-19 test results.
The newspaper also quoted Florida's governor, Ron DeSantis. He said:
A number of labs are still doing the default, sending positive only without negatives ... They are not trying to be underhanded. But we have identified it and they will start doing the negatives as well.
In other words, there is no evidence to suggest that any labs in Florida are "cooking the books." There are issues with how some results were reported, but those are because of inconsistencies and confusion around the rules. Health authorities are working to correct the errors.
Finally, the claim that the media is silent on the story is false, as evidenced by the number of outlets that have covered it.