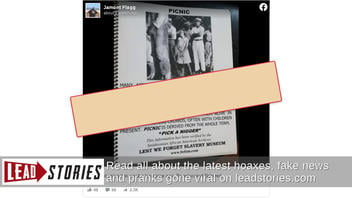 Does the English word "picnic" have its origins in describing festive events where racist whites would lynch Black men? No, that's not true: The word "picnic" dates back to the mid-to-late 18th century and comes from the French word "piquenique," according to the online etymology dictionary. Lynchings began in the United States in the late 19th century, according to the NAACP.

The claim has circulated for at least two decades and recently appeared as a meme in a post (archived here) where it was published on Facebook on July 14, 2020. It opened:
MANY AFRICAN AMERICAN HISTORY PROFESSIONALS ACKNOWLEDGE THAT THE ENGLISH ORIGIN OF THE WORD PICNIC WAS USED TO DESCRIBE FESTIVE EVENTS ATTENDED BY RACIST WHITES. UNAWARE BLACK MEN WERE RELEASED FROM JAILL AND TOLD TO RUN OFF, ONLY TO BE CAUGHT BY MOBS OF WHITE MEN WHO WOULD LYNCH OR BURN THEM ALIVE IN FRONT OF CHEERING CROWDS, OFTEN WITH CHILDREN PRESENT. PICNIC IS DERIVED FROM THE WHOLE TERM, "PICK A N****R"
This is what the post looked like on Facebook at the time of writing:
(Source: Facebook screenshot taken on Mon Jul 27 14:47:15 2020 UTC)
"The supposed racist origin of this term is completely untrue and a very recent suggestion," said Jesse Sheidlower, an adjunct professor at Columbia University and a former editor of the Oxford English dictionary.
Sheidlower later followed up in an email:
It is certainly true that people might have dined outdoors at a lynching, and that these events were called "picnics". But that's incidental; they were called "picnics" because they involved eating outdoors. So the word did not mean 'an outdoor gathering with food to celebrate a lynching'. Similarly, if I said that some people go to eat a large meal after watching some evil event in the morning, that does not mean that "brunch" refers to the celebration of the evil event, it just means that people sometimes eat a large meal at midday, and that this meal is called "brunch".
John McWhorter, a professor of linguistics at Columbia University, seconded some of what Sheidlower had to say. "The derivation of picnic from pick-a-n****r is nonsense," said McWhorter,
McWhorter also stated that the word "picnic" was not used to describe celebratory gatherings around lynchings. "People often celebrated during [lynchings] and in hindsight we can say it was kind of like a picnic," he said.
The photo also claims that the information was "verified by the Smithsonian African American Archives" and goes on to cite the Lest We Forget Museum of Slavery (LWF) and the museum's website.
Gwen Ragsfield, Executive Director at LWF, has different ideas from the professors at Columbia. Ragsfield said in an email to Lead Stories:
This information has been floating around the internet since 2008 when it was first released. Long story short, YES it is correct, based not on a Merriam Webster definition but on the "word of mouth" of oppressors of Blacks during and post-slavery. While there are no survivors of slavery, there are plenty of Klan/Slaver types who either participated in or had relatives who told them stories of this and many other heinous acts perpetrated on Blacks. These acts were not documented, other than having vintage postcards that feature lynching victims on one side and the word PICNIC on the other."
It is false that the word "picnic" comes from lynchings and the phrase "pick-a-n****r." Whether or not it was used to describe the celebrations and gatherings around lynchings is disputed by experts.
The false etymology of "picnic" was first debunked in 2001 by Snopes.