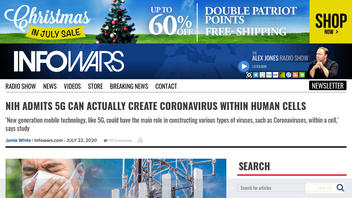 Did the NIH admit 5G can actually create coronavirus within human cells? No, that's not true. The site Infowars.com claimed the National Institutes of Health admitted that 5G technology can create coronavirus within human cells based on a "study" that has been taken down for being "obviously wrong" and "probably misleading," the site that originally published it told Lead Stories.
The claim appeared as an article published by Inforwars.com on July 22, 2020, titled "NIH Admits 5G Can Actually CREATE Coronavirus Within Human Cells" (archived here) which opened:
'New generation mobile technology, like 5G, could have the main role in constructing various types of viruses, such as Coronaviruses, within a cell,' says study
Users on social media only saw this title, description and thumbnail:
'New generation mobile technology, like 5G, could have the main role in constructing various types of viruses, such as Coronaviruses, within a cell,' says study
The story remains on Infowars.com as of July 27, 2020, but the original study has been removed from the site where it was first published.
The study originally appeared on the Biolifesas.org website. It was titled "5G Technology and induction of coronavirus in skin cells," and the story was indexed in the NIH National Library of Medicine National Center for Biotechnology Information.
The NIH did not publish the report or "admit" the findings found in the report, the study was just listed on the website index.
However, the link on the NIH website now says: "Withdrawn," as you can see in this link.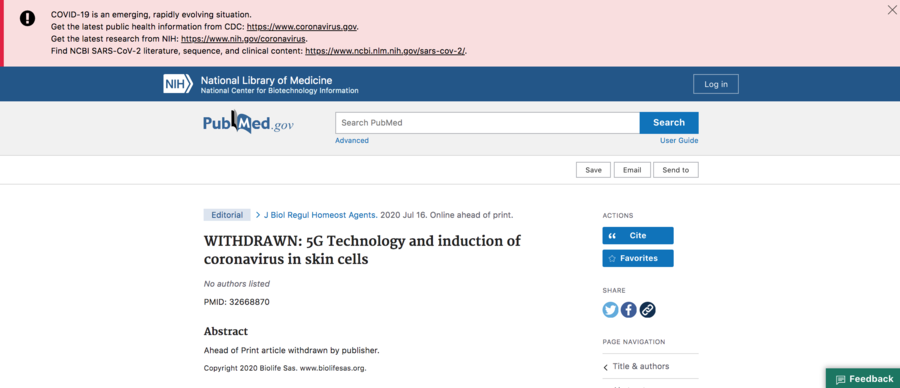 Lead Stories reached out to the NIH for comment, and this story will be updated when a response is received.
The Infowars.com story cited the study "jointly produced by scientists from Guglielmo Marconi University, Central Michigan University and First Moscow State Medical University, and it claims that 5G millimeter waves stimulate DNA in a way that causes cell nuclei to produce coronaviruses.
The article quoted the published study: "In this research, we show that 5G millimeter waves could be absorbed by dermatologic cells acting like antennas, transferred to other cells and play the main role in producing Coronaviruses in biological cells."
Lead Stories contacted Biolifesas.org -- which describes itself as an independent academic publisher of scientific content -- after the study was pulled from the NIH website. Biolifesas.org gave a statement to Lead Stories about why the article was removed:
This paper was obviously wrong and probably misleading and the Editor felt that it was the best thing to do."
The study is no longer found on the site but is still available on Scribd.com.
Fiora Nell i by Jamie White on Scribd
Excerpts from the study include:

"DNA is built from charged electrons and atoms and has an inductor-like structure. This structure could be divided into linear, toroid and round inductors. Inductors interact with external electromagnetic waves, move and produce some extra waves within the cells. The shapes of these waves are similar to shapes of hexagonal and pentagonal bases of their DNA source. These waves produce some holes in liquids within the nucleus. To fill these holes, some extra hexagonal and pentagonal bases are produced. These bases could join to each other and form virus-like structures such as Coronavirus."

"To produce these viruses within a cell, it is necessary that the wavelength of external waves be shorter than the size of the cell. Thus 5G millimeter waves could be good candidates for applying in constructing virus-like structures such as Coronaviruses (COVID-19) within cells."
From Infowars.com:
The study goes on to suggest that the cancer-causing qualities of 5G are due to how it alters DNA within the body.

"In another study, it was argued that 5G technologies cause great harm to human health. Cancer is only one of the many problems. 5G causes 720 (factorial) different diseases in human beings, and can kill everything that lives except some forms of microorganisms (12). To consider the effects of 5G millimeter waves on biological systems, we propose a model which describes the process of exchanging waves between 5G towers and host cells."

Infowars.com noted that they have been connecting 5G technology to COVID-19 for six months.
As Infowars reported over 6 months ago, Wuhan, the global epicenter of the coronavirus pandemic, rolled out 5G systems just weeks before the COVID-19 outbreak hit, with some scientists claiming that 5G's effects on human cells can cause "flu-like symptoms."
As Lead Stories previoulsy published, scientists have proven that 5G broadband can't enter the body because skin protects the internal organs, and engineering experts point out that the 5G signal has such limited scope that signals are blocked by common objects like trees and buildings
The New York Times published an article titled The 5G Health Hazard That Isn't, explaining Bill Curry, a consultant hired by the Broward Co. school system in 2000, and his "inaccurate chart led to unwarranted fears of wireless technology."
In a comprehensive article titled The Wildest 5G Conspiracy Theories Explained - And Debunked, Digital Trends Magazine said:
A number of scientific studies have been conducted on the link between non-ionizing waves -- which are used for TV transmissions, and yes, 5G -- and human health. Only the upper end of the electromagnetic spectrum, which includes X-rays and gamma radiation, is "ionizing," which essentially means that they can break apart molecular bonds and damage DNA. Even the highest of 5G waves are far below the boundaries between ionizing and non-ionizing waves."
NewsGuard, a company that uses trained journalist to rank the reliability of websites, describes Infowars.com as:
A far-right website run by radio host Alex Jones that has reported that 9/11 was orchestrated by the U.S. government and the massacre at Sandy Hook Elementary School was a hoax, among other falsehoods.
According to NewsGuard the site does not maintain basic standards of accuracy and accountability. Read their full assessment here.
Here are several Lead Stories articles that have debunked the claim that 5G technology causes coronavirus.
Fact Check: No Evidence 5G Alters Red Blood Cells, Amplifying COVID-19 Symptom
Fact Check: Worker Did NOT Expose COV-19 Circuit Boards Being Installed in 5G Towers