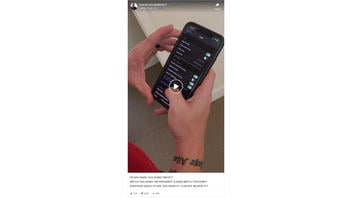 Is the campaign to elect former Vice President Joe Biden and his running mate Sen. Kamala Harris connected to a website belonging to Antifa, or anti-fascists? No, that's not true: The URL antifa.com, a domain name which could have been purchased by anyone with a credit card, has sporadically redirected to joebiden.com, the official site for the Democratic nominee's presidential campaign. But that link proves nothing and is likely a prank. Antifa itself is not a centralized movement and does not use Antifa.com to organize or promote.
The claim appeared on social media soon after Biden announced that Harris would be his running mate. It appeared in Facebook posts like this one (archived here) which published on August 12, 2020, under the title "I HAVE NO WORDS!!!" It included a video of a man demonstrating the link on video and opened:
FB HAS TAKEN THIS DOWN TWICE!!!!

WATCH THIS NOW!!!! MR PRESIDENT PLEASE WATCH THIS NOW!!!!

EVERYONE NEEDS TO SEE THIS NOW!!!!!!!! I CAN NOT BELIEVE IT!!!
This is what the post looked like on Facebook at the time of writing:
I HAVE NO WORDS!!!

FB HAS TAKEN THIS DOWN TWICE!!!! WATCH THIS NOW!!!! MR PRESIDENT PLEASE WATCH THIS NOW!!!! EVERYONE NEEDS TO SEE THIS NOW!!!!!!!! I CAN NOT BELIEVE IT!!!

Posted by Graham Allen on Wednesday, August 12, 2020
Another more recent Facebook post, published on August 26, 2020, read:
Go to Google
Type in Antifa.com
It takes you straight to the fundraising page for Biden/Harris
This is how that post appeared on social media:
It is true that at the time when these posts went up, anyone who typed in antifa.com would be redirected to joebiden.com. That this happened stirred up strong reactions on the right, inspiring headlines like this one, "Antifa website redirected to Biden's campaign site causes right-wing conspiracy meltdown," which ran on August 13, 2020, in the Independent.
But the owner of antifa.com -- or any domain, for that matter -- is free to redirect to any website desired, whether that be on a temporary or permanent basis.
It is not clear who owns antifa.com, but there is no sign that it's an official site for the movement. That's because a "unifying body for antifa" does not exist, according to the Anti-Defamation League. Rather, the "violent counter-protesters" who "are often part of 'antifa' (short for 'antifascist')" are "a loose collection of groups, networks and individuals who believe in active, aggressive opposition to far right-wing movements."
The domain name of antifa.com was first created on April 24, 2002, and the registration last updated on October 23, 2019, according to Whois and Whoisology. The web address is currently registered via a company in Panama that allows anyone to register a domain name without revealing their identity, making it easy to hide what individuals or groups are behind a website.
Some news reports have suggested the domain had previous ties to Russia. Yahoo News ran a story on August 12, 2020, titled, "'Antifa' website cited in conservative media attack on Biden is linked to -- wait for it -- Russia." The International Business Times weighed in the next day with a story titled, "Joe Biden Affiliated With Antifa? Bogus Web Link Potentially Connected To Russia."
There is zero indication that the Biden/Harris campaign has had anything to do with this website redirect.