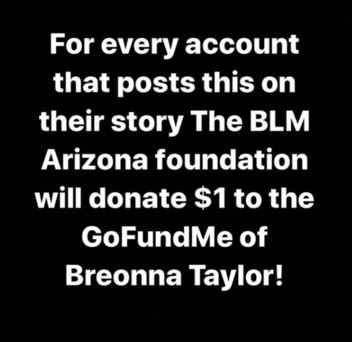 Is the "Black Lives Matter Arizona" movement raising GoFundMe money in the name of Breonna Taylor? No, that's not true. The president of Black Lives Matter Arizona told Lead Stories that a meme making the claim on social media is false, and that the Arizona group is separate from the more-established Black Lives Matter Global Network.
The claim appears as a meme (archived here) where it was published on Instagram on August 19, 2020. The meme read:
For every account that posts this on their story The BLM Arizona foundation will donate $1 to the GoFundMe of Breonna Taylor!
This is what the post looked like on the page of at the time of this writing: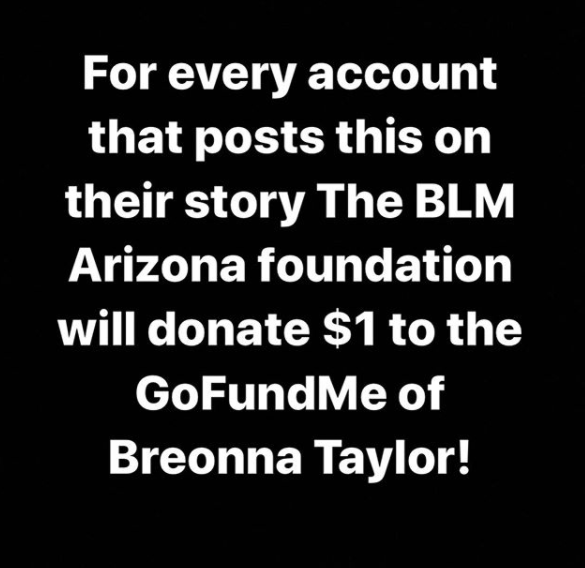 There are three problems with this meme. First, there was no such post -- or any -- on the official @blacklivesmatterarizona Instagram page before the account was deactivated August 19, 2020, and despite the person posting the meme writing:
Repost from

@blacklivesmatterarizona
• with respect to

@ellerysmoller


Here at BLM Arizona we understand it may be difficult for certain people to donate, so today everybody has the opportunity to make a contribution! Everybody has until this Wednesday to repost. That's when the donation will be made. Proof will be posted!❤️👊🏿
And the head of the Arizona Black Lives Matter group told Lead Stories, "It's not true," when sent the Instagram meme.
Black Lives Matter Arizona President Katt McKinney, whose group's name is All Black Lives Matter on Facebook, told us that the official BLM, which started as a hashtag in 2013 after the aquital of George Zimmerman in the death of Trayvon Martin in Florida and is now the Black Lives Matter Global Network, stopped accepting new chapters. McKinney and other Arizona activists formed their own group in Arizona in 2014 to protest police brutality and killings.
"We fly the same Black Lives Matter flag," said McKinney, explaining they have a similar agenda but are separate from the international BLM network.
So, while their mission is similar, Black Lives Matter Arizona is not an official chapter of the Black Lives Matter global organization, as shown here:
Lead Stories reached out to the official Black Lives Matter global organization, and this story will be updated when a response is received.
The money-soliciting meme is completely made up.