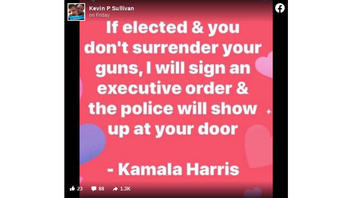 Did Kamala Harris vow to sign an executive order that would send police to your door to get your guns if you do not surrender them? No, that's not true. Sen. Harris, the presumptive Democratic vice presidential nominee, said when she was running for president that, if Congress did not pass legislation for stronger gun-buyer background checks and a renewal of the assault weapons ban during her first 100 days in office, she would sign an executive order to do that. Harris never said she would order police to take your guns.
The claim appeared in a meme in a post (archived here) published on Facebook on August 15, 2020. The meme read:
If elected & you don't surrender your guns, I will sign an executive order & the police will show up at your door -- Kamala Harris.
This is what the post looked like on Facebook at the time of writing:
(Source: Facebook screenshot taken on Mon Aug 17 15:59:19 2020 UTC)
Harris has said she would support a mandatory gun buyback program for military-style assault weapons, as well as an expansion of background checks and the closing of loopholes in current laws that allow convicted domestic abusers who injure their unmarried partner to still buy guns.
As The New York Times explained in an April 22, 2019, story -- when Harris was still a presidential candidate:
Senator Kamala Harris of California, the former prosecutor who is running for the Democratic presidential nomination, on Monday committed to a host of executive actions to implement gun control measures that have long failed to pass in Congress.

At a town hall hosted by CNN, Ms. Harris said that, if elected, she would sign an executive order mandating background checks for customers of any firearms dealer who sells more than five guns a year. The executive actions would also include more stringent regulation of gun manufacturers that could result in revoked licenses or prosecution, as well as an attempt to close the loophole that allows some domestic abusers to purchase guns if their victim is an unwedded partner.

"There are people in Washington, D.C., supposed leaders," Ms. Harris said on CNN Monday evening, "who have failed to have the courage to reject a false choice which suggests you're either in favor of the second amendment or you want to take everyone's guns away."

"We need reasonable gun safety laws in this country, starting with universal background checks and a renewal of the assault weapon ban," she added, "but they have failed to have the courage to act."
Harris, who served as California's attorney general before her election to the U.S. Senate, pushed for much the same during her days as head of the San Francisco city and county district attorney's offices.
During the CNN town hall, Harris said she would issue executive orders within the first 100 days of taking office if Congress failed to act. The issues were prominent during the debate, and remain so, following a number of mass shootings committed mostly using guns she wants outlawed in a renewal of the assault weapons ban.
Here is theYouTube video of the April 22, 2019, CNN town hall in which her real statements were made, including that people who want to hunt with legally owned guns would not be affected by any executive order.
Other recent false claims about Kamala Harris that Lead Stories has debunked include:
Fact Check: Kamala Harris Did NOT Refuse To Be Sworn In Using The Bible
Fact Check: Kamala Harris' Birth Certificate Does NOT Identify Her As 'Caucasian'
Fact Check: Senator Kamala Harris IS A United States Citizen And IS Eligible To Be President
Fact Check: Kamala Harris Did NOT Say She Listened To Snoop And Tupac In College
Fact Check: Kamala Harris Did NOT Call Joe Biden 'A Racist And A Rapist'
Fact Check: Photo Is NOT Kamala Harris With Her Parents And Is NOT Evidence She Is Not A Black American
Fact Check: Kamala Harris Said She Believed Women Who Said They Felt 'Uncomfortable' By Biden Touching -- NOT 'Rape Accusers'
Fact Check: Kamala Harris Descended From A Slave Owner, But It's Not 'An Inconvenient Part Of Her History' Or A 'Deep, Dark Secret' That 'Could Come Back To Haunt Her'