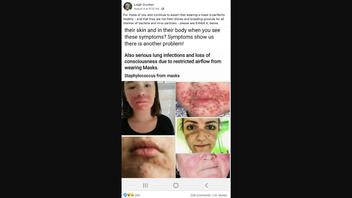 Do face masks worn to prevent the spread of the novel coronavirus cause staphylococcus, or staph infections? No, that's not true. While they can reportedly cause pressure ulcers and skin irritation, a skin doctor and infectious disease expert separately told Lead Stories there is no causal link between staph infections and mask-wearing.
The claim can be found in a meme (archived here) on Facebook. The meme, which included pictures of facial skin problems, said:
Look at these skin reactions. Everywhere I go I meet employees of restaurants, salons and other places telling me they feel sick and are getting these skin reactions from masks! What do you think is going on with their skin and in their body when you see these symptoms? Symptoms show us there is another problem!

Also serious lung infections and loss of consciousness due to restricted airflow from wearing Masks.

Staphylococcus from masks
This is what the post looked like on Facebook at the time of writing:
The meme was reposted on August 9, 2020, and accompanied by a comment:
For those of you who continue to assert that wearing a mask is perfectly healthy - and that they are not Petri dishes and breeding grounds for all manner of bacteria and virus particles - please see Exhibit A, below.
"Exhibit A" refers to the collage of photos, and some are completely unrelated to infections caused by staphylococcus bacteria. For example, the one below is a picture of a medical worker showing the bruises and skin effects of wearing medical gear while attending to patients in a hospital: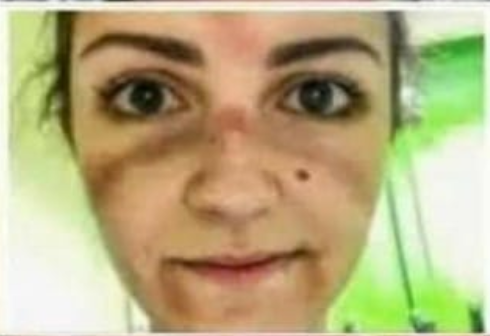 Here is a tweet that includes this image:
Respect: These are the faces of #Italian nurses & doctors after long hours of work in intensive care. ❤️🇮🇹 #COVIDー19 #Coronavirus pic.twitter.com/UK1TA1Ld3l

-- Inbar Cohen (@InbarCohen13) March 25, 2020
The meme appears to crop this photo included in an Instagram debate about whether masks hurt or help:
No long term effects, you say? pic.twitter.com/0LHIwIZAAT

-- Thommas Anderson (@AndersonThommas) August 10, 2020
But it is not clear in either collage where most of the photos came from, or what caused the skin problems pictured. The collage is not proof that masks cause anything.
Lead Stories reached out to Dr. Michael S. Saag at the University of Alabama at Birmingham, where he is the Jim Straley Chair in AIDS Research, director of the Division of Infectious Disease and of the William C. Gorgas Center for Geographic Medicine, and director of the Center for AIDS Research.
Asked about the meme's claim about masks causing staph infections, he responded:
No. There is no evidence I am aware of that Staph infections are augmented from wearing masks. Surgeons, OR staff, and hospital personnel have worn masks for over 100 years, and no increase in staph infections have been reported."

In addition, Lead Stories reached Dr. John Soderberg, a dermatologist with experience in medical, surgical and cosmetic services. Soderberg also has participated in several clinical trials and research projects focused on dermatology-related treatments.
In an email, he stated:
No, masks don't cause staph. Now some people are staph carriers in their nasal passages, so potentially those people could have more staph infections from wearing a mask -- potentially -- but not across the board."
Lead Stories reached out repeatedly to the Centers for Disease Control and Prevention for comment on the claim. This story will be updated when a response is received.
Lead Stories has debunked other baseless claims concerning face masks, including that lung damage can result from wearing masks, and that a government agency said cloth face masks offer no COVID-19 protection and lower the wearer's available oxygen.