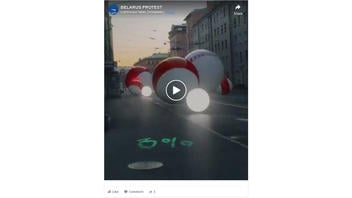 Does a video showing giant balls bouncing down a street show a real protest in Belarus? No, this video is computer animation that is so realistic some people thought it was a novel form of protest art that really did take place on a street. It was made by a designer from St. Petersburg, Russia, as a show of support for the people of Belarus.
The video reappeared in a post (archived here) where it was published by Lighthouse News Zimbabwe on August 19, 2020, under the title "BELARUS PROTEST."
This is what the post looked like on Facebook at the time of writing:
(Source: Facebook screenshot taken on Thu Aug 20 16:46:40 2020 UTC)
The original video was posted by the artist Alexander Ivanov to his Instagram account (here)(archived here) on August 18, 2020. The post was captioned, "You shall not pass, Lukashenko!" and includes the hashtag #жывебеларусь which means "Long Live Belarus."

There is some writing visible on the pavement as the video starts -- artist Ivanov's Instagram handle, jilrock1, and a number: 3%. The "3%" represents President Alexander Lukashenko's approval rating in online independent polls, and this number is popularly used in opposition memes and protest signs. A different survey reported in June (here)(archived here) by the Sociological Institute reported Lukashenko's trust rating in the capital city of Minsk at 24%. The final election results from the August 8 election have been announced (here)(archived here) with Lukashenko receiving 80.1% of the votes. Lukashenko has been in power since 1994.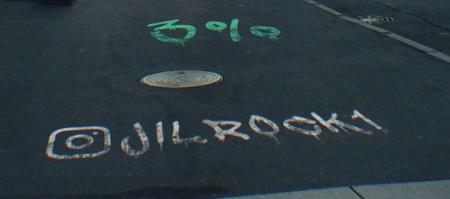 The lone person standing on the sidewalk convincingly raises a cellphone to record the approaching spectacle.
The first ball to come up the street bears a caricature of Lukashenko. Ivanov credits the portrait artwork of another Instagram artist, Boris Groh of Ukraine (here)(archived here). The image of Groh's caricature portrait, with a bloody mouth, resembles one featured on the cover of a Ukrainian magazine, NV, in December of 2019. Recently NV (here)(archived here) made that cover image available to the public for download.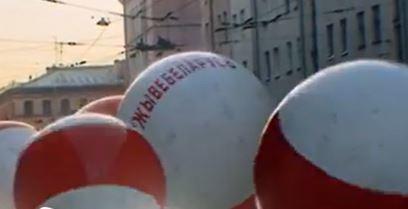 Following the Lukashenko ball, a group of bouncing red and white balls come up the street and audio of a protesting crowd can be heard. The translation of the protest chant says to "Go Away!" The largest of these is marked with the #жывебеларусь hashtag. The white balls with the red stripe represent the colors of the opposition flag. This tweet from Radio Liberty explains the history of the two flags:
In case you were wondering about the flag protesters are using in Belarus: pic.twitter.com/xTDSOcsnsn
-- Radio Free Europe/Radio Liberty (@RFERL) August 19, 2020