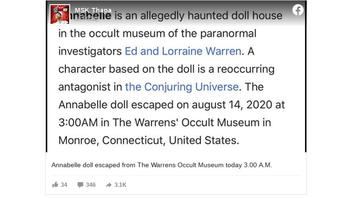 Did the Annabelle doll escape from the Warren's Occult Museum in August 2020? No, that's not true: The son-in-law of the famous paranormal investigators who created the museum posted a video to prove the purportedly possessed doll was still housed in the display case. This was an online rumor that was accellerated when the Annabelle doll's Wikipedia page was falsely altered.
The claim was debunked by the now leader of the New England Society for Psychic Research (NESPR) and the Warren's son-in-law, Tony Spera, in a YouTube video he posted soon after the Wikipedia page was altered and the rumor gained speed.
The claim appeared in a Facebook post (archived here) where it was published on August 14, 2020. The caption that accompanied a screenshot of the misinformation on the Wikipedia page read "Annabelle doll escaped from The Warrens Occult Museum today 3.00 A.M." The text on the screenshot read:
Annabelle is an allegedly haunted doll house in the occult museum of the paranormal investigators Ed and Lorraine Warren. A character based on the doll is a reoccurring antagonist in the Conjuring Universe. The Annabelle doll escaped on august 14, 2020 at 3:00AM in The Warrens' Occult Museum in Monroe, Connecticut, United States.
This is what the post looked like on Facebook at the time of writing:
(Source: Facebook screenshot taken on Mon Aug 17 14:03:13 2020 UTC)
The Wikipedia page for the doll was corrected a couple hours later, but the screenshots of the altered site are still rapidly circulating on social meida.
The Warren's Occult Museum, started by Ed and Lorainne Warren, two of the world's most famous paranormal investigators and authors, has been closed to visitors since 2018.
On August 14, the day the doll's Wikipedia page was changed, Sprea posted this video debunking the claims:
While the doll enclosed in a glass case could be seen behind him, he said:
Annabelle did not escape... Annabelle's here in all her infamous glory. She never left the museum.
Annabelle was purportedly possessed by a demonic spirit that has attempted to kill people and is the inspiration for a recurring character in the Conjuring Universe films.
One possible origin for the false Wikipedia edit: On August 13, The Hollywood Reporter published an interview with Annabelle Wallis that mentioned words like "running" and "escape," which then circulated on Chinese-language social media sites. According to a fact check by Heavy.com on the same claim, this interview was misconstrued as Annabelle the doll escaping.