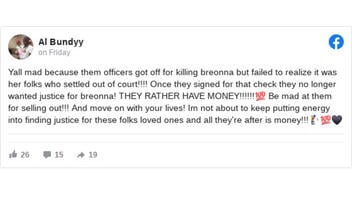 Did the officers involved in the raid that killed Breonna Taylor get no criminal charges because the Taylor family accepted the $12 million settlement from the city of Louisville? No, that's not true: The civil suit settlement and the criminal charges (or lack thereof) brought against the officers are separate and not dependent on each other. The grand jury that considered the case was not connected to the officials for the city who agreed to the civil settlement.
The claim appeared in a Facebook post (archived here) where it was published on September 25, 2020. It read:
Yall mad because them officers got off for killing breonna but failed to realize it was her folks who settled out of court!!!! Once they signed for that check they no longer wanted justice for breonna! THEY RATHER HAVE MONEY!!!!!!

Be mad at them for selling out!!! And move on with your lives! Im not about to keep putting energy into finding justice for these folks loved ones and all they're after is money!!!
This is what the post looked like on Facebook at the time of writing:
(Source: Facebook screenshot taken on Tue Sep 29 19:37:34 2020 UTC)
This same paragraph was posted by multiple other Facebook users.
On September 23, 2020, the Kentucky Attorney General, Daniel Cameron announced that, Brett Hankinson was indicted on three counts of wanton endangerment for reckless gunshots he fired into Taylor's apartment that did not strike anyone. Hankinson, nor the other two officers involved in the raid, were charged for the death of Taylor. This decision was announced after the special prosecutor's unit investigated the death of Taylor and presented the findings of the investigation to a grand jury.
This outcome was not a result of the $12 million settlement the Taylor family received from the Louisville Metro Government on September 14, 2020, 185 days after Taylor was fatally shot by police. The settlement was reached outside of criminal court, meaning that whatever the settlement ended up being, the investigators and the grand jury were acting separately. Is it at all possible that the news of the biggest settlement reached in Louisville for police misconduct affected the decision made by members of the grand jury? Maybe. But the independent investigations and the grand jury decision are in no way contingent on the result of civil suits.
FindLaw.com, a Reuters outfit, explains:
Also, there are times when a criminal act may give way to civil liability, such as when someone is charged with homicide and also sued for wrongful death (which typically follows the completion of the criminal trial process). As in the assault and battery example above, the criminal charges are punishable by fines, prison time, and other penalties, while the lawsuit is focused on recovering money to compensate the victim (or the victim's family) for damages.