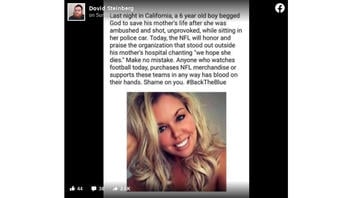 Is a blonde woman pictured in a meme about the Los Angeles sheriff's deputies who were shot in their squad car the actual female officer who was wounded? No, that's not true. The photograph of a woman with long blonde hair in posts that have gone viral about the shooting of the deputies is not the real victim of the ambush attack. The real woman from the photograph, Breck Worsham, has denied that she is the female deputy who was shot. Surveillance video from immediately after the shooting of the Los Angeles County Sheriff's deputies shows the female officer has dark hair and does not resemble the blonde woman in the posts.
The claim appeared as a post (archived here) where it was published on Facebook on September 13, 2020. It opened:
Last night in California, a 6 year old boy begged God to save his mother's like after she was ambushed and shot, unprovoked, while sitting in her police car. Today, the NFL will honor and praise the organization that stood out outside his mother's hospital chanting "we hope she dies." Make no mistake. Anyone who watches football today, purchases NFL merchandise or supports these teams in anyway has blood on their hands. Shame on you. #BackTheBlue
This is what the post looked like on Facebook at the time of writing:
(Source: Facebook screenshot taken on Tue Sep 15 00:44:55 2020 UTC)
The woman in the photograph with the post is not a sheriff's deputy.
Worsham, who uses the name "The Patriotic Blonde," denied that she is the officer who was shot, posting on her Facebook page on September 14, 2020.

On Saturday, September 12, 2020 shortly before 7 p.m. a male approached the sheriff's car that was parked in the Compton area of Los Angeles and fired into the vehicle, the Los Angeles Times reported. The suspect has not been caught as of September 14. The Los Angeles County board of supervisors offered a $100,000 reward for information leading to the arrest and conviction of the suspect, the LASD said in a press release.
Security footage released of the two deputies after they were shot shows the female deputy as appearing to have dark hair as she aids her male partner following the incident.
The footage of the shooting was also caught on camera as the officers were both in their vehicle.