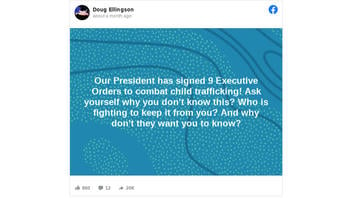 Has President Trump signed nine executive orders to combat child trafficking, with those orders not getting public coverage? No, that's not true: Trump has signed two executive orders that specifically mention human trafficking. Both were reported in the media.
The claim appeared on a post on Facebook on August 29, 2020, (archived here) with following text:
Our President has signed 9 Executive Orders to combat child trafficking! Ask yourself why you don't know this? Who is fighting to keep it from you? And why don't they want you to know?
This is what the post looked like on Facebook at the time of writing:
(Source: Facebook screenshot taken on Wed Sep 23 19:51:34 2020 UTC)
Of the 185 executive orders President Trump has signed since taking office on January 20, 2017, only two have dealt specifically with human trafficking:
Both executive orders were reported in the media, as well as listed in the Federal Register and officially detailed in White House publications.
The 2017 executive order was characterized by politico.com as a crackdown on human rights abusers:
Trump signed an executive order declaring a national emergency related to "serious human rights abuse and corruption around the world" and imposed sanctions on 13 individuals, using his authority under the 2016 Global Magnitsky Act.