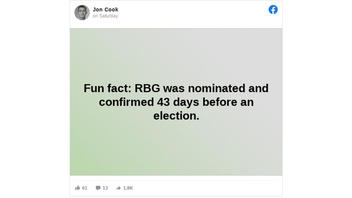 Was Ruth Bader Ginsburg "nominated and confirmed 43 days before an election"? No, that's not true: Ginsburg was nominated and confirmed in 42 days (not 43) in 1993 -- which was not an election year. The previous year, 1992, was an election year, in which Bill Clinton won for the first time. Approximately eight months into his first term, he nominated Ginsburg.
The claim appeared in a Facebook meme (archived here) where it was published on September 19, 2020. It read:
Fun fact: RBG was nominated and confirmed 43 days before an election.
This is what the post looked like on Facebook at the time of writing:
(Source: Facebook screenshot taken on Wed Sep 23 13:13:06 2020 UTC)
The one-sentence meme offers nothing to back up its statement -- and the statement is flatly wrong.
Following Justice Byron White's retirement, Clinton announced Ginsburg as his Supreme Court nominee on June 15, 1993. The Senate received the nomination on June 22 and voted to confirm Ginsburg as an associate justice in a sweeping 96-3 result on August 3. The time span from June 22 to August 3 is 42 days.
The false claim that Ginsburg was nominated and confirmed 43 days before an election has taken off following her September 18 death, a mere 46 days before the 2020 presidential election. Deeply partisan debate over whether or not a Supreme Court justice can be nominated in an election year, let alone this close to the election, has erupted in Washington. In 2016, when former President Barack Obama nominated Merrick Garland eight months before the 2016 election, Senate Majority Leader Mitch McConnell refused to consider the nomination claiming that the seat should be filled after the election to give voters a say.
"The American people are perfectly capable of having their say on this issue, so let's give them a voice. Let's let the American people decide. The Senate will appropriately revisit the matter when it considers the qualifications of the nominee the next president nominates, whoever that might be," McConnell said in 2016.
Following the news of an open seat on the Supreme Court with Ginburg's death, McConnell pledged to hold a vote if President Trump nominates someone, and the president said he would announce his nominee Sept. 26, 2020. That sparked fierce opposition from Democrats.
McConnell now argues that Trump and the Senate can fill the seat before the 2020 election because the Senate majority and the president are of the same political party, unlike in 2016, when the Senate was majority Republican and the president was a Democrat.