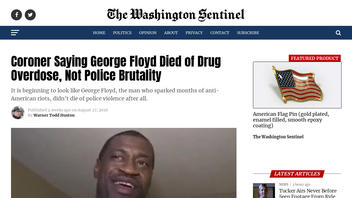 Did a "coroner" say George Floyd died from a drug overdose and not because a Minneapolis police officer kneeled on his neck for nearly nine minutes? No, that is not true. While the autopsy report said Floyd had drugs in his system and other health problems at the time of his death, the report said the cause of death was "cardiopulmonary arrest complicating law enforcement subdual, restraint, and neck compression."
The claim appears in an article (archived here) published by The Washington Sentinel on August 27, 2020, titled "Coroner Saying George Floyd Died of Drug Overdose, Not Police Brutality." The story opened:
It is beginning to look like George Floyd, the man who sparked months of anti-American riots, didn't die of police violence after all.
Users on social media only saw this title, description and thumbnail:
It is beginning to look like George Floyd, the man who sparked months of anti-American riots, didn't die of police violence after all.
It is true that Hennepin County Chief Medical Examiner Dr. Andrew Baker -- who is not a coroner -- said in a teleconference with County Attorney Patrick Lofton on May 31, 2020 -- just days after Floyd's May 25 death -- that "if Mr. Floyd had been found dead in his home (or anywhere else) and there were no other contributing factors he would conclude that it was an overdose death," according to a memo in the county attorney's office dated June 1.
Floyd, according to the May 26 autopsy report, had high levels of fentanyl and methamphetamine in his system, as well as other health issues. This memo simply confirms the old news about drugs in Floyd's system. Here is the full memo: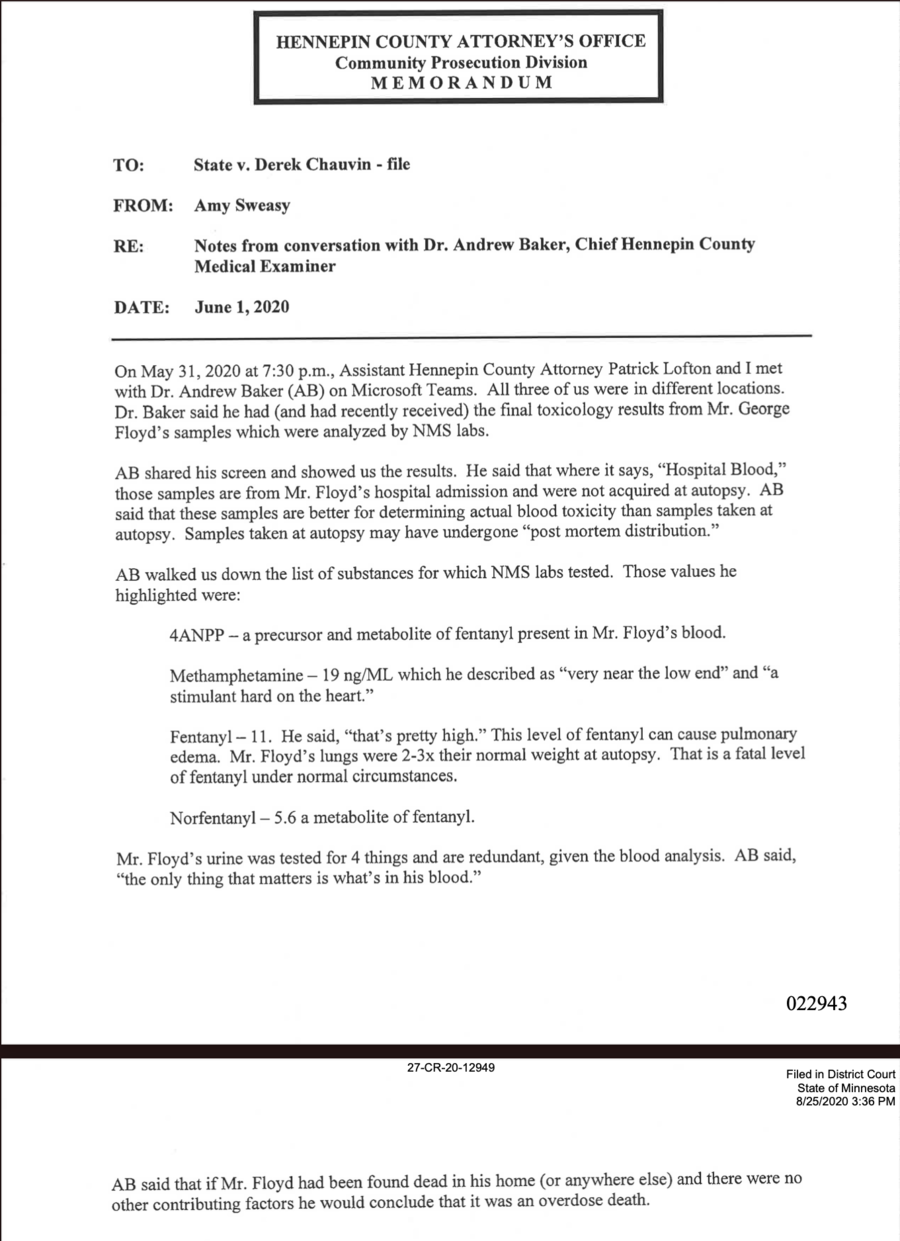 The memo, however, does not change the official cause or manner for Floyd's death, despite some conservative outlets posting stories that suggest that Floyd actually died of a drug overdose. That is not true.
The Washington Sentinel story continues:
Over two months ago, Minneapolis man George Floyd died after being subdued by the city's police. Video showing Floyd pinned to the ground by a police officer using his knee on the back of the man's neck went viral and sparked three months of destruction, riots, looting, and up to 30 murders.

Leftist activists have been saying that the Minneapolis police "murdered" Floyd with the knee-on-the-neck takedown.

But previously unseen documents released by the Hennepin County Attorney's Office on Tuesday now show that the medical examiner felt that Floyd actually died because he had too many illegal drugs in his system, not because police officers pinned him to the ground with a knee to his neck.

That's right, folks, Floyd died of a drug overdose, not by police abuse.
That statement is false, according to Hennepin County spokeswoman Carolyn Marinan, who said said in an email response to Lead Stories that the autopsy done May 26 and put online June 3 is:
the final and only autopsy report issued by the Hennepin County Medical Examiner... This document and his findings stand as the record. I can tell you that Dr. Baker is a forensic pathologist and not a coroner."
This last sentence is in reference to the Sentinel's headline and story, which mix up a medical examiner -- an actual doctor who makes the determinations on cause and manner of death -- with a coroner, who is an elected official who often holds public hearings to determine cause and manner of death. The difference is this, according to an explanation by the National Center for Biotechnology Information, U.S. National Library of Medicine:

The major differences between coroners and medical examiners are embedded in the manner of their selection by electoral process versus appointment and their professional status. Coroners are elected lay people who often do not have professional training, whereas medical examiners are appointed and have board-certification in a medical specialty. The coroner system has advantages, but they are heavily outweighed by its disadvantages.
A private autopsy requested by the family of Floyd also found the death to be a homicide, but it found that the cause was asphyxiation.
Former Minneapolis police officer Derek Chauvin has been charged with murder in Floyd's death; three other officers involved in restraining Floyd have also been charged in the case.