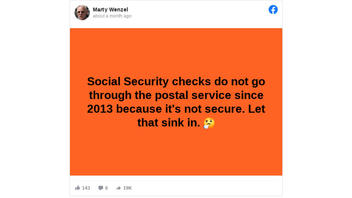 Have no Social Security checks been delivered by the U.S. Postal Service since 2013 because of security issues with the U.S. mail? No, that's not true. While nearly 99% of Social Security and Supplemental Security Income benefits are electronically transfered to people's bank accounts each month, 1.2% of benefits -- or 850,000 checks -- are still mailed every month.
The claim appears in a post (archived here) published to Facebook on August 20, 2020. The post, a simple meme, read:
Social Security checks do not go through the postal service since 2013 because it's not secure. Let that sink in. 🤔"
This is what the post looked like on Facebook at the time of writing:
(Source: Facebook screenshot taken on Mon Sep 21 13:21:55 2020 UTC)
The claim apparently relates to concerns about the volume of mail-in votes during the COVID-19 pandemic.
There is zero truth to the claim, according to the Social Security Administration, which makes clear on its site that an effort has been made since March 2013 to move to electronic deposit. But not all recipients want it that way. In a statement to Lead Stories, the SSA spokesman Darren Lutz wrote:
Currently, the Social Security Administration pays approximately 71.6 million (98.8%) Social Security and SSI benefits electronically per month and mails nearly 850,000 paper checks (1.2%) per month.

We currently mail paper Social Security Statements to workers age 60 and older who do not receive Social Security benefits and do not have a my Social Security account. We normally mail around 15 million paper Statements per year."
The same statement was given to The Associated Press, which also debunked the claim.
Many claims have circulated, including from President Trump, about the unreliability of the postal service and how reliance on mail-in voting could jeopardize the November general election.
A New York Times story from Aug. 31 explains the controversy in a story headlined: "Trump Is Pushing a False Argument on Vote-by-Mail Fraud. Here Are the Facts."
With concerns mounting over how the country can conduct elections during a pandemic and Democrats pressing for alternatives to in-person voting, President Trump has begun pushing a false argument that has circulated among conservatives for years -- that voting by mail is a recipe for fraud.

"Mail ballots, they cheat," Mr. Trump said at the White House on Tuesday afternoon. "Mail ballots are very dangerous for this country because of cheaters. They go collect them. They are fraudulent in many cases. They have to vote. They should have voter ID, by the way."

The president spoke as Wisconsin voters, many wearing protective masks, were going to the polls on a fraught Election Day, after the Republican-led legislature refused Democratic demands to delay the election and allow for expanded mail-in voting. On Wednesday, Mr. Trump claimed again that there was "tremendous potential for voter fraud."
The story found, among other things, that overall voting fraud is very rare and that states entirely voting by mail see "little" fraud. It also noted that Trump and other cabinet members recently voted by mail.
Trump, with no evidence to back up the claim, has said and tweeted that it's safe to vote by mail in states where the governors are Republican, but not secure in Democratic states.
On September 21, a judge dismissed a Trump campaign challenge to Nevada mail-in voting, according to USA Today:
A federal judge has dismissed a lawsuit filed by President Donald Trump's reelection campaign that challenges a new state law sending ballots to all active voters amid the coronavirus pandemic.

The lawsuit lacks standing, according to U.S. District Judge James C. Mahan in a Sept. 18 order dismissing the lawsuit."