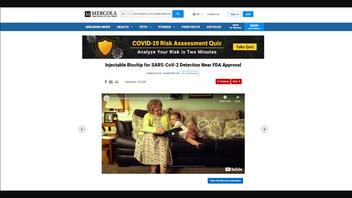 Is it true that the government is about to approve an Emeryville, California company's implantable "chip" that will create "transhumans" and allow government to spy on our health and other data? No, that is not true. The sensor awaiting government approval would not track people's movements, listen in on calls, read emails, nor record search histories. Rather, it would measure blood oxygenation levels as part of an early detection system for disease outbreaks.
The claim appears in an article (archived here) published by Dr. Joseph Mercola on Sept. 15, 2020, under the title "Injectable Biochip for SARS-CoV-2 Detection Near FDA Approval". It opened:
The Silicon Valley company, Profusa,1 in partnership with the U.S. Defense Advanced Research Projects Agency (DARPA),2 has created an injectable biosensor capable of detecting the presence of an infection in your body.3

In early August 2019, months before COVID-19 became a household word, DARPA granted Profusa additional funding "to develop an early identification system to detect disease outbreaks, biological attacks and pandemics up to three weeks earlier than current methods."4

As discussed in "Will New COVID Vaccine Make You Transhuman?" we appear to stand at the doorway of a brave new world in which man is increasingly merged with technology and artificial intelligence, and COVID-19 may well be the key that opens that door, in more ways than one.

For starters, many of the COVID-19 vaccines currently being fast-tracked are not conventional vaccines. Their design is aimed at manipulating your own biology, essentially creating genetically modified humans.

Combined with hydrogel biosensors -- which do not suffer from rejection as foreign bodies like earlier implants, instead becoming one with your own tissue5 -- we may also find ourselves permanently connected to the internet-based cloud, for better or worse."
Mercola's Facebook page no longer exists, but this is how the story looked on Twitter at the time of this writing:
Game-changing preventive care or major threat to your privacy and well-being?https://t.co/ppvRUHVAy8 pic.twitter.com/rLC8jzVCss

-- Dr. Joseph Mercola (@mercola) September 15, 2020
The tech is real, according to news releases and news reports. Lead Stories reached out to the U.S. Food and Drug Administration, Profusa and DARPA for comment. This report will be updated, as appropriate, when they respond.
The Mercola story makes many false claims, according to Christopher Woods, study lead on the project at Duke University School of Medicine.
For starters, Woods said:
This is not an implantable 'chip'...there is really no data or data safety difference between the Lumee reader device and a fitness watch (eg, fitbit, garmin, applewatch). Given that the device is only reading oxygenation levels which would be of little use outside of a medical interest. Some of the existing commercial exercise wearables do detect oxygen saturation ("pulse ox"), but tend to be less accurate that a tissue integrated device like the lumee. Notably, absent the reader component, there is no means of communicating with the hydrogel component.
So, as far as a "brave new world," we're already there with Apple Watch and other smartwatches and fitness-monitoring devices, according to Woods' answers to a query from Lead Stories, in which he described the protections built into the system:
The same processes and procedures that protect other application data from your smart/fitness watch.
So, based on that statement about the Profusa technology being no different than fitness sensors -- for which privacy guidelines protect information -- Mercola's claim lacks evidence to back up the prediction that "we may also find ourselves permanently connected to the internet-based cloud, for better or worse."
In Profusa's March 3, 2020 news release, Chairman and CEO Ben Hwang said the device has a narrow purpose:
The Lumee Oxygen Platform can potentially function as a sort of canary in a coal mine for infectious disease, since subtle changes in oxygen at the tissue level may signal trouble and can help clinicians course correct quickly to avoid outbreaks.Changes in oxygen levels and other physiological measures, such as heart rate, as a result of a respiratory infection may assist researchers in the study to develop algorithms that can detect early, pre-symptomatic flu activity more quickly than what is currently possible.
Near the close of the Mercola article -- which pitches an October conference on vaccines featuring well-known anti-vaccination advocate Robert F. Kennedy, Jr. -- it reads:
While much of this may still seem too far-fetched to be true to the average person, we're at a point now where we need to face the transhumanist agenda head-on, because it's being implemented whether we are aware of it and agree with its prospects or not. And mRNA vaccines against COVID-19 appear to be one way to get a large portion of the global population caught in the 'net.'
While the testing of potential vaccines has been sped up to battle the new coronavirus under the Trump administration's Operation Warp Speed, Mercola offers no no evidence to support his assertion that "their design is aimed at manipulating your own biology, essentially creating genetically modified humans."
Lead Stories has debunked similar claims in the past, including here with Fact Check: Video 'Urgent Information On Covid Vaccine' By Dr. Carrie Madej Is NOT All Science-Based Or Factual.
This is how Profusa describes the technology, as posted to YouTube:
NewsGuard, a company that uses trained journalist to rank the reliability of websites, describes articles.mercola.com as:
The website of osteopathic physician and alternative medicine advocate Joseph Mercola, which has published false claims about standard medical practices such as vaccinations.
According to NewsGuard the site does not maintain basic standards of accuracy and accountability. Read their full assessment here.