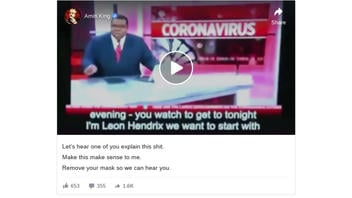 Does the appearance of the number 33 in a collection of news reports about COVID-19 cases represent anything that needs explaining? No. COVID-19 cases have been counted and reported around the world for hundreds of days. There is nothing remarkable about a search engine finding instances of any specific number of cases reported in the news, including the number 33.
The challenge to explain this originated as a post (archived here) where it was published by Amiri King on September 21, 2020. It was captioned:
Let's hear one of you explain this shit.

Make this make sense to me.

Remove your mask so we can hear you.
This is what the post looked like on Facebook at the time of writing:
(Source: Facebook screenshot taken on Wed Sep 23 13:07:28 2020 UTC)
The video shows 13 short clips of news reports and press briefings about COVID-19. The number 33 appears in each clip. Sometimes the number 33 represents a total number of cases on that particular day, and other times it represents the number of new cases added to the total. The news clips report case counts in different states, counties and cities. The date of each of the reports is not apparent in the video. While it is unusual to see 13 news reports in a row, all featuring the same number, it is not an amazing coincidence -- or something nefarious -- when considering the number of news reports which were filtered out because they did not contain the number 33.
Below is a collection of YouTube search results collected by Lead Stories on September 23, 2020, using the random numbers 17, 123, 42, 55, 2, and 33. Any number searched, yielded similar results. The results for the number 33 do not stand out as unusual among the search results for the other numbers. There is nothing to explain. (The image will open larger in a new window)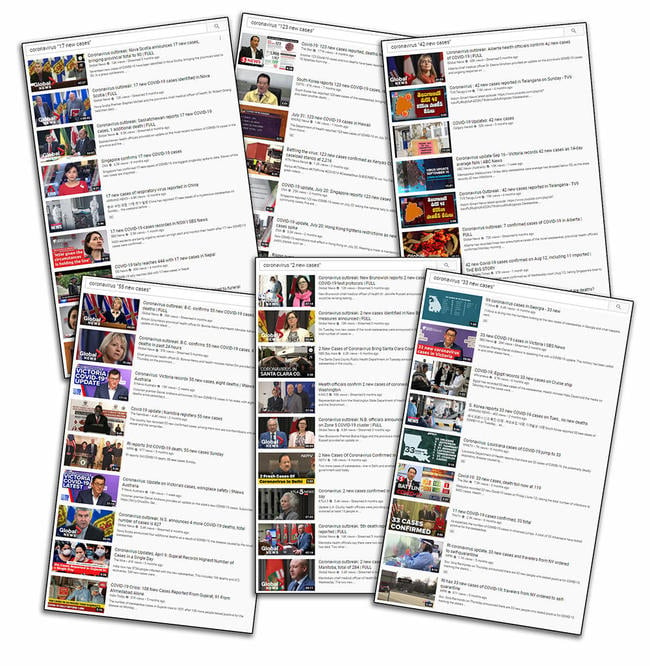 This YouTube link will show results for the number 2. Other numbers can be substituted to test the underwhelming search result effect of numbers appearing in regional news reports on case counts during a global pandemic.
Lead Stories wrote about a nearly identical viral test -- "Type any 3-digit number and 'new cases' in Google" to allegedly prove a hoax -- which swept through Facebook. It also suggested that numbers in search results were evidence of some sort of plan.