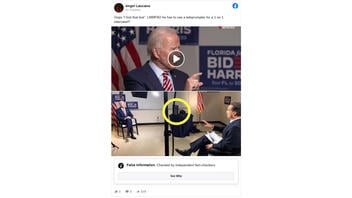 Did Joe Biden use a teleprompter to answer questions during an interview with Telemundo? No, that's not true: The Spanish-language TV network said the accusation was "absolutely false." It published a video showing what happened: Biden was looking at a monitor, off to the side, which displayed the image of a viewer who had asked the Democratic presidential candidate a question.
The claim appeared in a post (archived here) on Facebook on September 22, 2020. It read:
Oops "I lost that line". LMMFAO he has to use a teleprompter for a 1 on 1 interview!!!
This is what the post looked like at the time of writing:
(Source: Facebook screenshot taken on Wed Sep 23 19:52:37 2020 UTC)
In statements on Twitter, Telemundo roundly rejected the post's claim. It said that allowing someone who is being interviewed on its news programs to read answers from a teleprompter would be a clear violation of its policies. Here's Telemundo:
Recent social media posts claiming @JoeBiden used a teleprompter during an interview with Noticias Telemundo and anchor @jdbalart are absolutely FALSE.

👇 WATCH what really happened. pic.twitter.com/RoPbdJnhZu

-- Noticias Telemundo (@TelemundoNews) September 23, 2020
As @JoeBiden was answering one of the questions asked, the monitor went black, and Biden said, "I lost that lady."@jdbalart continued the interview by saying "You and I can talk about that," so Biden would finish his answer directly to him instead of to a blank screen. pic.twitter.com/lvejsf4vZ0

-- Noticias Telemundo (@TelemundoNews) September 23, 2020
In the video Telemundo posted to Twitter, it's clear that Biden was looking at a side monitor that showed a viewer who had asked him a question. When the image dropped, he said: "I lost that lady." The anchor then told him that they could discuss the issue together, directing Biden's gaze away from the blank screen.
You can watch Biden's full interview here.