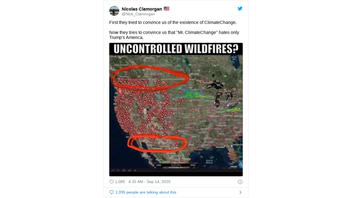 Did the wildfires that have ravaged much of the western United States in September 2020 stop at the borders and not impact Mexico and Canada? No, that's not true. The U.S. northern border has been breached with blazes -- while to the south, major fires broke out in summer and appear to continue, according to reports and maps showing blazes affecting both countries to the south and north of the U.S.
The claim comes from a tweet (archived here) published to Twitter on September 14, 2020. Around an image supposedly showing the fires stopping at the borders, the meme is titled "UNCONTROLLED WILDFIRES? DO NOT EFFECT MEXICO & CANADA?" The tweet reads:
First they tried to convince us of the existence of ClimateChange. Now they tries to convince us that "Mr. ClimateChange" hates only Trump's America.
This is what the post looked like on Twitter at the time of writing:
(Source: Twitter screenshot taken on Tue Sep 15 14:21:35 2020 UTC)
The meme makes a suggestion that just isn't true. This site can be checked for current fire activity across the globe, and it clearly shows fire activity on both sides of the U.S. border.
On the day this meme was posted to Twitter, Sept. 14, Global News reported that there were 29 wildfires burning to the north in British Columbia, with five of the blazes there starting over the two days prior to publication.
Updates on the fires there can be found on BC Wildfire Service's Twitter page, where this thread was updated Sept. 14:
The amended area restriction for crown land in the vicinity of the Doctor Creek wildfire remains in place. We continue to have crews, aircraft and equipment working in the vicinity. Please adhere to all posted signage and the area restriction details: https://t.co/B023ZZSyi9

-- BC Wildfire Service (@BCGovFireInfo) September 15, 2020
In Mexico, the fires date to at least June, according to Wildfire Today, which published the two following heat and sattelite maps: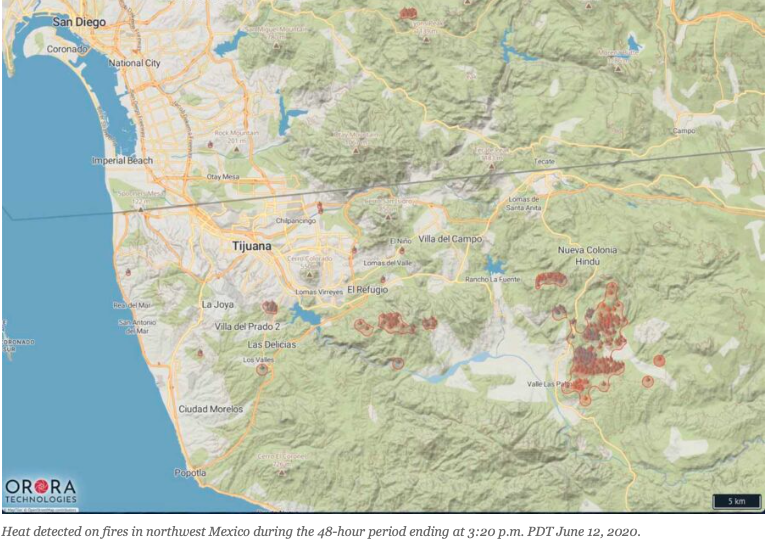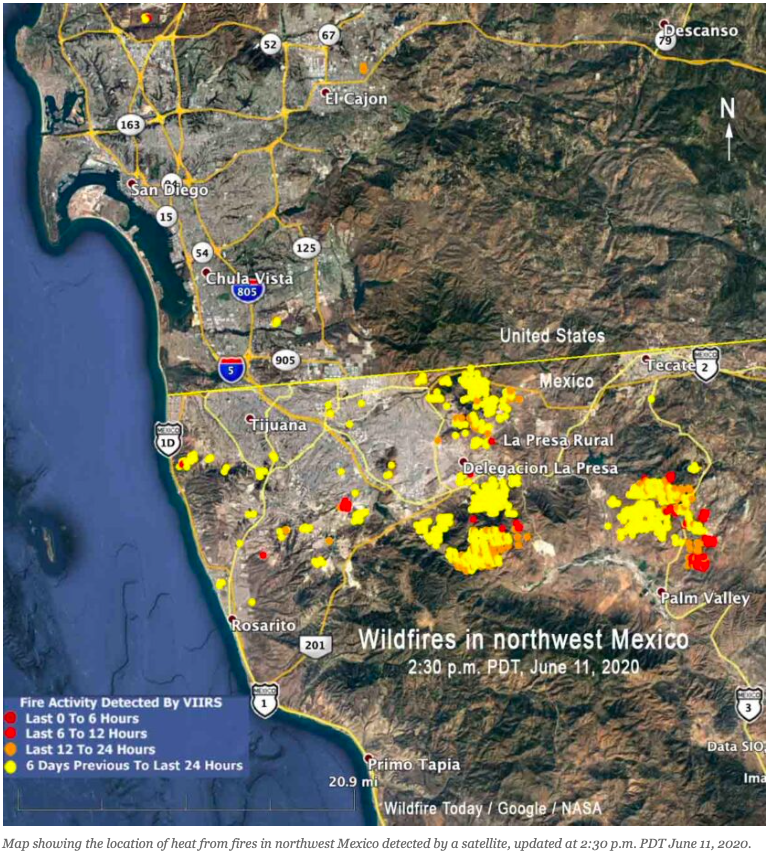 The United States has had a much worse go of it with the wildfires this year. In California, the stampede of wildfires has only continued, making 2020 one the worst wildfire seasons on record in the U.S., and the worst overall in California with some 3.2 million acres burned as of Sept. 14. Some were started by lightning hitting particularly dry areas, others by downed power lines and others caused by people -- including one started by a gender-reveal party about 80 miles from Los Angeles.
According to the National Interagency Fire Center on Sept. 14:
Firefighters and support personnel continue to work toward containment goals on 87 large fires that have burned more than 4.6 million acres in 10 states. Residents near 39 large fires in California, Oregon, Washington and Colorado remain under evacuation orders.
The Center gave this breakdown: Since January, there have been at least 42,109 fires burning roughly 6.1 million acres. As of Sept. 13, the picture looked like this: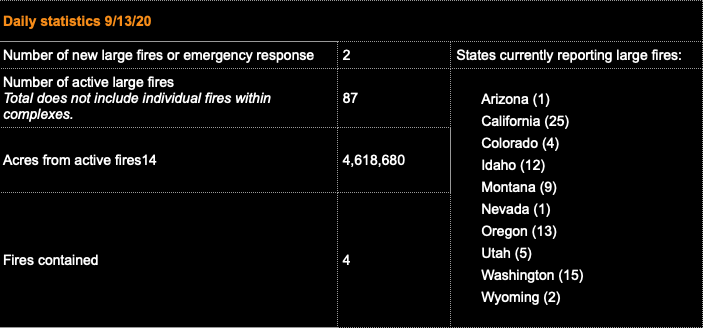 But wildfires have hardly been contained within the U.S., as fires have breached the northern border, where they continue to burn, and fires burned across southern border earlier this year, and appear to continue, according to NASA sattelite images: