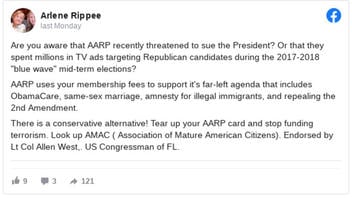 Did the AARP spend millions of dollars on TV ads against Republicans? No, that's not true: The AARP is a federally approved non-profit organization that is legally prohibited from being involved in any political campaign in favor or against any candidate. That includes a prohibition against paying for political ads. Nor does the AARP sue the president individually, though the organization has joined suits against government agencies and departments.
The claim appeared in a post (archived here) published by Facebook on September 7. It begins:
Are you aware that AARP recently threatened to sue the President? Or that they spent millions in TV ads targeting Republican candidates during the 2017-2018 "blue wave" mid-term elections?

AARP uses your membership fees to support it's far-left agenda that includes ObamaCare, same-sex marriage, amnesty for illegal immigrants, and repealing the 2nd Amendment."
This is what the post looked like on Facebook at the time of writing:
(Source: Facebook screenshot taken on Mon Sep 14 19:31:06 2020 UTC)
As a federally registered social welfare non-profit organization, the AARP is allowed by the Internal Revenue Service to participate in social issues that are part of the political landscape but is prohibited from engaging in partisan political activity involving individual campaigns or candidates. The IRS clearly states that policy:
To be tax-exempt as a social welfare organization described in Internal Revenue Code (IRC) section 501(c)(4), an organization must not be organized for profit and must be operated exclusively to promote social welfare. ... The promotion of social welfare does not include direct or indirect participation or intervention in political campaigns on behalf of or in opposition to any candidate for public office."
AARP spelled out its non-partisan stance in a September 2016 posting in its policy handbook:
The AARP Board of Directors, the National Policy Council, other volunteer leaders and designated staff shall not take part in any public political or partisan activity that may be construed as AARP's endorsement of political parties, government officials, or candidates for any federal, state, or major municipal office."
Although the organization does not get involved in supporting or opposing individual candidates, AARP Senior Vice President Jason Young says the group does not shy away from political issues.
AARP is strictly nonpartisan. While some organizations feel pressed to either avoid or address divisive issues, we are focused on fighting for people 50-plus and helping them choose how they live and age. Every policy we have is in support of that mission, and all of our policies are posted online."
Many of those efforts consist of lobbying at the state and national governmental levels. The organization spells out its process for setting public policy.
Specifically answering the claims made in the Facebook posting, Young said in an email response to Lead Stories:
The AARP Policy Book shows we do not have policy to repeal the Second Amendment. Chapter 12 of the policy book, under the header 'Violent Crime,' shows that, to the extent we have policy on gun safety issues more broadly, our focus is on enforcement, training, and help for victims of serious crime.

"Our policy book shows we do not have policy in favor of 'amnesty for illegal immigrants.' Chapter 2 of the policy book, under the header 'Immigration,' shows that, to the extent we have policy on immigration, it is to help ensure the health and economic security of older Americans in the face of a coming caregiver shortage.

"We continue to support the Affordable Care Act and work against repealing its protections and the affordable coverage options it provides for pre-Medicare-eligible Americans - all the more important now, when '12 million have lost employer-sponsored health insurance during pandemic,' reported CBS News (8/26).

We continue to support marriage equality, which the U.S. Supreme Court upheld in Obergefell v. Hodges in 2015, and which two-thirds of Americans support, according to Gallup."
The AARP and its charitable affiliate, the AARP Foundation, also get involved in litigation. For example, the AARP and the AARP Foundation filed an amici curiae (friend of the court) brief in June 2018 in support of the Affordable Care Act, better known as Obamacare.
Because the AARP supports some issues aligned mostly with the Democratic Party, such as Obamacare, some critics of those issues accuse the AARP of supporting one political party over the other.
According to the nonpartisan Center for Responsive Politics, individual AARP members also contribute more money to Democratic candidates over Republcans, further possibly giving the erroneous impression that the organization as a whole supports Democratic politicians.