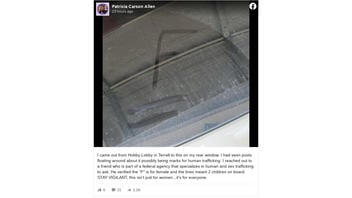 Are specific marks on cars a sign of sex trafficking? No, that's not true: Both local law enforcement and the National Center for Missing & Exploited Children refuted this claim. There is no concrete evidence to substantiate this claim.
The claim appeared in a Facebook post (archived here) where it was published by Patricia Carson Allen on October 13, 2020. The caption read:
I came out from Hobby Lobby in Terrell to this on my rear window. I had seen posts floating around about it possibly being marks for human trafficking. I reached out to a friend who is part of a federal agency that specializes in human and sex trafficking to ask. He verified the "F" is for female and the lines meant 2 children on board. STAY VIGILANT, this isn't just for women...it's for everyone.
This is what the post looked like on Facebook at the time of writing:
(Source: Facebook screenshot taken on Wed Oct 14 19:18:12 2020 UTC)
In the comments section of the post, Allen explained that she did not find these marks on her car herself, but copied and reposted from a neighbor. Allen did not respond to request for comment.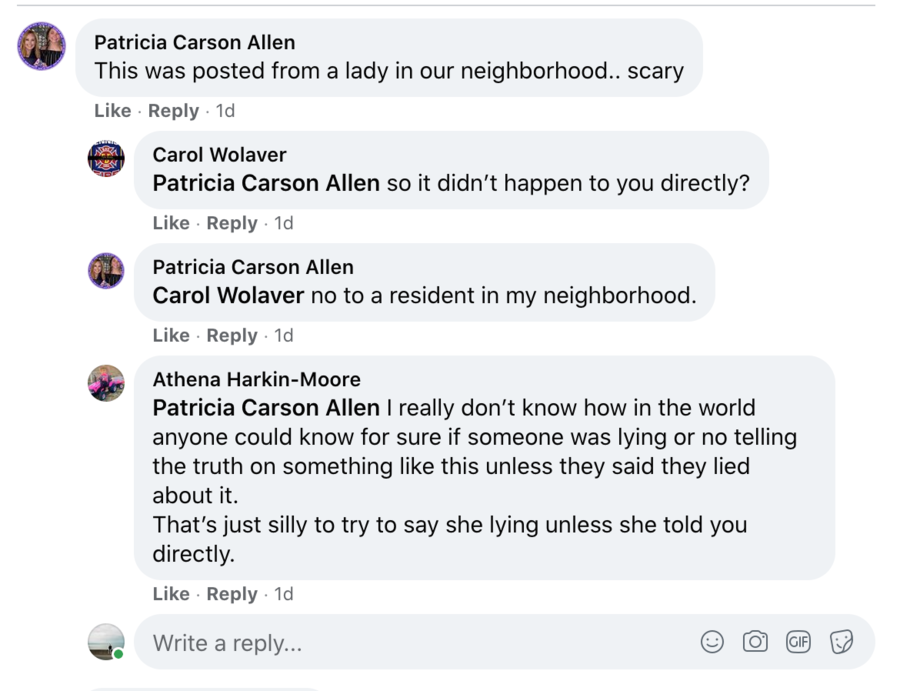 "There is no validity to the claim made in the attached post. Terrell has had no incidence of human trafficking reported," said Ken McKeown, chief of the Terrell, Texas, Police Department, in an email to Lead Stories.
The National Center for Missing & Exploited Children offered similar findings. From Becky Steinbach, a senior communications manager:
I just touched based with our Child Sex Trafficking team and as of now we have not received reports that confirm this is related to CST targeting or victimization."
There is no evidence that a federal agency verified the disinformation in the Facebook post as Allen claims.
"This type of post comes up occasionally with variations on the marking found; i.e., white dot or blue tape, etc., but they have never been found to be credible," said McKeown. McKeown also said that an "F" with two lines does not mean anything to Terrell police even when it's not found on a car.
Baseless claims about sex trafficking have been circulating on social media for a number of years, and marks-on-cars is one in a long line of alleged signs of sex trafficking involving vehicles. In November 2017, The Charlotte Observer debunked the claim that stickers were being put on cars for similar reasons to the "F" and two lines. Lead Stories previously debunked very similar claims about $100 bills on cars here and zip ties on cars here.
Although it has not been found to involve letters on cars or zip ties, sex trafficking is a real threat in the United States.
Polaris, a nonprofit that works to combat human trafficking and manages the National Human Trafficking Hotline, identified 22,326 human trafficking victims and survivors -- 14,597 of whom were exploited specifically for sex trafficking-- through data from the hotline in 2019. The top recruitment tactics for sex trafficking include methods such as recruitment by an intimate partner, a family member, or a job offer, not methods like symbols on cars.