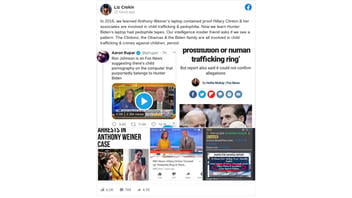 Did Anthony Weiner's laptop contain "proof Hillary Clinton & her associates are involved in child trafficking and pedophilia"? No, that's not true: The claim is part of a debunked conspiracy theory that has circulated for years. There's absolutely no evidence to support it.
The claim appeared in a Facebook post (archived here) on October 18, 2020. The post included screenshots of several news stories and read:
In 2016, we learned Anthony Weiner's laptop contained proof Hillary Clinton & her associates are involved in child trafficking & pedophilia. Now we learn Hunter Biden's laptop had pedophile tapes. Our intelligence insider friend asks if we see a pattern. The Clintons, the Obamas & the Biden family are all involved in child trafficking & crimes against children, period.
This is what the post looked like at the time of writing:
(Source: Facebook screenshot taken on Mon Oct 19 14:34:21 2020 UTC)
Weiner, a former New York congressman, was a rising star in the Democratic party until sexting scandals effectively ended his political career. In 2017, he pleaded guilty to sending sexually explicit texts to a 15-year-old girl. Weiner, who went on to serve 18 months in prison, was released in of May last year.
During the course of their investigation, authorities discovered emails belonging to Huma Abedin on Weiner's laptop. Abedin, Weiner's wife, was a longtime aide to Hillary Clinton. The discovery led James Comey, who was then the director of the FBI, to reopen a review of Clinton's handling of official emails from when she was secretary of state. His announcement came shortly before the 2016 presidential election, which Clinton lost to Donald Trump. Comey later concluded that the emails on Weiner's laptop did nothing to change his earlier conclusion that Clinton should face no charges in connection with her use of a personal e-mail system.
In other words, there is an established link between Weiner's laptop and Hillary Clinton.
But there is zero evidence that his laptop contained proof that Clinton was involved in child trafficking and pedophilia, as the post claims.
That idea stems from a bizarre conspiracy theory involving a file or video known as "Frazzledrip." As the theory goes, this alleged file was found on Weiner's laptop and was meant to be a sort of insurance policy for him against the Clintons. The video is said to show Clinton and Abedin raping and slicing the face off a young girl. Lead Stories has debunked that claim, as far back as 2018. There's no truth to it -- none.
In support of its claim, the post included a screenshot from Fox News, which reported on an inspector general review that looked into the actions of the FBI and Justice Department ahead of the 2016 election. Although that report details the discovery of the emails on Weiner's laptop, it offers nothing in support of the claim around child trafficking and pedophilia.
Secondarily, the post made the unsubstantiated claim that the laptop of Hunter Biden, the son of Democratic presidential candidate Joe Biden, contained "pedophile tapes." To support its statement, the post linked to a Fox News segment with Sen. Ron Johnson that suggested as much. You can watch the clip here:
Ron Johnson is on Fox News suggesting there's child pornography on the computer that purportedly belongs to Hunter Biden pic.twitter.com/rwvyL1UH4i

-- Aaron Rupar (@atrupar) October 18, 2020
Last week, The New York Post published a front-page article based on materials that were purportedly taken from the hard drive of a laptop belonging to Hunter Biden. According to The Post, which cited the store's owner, the computer was dropped off at a repair shop in Delaware. The owner reportedly made a copy of the drive and gave it to former New York Mayor Rudy Giuliani's lawyer. Giuliani is then said to have given it to The Post.
Although its report contained a number of bombshell claims, The New York Post did not state that child pornography had been found on Hunter Biden's purported laptop. That appears to be complete speculation. Also of note: None of the article's allegations has been independently verified. Other news organizations have not been permitted to see the contents of the supposed hard drive.