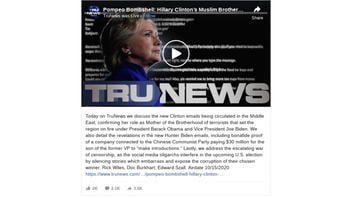 Were hundreds of new Hillary Clinton emails published on the U.S. State Department's website in recent days? No, that's not true: Although Secretary of State Mike Pompeo has pledged to release additional emails Clinton sent when she was Secretary of State, he has not yet done so. As recently as October 14, 2020, he described the release as an "ongoing process," citing COVID-19 and other production challenges.
The claim was contained within a video (archived here) published to Facebook on October 15, 2020. The video opens with an anchor speaking directly to camera. He said:
This is TruNews. I'm Rick Wiles. A newly released tranche of Hillary Clinton's missing emails has been released in Arab nations. The information in the emails has sparked a firestorm of controversy in the Middle East. Hundreds of Clinton emails were published on the U.S. State Department's website in recent days, following Secretary of State Mike Pompeo's promise to President Trump to speed up the release of Clinton documents.
This is what the post looked like at the time of writing:
(Source: Facebook screenshot taken on Fri Oct 16 14:14:56 2020 UTC)
The video contains various claims, on everything from Hunter Biden to censorship. This fact check does not attempt to cover them all. The following discussion is limited to claims made about Clinton's emails.
Clinton was criticized by former FBI Director James Comey for using a private email server to send official email during her tenure as Secretary of State. In addition to violating secrecy and security norms and rules, Clinton came under suspicion after deleting 31,830 emails she said were personal. President Donald Trump, who has long argued she was hiding something, criticized Pompeo this month for failing to release the emails from her server that she retained for customary archiving by the State Department. Trump told Fox Business on October 8, 2020:
They're in the State Department, but Mike Pompeo has been unable to get them out, which is very sad, actually. I'm not happy about him for that reason. He was unable to get them out. I don't know why.
One day later, Pompeo responded:
We've got the emails. We're getting them out. We're going to get all this information out so the American people can see it.
October 14, 2020, when questioned about the timing of the potential release, just weeks before the 2020 presidential election, Pompeo defended his actions, saying:
Second, with respect to our transparency, it's an ongoing process. We've had people out for COVID, we've got lots of challenges in production of documents today. You can go to the State Department's website and see 35,000-plus emails that came from Secretary Clinton's server that were provided in response to various inquiries. We've provided documents to Capitol Hill all throughout my time in two-and-a-half years. And we're going to continue to do the work as we identify material, we look at it and review it, we'll make sure we make the right decisions for the American people.
To summarize, the State Department has not released any new emails three weeks before the election.
Lead Stories reached out to the State Department for comment and will update this story, as needed, if we receive a response.
To support its claim, the video cited a 2012 email to Clinton, as well as a story in The Washington Post. It draws erroneous conclusions from both.
Here's what the anchor, Wiles, said about the email:
An email, dated September 17, 2012, was sent to Mrs. Clinton from Jake Sullivan, her closest adviser. The email mentioned that the Muslim Brotherhood was planning a $100 million investment in a new television network to be based in Qatar.
In the context of the report, Wiles appears to be saying the email was recently released. It wasn't. It's part of the group of 35,000-plus emails already available on the State Department's website. You can read that email here.
Wiles then goes on to lament that the U.S. news media is ignoring the story of the release of Clinton's emails. Appearing to contradict what he said earlier in the video, Wiles states that the emails cannot be found on the State Department website and questions how that could be. He says that the only American outlet that has mentioned them was The Washington Post. Here's Wiles:
The Post is aware that these emails have been released. The very fact, that headline, confirms that the State Department has released the emails.
That's not true.
The headline -- "Trump's tirades about Hillary Clinton's emails are catching on -- in Saudi Arabia" -- does not confirm the existence of new emails. Nothing in the story confirms Wiles' assertion. Rather, the opinion piece, written by David Ignatius, discusses how Trump's railings about Clinton's emails were seized on by supporters of Saudi Crown Prince Mohammed bin Salman (MBS), "falsely claiming that the Obama administration was plotting against him." Here's Ignatius:
Perhaps MBS's Saudi supporters imagine their clamor about Clinton's emails will help Trump before the Nov. 3 election. Whatever the motive, the campaign is a reminder that Trump's claims, no matter how wild, are heard and amplified abroad in ways that could damage U.S. interests.
Riffing on the main claim about the release, the video makes countless other false claims based on what the alleged new emails are said to support. Wiles said:
The emails show that Obama-Biden-Clinton started riots and protests in the Middle East to destabilize countries and to bring to power the Muslim Brotherhood. Now does that sound familiar in 2020 to the United States of America? Could you believe that Barack Obama and Hillary Clinton would organize protests and riots in America to destabilize America? That's exactly what they're doing. This entire antifa, Black Lives Matter uprising in this country is led by Barack Hussein Obama. I am convinced of it.
There's no evidence offered to support the conspiracist's theory that Barack Obama, Joe Biden and Clinton "started riots and protests in the Middle East," nor is there proof that Obama and Clinton are organizing riots in the United States in order to "destabilize America." Obama has no connection to antifa and the Black Lives Matter movement continues to enjoy widespread support.