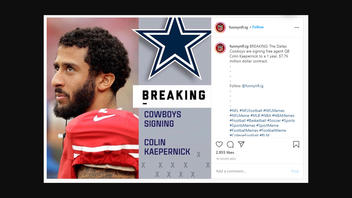 Did the NFL's Dallas Cowboys sign free agent quarterback and activist Colin Kaepernick? No, that's not true: This is a baseless but possibly wishful-thinking claim.
The claim appeared in an Instagram meme (archived here) where it was published by the account "@funnynfl.ig" on October 20, 2020, with the text, "BREAKING COWBOYS SIGNING COLIN KAEPERNICK." The meme read:
BREAKING: The Dallas Cowboys are signing free agent QB Colin Kaepernick to a 1 year, $7.76 million dollar contract.
This is what the post looked like on Instagram at the time of posting:
There has been no announcement by either the team or Kaepernick of any signing, nor have there been any reports of such in reputable media.
The Dallas Cowboys did not respond to multiple requests for comment from Lead Stories, nor did Kaepernick's agent.
In week five of the NFL season, Cowboys quarterback Dak Prescott suffered a gruesome ankle injury that sidelined him for the rest of the season. In their most recent game, the Cowboys and second-string quarterback Andy Dalton seem to be struggling offensively, and there are rumors floating along with fans taking to social media to make the case for signing a new quarterback to play over Dalton. There has been no official statement or reason to believe that they might sign Kaepernick, let alone a new quarterback.
In the 2016 preseason, Kaepernick was the first player in the NFL to kneel during the national anthem as an act of protest against racial injustice in the United States. Kneeling during the anthem became an extremely divisive subject among team owners and is one of the main reasons Kaepernick remains a free agent, despite being a solid quarterback during his time at the San Francisco 49ers.
One of the reasons this false claim makes for interesting and viral satirical content is because the owner of the Cowboys, Jerry Jones, was adamantly against kneeling during the national anthem. Jones dramatically shifted his position at the beginning of September 2020, telling a Dallas radio station, "If our players are there, they are sensitive to and respect what America is as it relates to the flag. I'll assure you that. I'd hope that our fans -- and I think they will -- understand that our players have issues that they need help on. They need help from the majority of America."