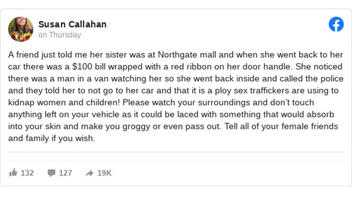 Are women and children being targeted by sex traffickers who leave a $100 bill on their car at a shopping mall? No, that's not true. This is an urban legend that was debunked earlier this year and has been in circulation for years. The mall mentioned in this version of the legend was Northgate Mall in Revere, Massachusetts and the police in that jurisdiction said this was a false claim.
The claim appeared as a post (archived here) where it was published on Facebook on September 17, 2020. It opened:
A friend just told me her sister was at Northgate mall and when she went back to her car there was a $100 bill wrapped with a red ribbon on her door handle. She noticed there was a man in a van watching her so she went back inside and called the police and they told her to not go to her car and that it is a ploy sex traffickers are using to kidnap women and children! Please watch your surroundings and don't touch anything left on your vehicle as it could be laced with something that would absorb into your skin and make you groggy or even pass out. Tell all of your female friends and family if you wish.
This is what the post looked like on Facebook at the time of writing:
(Source: Facebook screenshot taken on Mon Sep 21 17:43:28 2020 UTC)
In addition to Revere police debunking the claim, organized activists fighting trafficking say that approach does not match the reality of human trafficking.
According to the Polaris Project, the organization that operates the U.S. National Human Trafficking Hotline, there are several myths about human trafficking.
Myth: It's always or usually a violent crime.

Reality: The most pervasive myth about human trafficking is that it often involves kidnapping or physically forcing someone into a situation. In reality, most traffickers use psychological means such as, tricking, defrauding, manipulating or threatening victims into providing commercial sex or exploitative labor.

Myth: All human trafficking involves commercial sex.

Reality: Human trafficking is the use of force, fraud or coercion to get another person to provide labor or commercial sex. Worldwide, experts believe there are more situations of labor trafficking than of sex trafficking, but there is much wider awareness of sex trafficking in the U.S. than of labor trafficking.

Myth: Traffickers target victims they don't know.

Reality: Many survivors have been trafficked by romantic partners, including spouses, and by family members, including parents.
The claim that the $100 bill would have a substance on it that would render someone incapacitated and therefore vulnerable to abduction is false.
AFP Factcheck debunked the claim in February 2020 when the exact same post was shared by a different user on social media.
The post from February began "CRAZY THIS IS HAPPENING IN Revere," which appears to be in Massachusetts.
"This is not true," Captain Amy O'Hara, a spokeswoman for the Revere Police Department, told AFP about the claims that this incident took place at the Northgate mall in their area.
The current post going viral takes the mention of Revere out but still leaves the Northgate mall in the post.
The National Center for Missing and Exploited Children shared on their website with statistics regarding Missing Children and Exploited Children.
In 2019 NCMEC assisted law enforcement and families with more than 29,000 cases of missing children.
Case type:
91 percent endangered runaways.
4 percent family abductions.
4 percent critically missing young adults, ages 18 to 20.
Less than 1 percent nonfamily abductions.
1 percent lost, injured or otherwise missing children.
Of the nearly 26,300 runaways reported to NCMEC in 2019, 1 in 6 were likely victims of child sex trafficking.