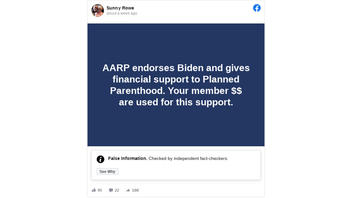 Did AARP endorse Joe Biden for president and give financial support to Planned Parenthood? No, both of those claims are not true: AARP is a nonprofit organization that is legally prohibited from supporting candidates and does not have a policy regarding abortion issues. An AARP spokesperson denied both assertions and the person making the claims offered no corroborating evidence.
The claims appeared in a post on Facebook on October 5, 2020, (archived here) with following text:
AARP endorses Biden and gives financial support to Planned Parenthood. Your member $$
are used for this support.
This is what the post looked like on Facebook at the time of writing:
(Source: Facebook screenshot taken on Tue Oct 6 19:28:37 2020 UTC)
AARP spokesman Jason Young categorically denied the claims in a statement to Lead Stories.
We are strictly nonpartisan, do not endorse candidates, do not have policy supporting abortion, and have never funded Planned Parenthood in any way.
AARP, formerly known as the American Association of Retired Persons, is a federally approved nonprofit organization that is legally prohibited from being involved in any political campaign favoring or opposing any candidate.
But the organization is frequently falsely accused of supporting Democratic causes and candidates.
For example, on August 18, 2020, Lead Stories debunked a claim that a portion of what members pay to the AARP goes to the Democratic Party.
No, that's not true: The AARP is forbidden by federal tax law, as a non-profit group, from making political contributions. The senior citizen advocacy organization does not have a political action committee.
And on September 15, 2020, Lead Stories debunked a claim that AARP spends millions of dollars on TV ads against Republicans.
As a federally registered social welfare non-profit organization, AARP is allowed by the Internal Revenue Service to participate in social issues that are part of the political landscape but is prohibited from engaging in partisan political activity involving individual campaigns or candidates. The IRS clearly states that policy:
To be tax-exempt as a social welfare organization described in Internal Revenue Code (IRC) section 501(c)(4), an organization must not be organized for profit and must be operated exclusively to promote social welfare. ... The promotion of social welfare does not include direct or indirect participation or intervention in political campaigns on behalf of or in opposition to any candidate for public office."
AARP spelled out its non-partisan stance in a September 2016 posting in its policy handbook:
The AARP Board of Directors, the National Policy Council, other volunteer leaders and designated staff shall not take part in any public political or partisan activity that may be construed as AARP's endorsement of political parties, government officials, or candidates for any federal, state, or major municipal office."
Although the organization does not get involved in supporting or opposing individual candidates, AARP spokesman Young says the group does not shy away from political issues that could affect the age group it serves.
AARP is strictly nonpartisan. While some organizations feel pressed to either avoid or address divisive issues, we are focused on fighting for people 50-plus and helping them choose how they live and age. Every policy we have is in support of that mission, and all of our policies are posted online."
Many of those efforts consist of lobbying at the state and national governmental levels. The organization spells out its process for setting public policy.