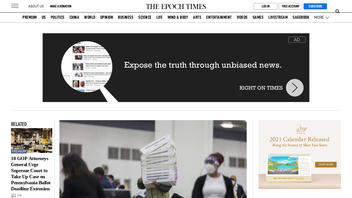 Did 10,000 dead people vote in Michigan in the November 3, 2020, presidential election? No, that's not true: Election officials in Michigan call it a baseless claim and say it is impossible for dead people to vote in their state.
The claim appeared in an article (archived here) published in The Epoch Times website on November 10, 2020, under the title "More Than 10,000 Dead People Cast Ballots in Michigan, Analysis Shows." It opened: "More than 10,000 people confirmed or suspected dead have returned their mail-in ballots to vote in Michigan, according to an analysis of the state's election data." It continued:
About 9,500 voters confirmed dead through the Social Security Death Index (SSDI) are marked in the state's mail voting database as having returned ballots. Another nearly 2,000 are 100 years old or more and aren't listed as known living centenarians.

The analysis was provided by Richard Baris, director of Big Data Poll.
This is how it appeared on The Epoch Times website (including text fade at bottom) at the time of writing: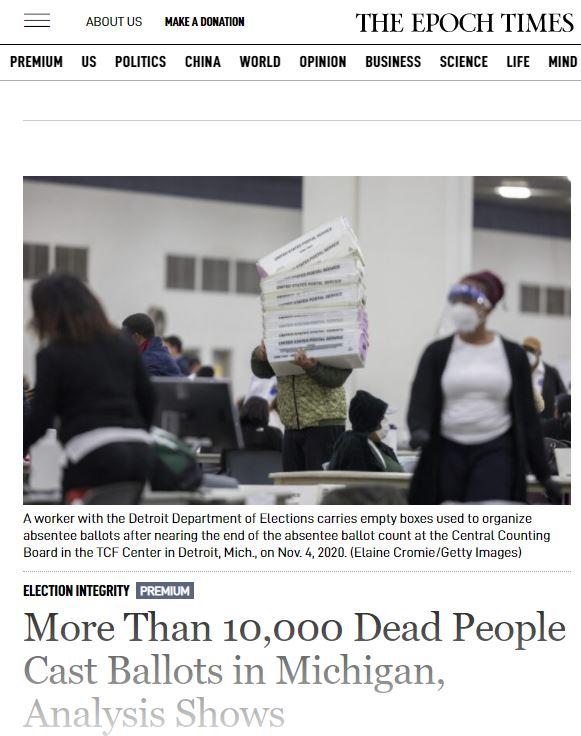 (Source: Epoch Times screenshot taken on Tue Nov 10 22:20 2020 UTC)
The Epoch Times said data from Baris and Big Data Poll "indicates that somebody else was trying to vote on behalf of these people." The Epoch Times reported that Baris told the newspaper:
"It's also entirely possible that some of them aren't even real people. If someone is 110 or some ridiculous age, we should have their death record but do not."
Allegations of irregular voting are certainly nothing new. Some historians point to reports that thousands of bogus votes helped John F. Kennedy win the presidency in 1960.
But Michigan election officials say there's no way 10,000 dead people cast ballots there. Tracy Wimmer, media relations director for the Michigan secretary of state, called the allegations "baseless claims" in a text message to Lead Stories on November 10, 2020. She pointed to a statement by the secretary of state's office on its website that says:
Ballots of voters who have died are rejected in Michigan, even if the voter cast an absentee ballot and then died before Election Day. Those who make claims otherwise are wrong, and the lists circulating claiming to show this is happening are not accurate. Many of the lists do not contain enough information to accurately compare them to the Michigan Qualified Voter File. MDOS and news organizations have drawn samples and reviewed samples of lists claiming to show votes cast by deceased individuals in Michigan. We are not aware of a single confirmed case showing that a ballot was actually cast on behalf of a deceased individual.
A more-detailed explanation by the secretary of state's office can be found here.
Baris rejected the secretary of state's explanation, tweeting this on November 8, 2020:
While I'm open to the idea some of these have been rejected, I'm not open to any outright dismissal they all were rejected.
But Twitter placed a warning on that Tweet that says: "This claim about election fraud is disputed." Twitter linked to a page that has an article with a headline that says:
Voter fraud of any kind is exceedingly rare in the US, election experts confirm.
The article then says:
With ballot counting continuing and the presidential race being called for Joe Biden, experts and officials say there has been no evidence of widespread voter fraud in the 2020 US election. The election process is secure and voter fraud of any type is incredibly rare according to The Associated Press and Reuters. Officials and experts warn that the most interference in US elections, whether from foreign or domestic players, comes in the form of misinformation campaigns, many of which are intended to create distrust in the US's electoral process.
Some fringe publications have claimed that it was 14,000 -- not just 10,000 -- dead people who voted in Michigan.
News outlets have rejected those claims, too. CNN, for example, said:
... like much of the misinformation circulated online this week by some Trump supporters, the claim falls apart under scrutiny. A CNN analysis of the claim and the purported backing for it did not find a single instance of that happening.
CNN analyst Daniel Dale explained the results on Twitter:
My CNN colleagues looked into 50 of the names on a viral MAGA list supposedly showing 14,000 Michigan cases of ballots being cast in the name of dead people.

Result:

37 are dead, no vote cast

5 are alive and voted

8 are alive and didn't vote
The Detroit Free Press also examined the allegation and came to the same conclusion as the other news outlets: no fraud. Said the newspaper in a November 6, 2020 article:
Some may be dead, but there's no evidence that the state counted any ballots cast by deceased voters. Others may be old, but there's no law establishing an age limit on voting.

Michigan is a member of the Electronic Registration Information Center, a multi-state partnership that offers access to federal databases and technology to ensure the integrity of voter files. The system relies on Social Security Administration death records to flag deceased voters.
USA Today also rejected the claim, as reported in a November 8, 2020, article:
The claim that 14,000 dead people in Wayne County, Michigan, voted in the 2020 election is FALSE, based on our research. The list has been investigated and it was found that some individuals on the list were either still alive, or not living in Michigan. Other examples cited were the result of date of birth errors. Ballots cast by dead people in Michigan are rejected and there is no evidence of fraud.
NewsGuard, a company that uses trained journalist to rank the reliability of websites, describes theepochtimes.com as:
The website of The Epoch Times, a conservative newspaper founded by members of a spiritual group persecuted in China that has promoted misleading claims to advance an undisclosed political agenda.
According to NewsGuard the site does not maintain basic standards of accuracy and accountability. Read their full assessment here.