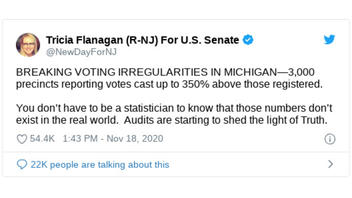 Did 3,000 Michigan precincts report vote tallies that are 350% above the number of registered voters? No, that's not true: Statewide, some 7.2 million people were active registered voters, while approximately 5.5 million people voted in the 2020 presidential election, according to official data. There were not more ballots cast than people registered to vote and local election officials would have had to overlook tallies 4.5 times bigger than the rolls of registered voters.
The claim appeared in a tweet (archived here) on November 18, 2020, published by Tricia Flanagan, a former Republican U.S. Senate candidate for New Jersey. The post read:
BREAKING VOTING IRREGULARITIES IN MICHIGAN--3,000 precincts reporting votes cast up to 350% above those registered. You don't have to be a statistician to know that those numbers don't exist in the real world. Audits are starting to shed the light of Truth.
This is what the post looked like on Twitter:
(Source: Twitter screenshot taken on Fri Nov 20 20:21:07 2020 UTC)
The math in the post, which cited no source, just doesn't add up.
Statewide, at the time of writing, a reported 5,538,212 people cast votes in the 2020 presidential election. Michigan had 7,151,051 active registered voters in October. That's in addition to the 28,000 people who registered and voted on Election Day, according to Michigan Secretary of State Jocelyn Benson. If vote tallies were 350% over registration numbers, Michigan would have racked up 24.9 million votes, about 2.5 times the total population of the state, adults and children alike.
Although Lead Stories was unable to confirm its count, a review of official State of Michigan GIS data includes a list of voting precincts with 4,576 identified. Although some may combine for Election Day voting, if the claim were true, that would mean ballot-counters in two-thirds of Michigan precincts failed to note they had more votes than they had registered voters.
Though Benson reported record turnout, there were not more votes cast than registered voters. That wouldn't be true if the post's claim was correct.
As a smaller, more specific, example, Lead Stories looked at the precinct data for Wayne County, which includes Detroit and is the largest county in Michigan. Official results there show not a single case of voter turnout above 100% -- in more than 100 pages of data.
Lead Stories reached out to the secretary of state to comment on this story. Spokeswoman Tracy Wimmer responded:
Turnout in Michigan increased by about 15 percent compared to 2016. Unregistered voters are not able to cast ballots, and there is no evidence to suggest that any did.
At the time of writing, the office of the secretary of state had posted a "fact checks" page on its official website, noting that bipartisan election commissions in every jurisdiction had certified election results were correct and authentic:
The boards of county canvassers in all of Michigan's 83 counties have certified their results in the Nov. 3 general election. Each board is comprised of two Republicans and two Democrats appointed by the local county commission.
We have reported on false claims of voter turnout before. Here's a look at some of that coverage: