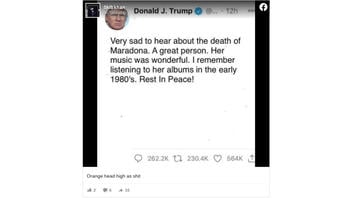 Did President Trump seemingly confuse recently deceased soccer superstar Diego Maradona with singer Madonna? No, that's not true: the tweet in which the President seemingly made comments praising Maradona's music from the 1980's was a crude fake. It never appeared on his Twitter feed.
An example of the fake tweet can be seen in this Facebook post (archived here). The supposed text of the tweet read:
Very sad to hear about the death of Maradona. A great person. Her music was wonderful. I remember listening to her albums in the early 1980's. Rest In Peace!
This is what the post looked like on Facebook at the time of writing:
(Source: Facebook screenshot taken on Fri Nov 27 19:37:16 2020 UTC)
However a search of President Trump's Twitter feed shows no such post (or any post mentioning Maradona). There is also no trace of such a Trump tweet at Politiwoops, a site that tracks deleted tweets by politicians. There is also no trace of Trump Maradona tweet at Factbase, which also tracks all of Trump's tweets. Also, Trump played varsity soccer at New York Military Academy in the 1960s and has since followed the sport in which Maradona was a dominant figure.
Just to be clear: Madonna is a singer and actress and she is currently alive. Diego Maradona was an Argentine soccer player who passed away on November 25, 2020.
President Trump never tweeted about the second.
He did tweet about the first, years before becoming President, for example here:
Many people walked out on Madonna's concert when she told them to vote for Obama. Years ago I walked out because the concert was terrible!

-- Donald J. Trump (@realDonaldTrump) October 29, 2012
It seems like he was no great fan of the singer (unlike what the fake tweet implied).