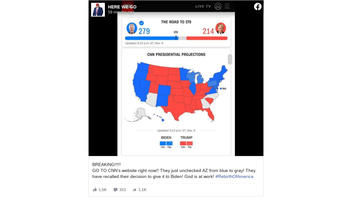 Did CNN retract its projection that that Joe Biden will win Arizona? No, that's not true: CNN had yet to call Arizona for either candidate at the time the claim was posted.
The claim appeared in a Facebook post (archived here) where it was published by @TheHipHopPatriot on November 9, 2020. The caption read:
BREAKING!!!!!




GO TO CNN's website right now!! They just unchecked AZ from blue to gray! They have recalled their decision to give it to Biden! God is at work!

#RebirthOfAmerica
This is what the post looked like on Facebook at the time of writing:
(Source: Facebook screenshot taken on Mon Nov 9 21:19:09 2020 UTC)
Some electoral maps on CNN feature Arizona as various shades of blue, but those are maps of who is leading in the states. The map in the Facebook post is an online map that illustrates which states CNN has called for either candidate and Arizona has never been blue on that map, according to internet archives.
Fox and the AP called Arizona for Biden days ago, Trump shrunk Biden's lead in the state to just under 17,000 votes. As of 8 p.m. on November 8, 2020, there were still 70,000 votes to count in Arizona. Even if Trump did win Arizona, Biden would still be the winner of the election based on projections for accumulated electoral votes.
At the time the claim was posted, the Fox News Decision Desk had called Arizona for Biden as had The Associated Press.