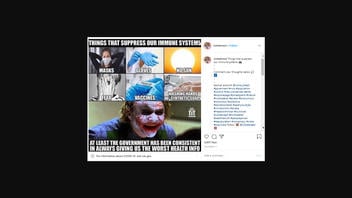 Do masks, gloves, vaccines, and synthetic handsoaps suppress human immune systems? No, that's not true: Public health experts and medical research say the opposite is the case and the claims were made with no evidence in a meme that spread to hundreds of thousands of Instagram users in the midst of a COVID-19 surge that saw more than 160,000 new cases per day.
The claims appeared in a meme (archived here) shared on Instagram on November 17, 2020 under the title "THINGS THAT SUPPRESS OUR IMMUNE SYSTEMS". It opened:
THINGS THAT SUPPRESS OUR IMMUNE SYSTEMS

MASKS

GLOVES

NO SUN

FEAR

VACCINES

WASHING HANDS W/SYNTHETIC SOAPS

AT LEAST THE GOVERNMENT HAS BEEN CONSISTENT IN ALWAYS GIVING US THE WORST HEALTH INFO
This is what the post looked like on Instagram:
Since the fatality rate of COVID-19 is about 1%, there could be 1,600 new deaths from each day's new infections during the Thanksgiving Week surge of 2020.
Here is what medical researchers and public health experts say about the claims in the meme.
Masks do NOT weaken immune response
"Wearing a mask will not affect your immune system in the least. Your body will continue to work as it's meant to," Jennifer Burgess, D.O., a family medicine physician with Henry Ford Health System says in an article entitled "Debunking Covid-19 mask myths." Burgess continues:
Another rumor I've heard is that wearing a mask will prevent your body from building immunity to colds or viruses, and that is absolutely not true.
Lead Stories has debunked other masks-are-unhealthy claims in past articles, including:
Test Does NOT Show Face Masks Cause Oxygen Levels To Drop Into The 'Danger Zone'
PTFE Sprayed on Blue Masks Does Not Cause Symptoms Similar To COVID-19
No Evidence That Face Masks Cause Staph Infections
Robert Redfield, Director of the U.S. Centers for Disease Control and Prevention says wearing a mask is the most important weapon against coronavirus infection. Public health officials urged Americans not to travel, not to gather indoors in large groups and to stay home until surge of Fall 2020 slows.
Here is Redfield discussing the importance of masks in prevention of COVID-19:
Gloves prevent disease spread, do not suppress immunity
The idea that exposure to dirt and germs strengthens our immune system ignores the science, says Dr. Carl Lauter, an allergist and immunologist at Beaumont Health, a major Michigan healthcare system. In an article on Beaumont's website, Lauter points out that while studies show exposure to germs and dirt and other environmental influences can have a positive effect on children's immune systems, that effect dissipates and adults can't change their immune system by seeking exposure to pathogens, bacteria and viruses:
You shouldn't avoid basic precautions like wearing a mask, cleaning regularly and practicing proper hygiene because you think they are somehow harmful to your immune system," he said. "Doing those things is our best defense against COVID-19.
Lead Stories searched unsuccessfully for peer-reviewed professional scientific reports on the impact of gloves on immune systems.
Vaccines stimulate immune response
The whole point of vaccination is to stimulate the immune system with a small exposure, "training" it to recognize a harmful bacteria or virus so that when a bigger infection hits, the immune system is ready. In its explanation of vaccinology, the U.S. Centers for Disease Control and Prevention describes the process like this:
The first time the body encounters a germ, it can take several days to make and use all the germ-fighting tools needed to get over the infection. After the infection, the immune system remembers what it learned about how to protect the body against that disease.
Lead Stories searched unsuccessfully for peer-reviewed professional scientific reports that found vaccination weakens human immune systems. More than a dozen serious diseases have been wiped out through vaccination programs in the U.S. and elsewhere, including fatal and life-altering diseases like Polio, Hepatitis A and B, Rubella, Measles and Mumps.
Artificial Hand Soap Does NOT cause antibiotic resistance

In a fact-sheet for doctors and nurses on the importance of keeping hands clean, the CDC dispels a variety of myths, including the idea that hand sanitizers make you more prone to bacterial and viral infections:
Using alcohol-based hand sanitizer does NOT cause antibiotic resistance.Alcohol-based hand sanitizers kill germs quick and in a different way than antibiotics.

Alcohol-based hand sanitizers kill germs quick and in a different way than antibiotics. There is no chance for the germs to adapt or develop resistance.
Unclear if sunlight strengthens immunity
A 2016 paper in Biomedical Research International urged further research into the question: "The impact of low levels of UV exposure on the immune system has not been fully reported yet, but it bears interesting differences with the suppressive effect of high levels of UV radiation, as shown by some recent studies."
A World Health Organization overview of the question said research had indicated exposure to sunlight could reduce immune response.
https://web.archive.org/web/20200715205154/https://www.who.int/uv/health/uv_health2/en/index3.html
Several studies have demonstrated that exposure to environmental levels of UV radiation alters the activity and distribution of some of the cells responsible for triggering immune responses in humans. Consequently, sun exposure may enhance the risk of infection with viral, bacterial, parasitic or fungal infections, which has been demonstrated in a variety of animal models.
Unclear if fear weakens immunity
Lead Stories searched for scientific papers regarding the impact of fear on human immune systems but did not find adequate material to determine if the claim is supported or not.