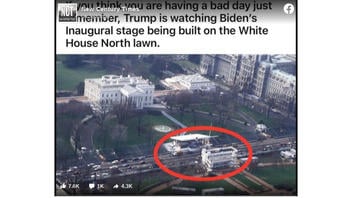 Was the stage for Joe Biden's 2021 inauguration already being built in front of the White House in November 2020? No, that's not true: A meme making the claim features a 1993 photo of the Bill Clinton's first inaugural parade review stand. The inaugural ceremony traditionally is done on the U.S. Capitol steps, not in front of the White House.
The claim appeared in a Facebook meme (archived here) where it was published by the "New Century Times" on November 21, 2020. The meme read:
If you think you are having a bad day just remember, Trump is watching Biden's Inaugural stage being built on the White House North lawn.
This is what the post looked like on Facebook at the time of writing:
(Source: Facebook screenshot taken on Mon Nov 23 14:22:39 2020 UTC)
The photo was taken January 20, 1993, the day before Bill Clinton's first inauguration. The photo does not feature the "Inaugural stage" like the post claims, but a viewing stand for the parade that typically travels on Pennsylvania Avenue from the U.S. Capitol to the White House following the ceremony.
Come January 20, 2021, the Inauguration will take place on the West Lawn of the U.S. Capitol, not in front of the White House like the post insinuates.