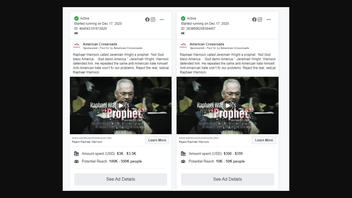 Does a political ad showing Georgia Senate candidate Raphael Warnock saying "God damn America" present the video in context? No, it does not: When Rev. Warnock uttered the controversial phrase, he was discussing the use of those words in a famous sermon by Rev. Jeremiah Wright. By taking Warnock's quote out of context, the ad implied he was communicating his own sentiment, which he was not.
The ad (archived here) began running on Facebook on December 17, 2020. Paid for by American Crossroads, a conservative super PAC, the ad included a six-second video that showed Wright and Warnock, back to back, saying, "God damn America." Text overlaid on top of the video at one point read: "Raphael Warnock: 'God damn America.'" The ad also included a message, which read:
Raphael Warnock called Jeremiah Wright a prophet. 'Not God bless America ... God damn America.' -Jeremiah Wright. Warnock defended him. He repeated the same anti-American hate himself. Anti-American hate won't fix our problems. Reject the real, radical Raphael Warnock.
This is what the ad looked like on Facebook at the time of writing: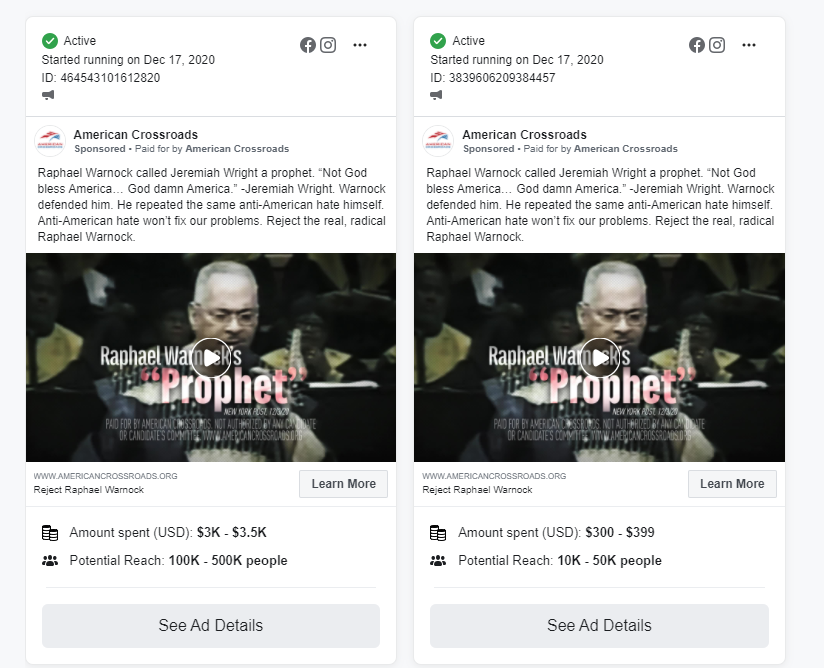 Wright is pastor emeritus of Trinity United Church of Christ in Chicago. He is also a former pastor of Barack Obama. When Obama when running for the presidency in 2008, some of Wright's sermons and statements made national headlines and became a flashpoint in the campaign. (Obama eventually resigned his membership in the church.)
One sermon in particular, which Wright delivered on April 13, 2003, was quoted and talked about extensively. During that sermon, titled "Confusing God and Government," he said:
Not God bless America, God damn America. That's in the Bible, for killing innocent people. God damn America for treating her citizens as less than human. God damn America for as long as she acts like she is God and she is supreme.
Ten years later, on July 11, 2013, Warnock referenced Wright's sermon during a speech at the Chautauqua Institution in Chautauqua, New York. Specifically, Warnock said:
Extracted from its theological and rhetorical context, and looped to the point of ad nauseam, was the most provocative phrase, 'God damn America.' The Black church, so central to Black life yet barely understood by mainstream America, was suddenly thrust to the center of the national dialogue.
In other words, Warnock uttered the phrase, "God damn America," but did so in the context of quoting Wright. It's misleading to quote Warnock as saying those words without explaining that he was, in fact, quoting someone else.
Lead Stories reached out to the Warnock campaign to ask for comment on the ad and others like it. Warnock, a Democrat, is running against Kelly Loeffler, a Republican, in a closely watched race to represent Georgia in the U.S. Senate. Spokesman Michael J. Brewer responded:
This ad is another lowest of the low attack in Kelly Loeffler and her allies' efforts to divide and mislead Georgians for their own political gain. These selective clips were pulled from academic discussions in which Reverend Warnock was discussing the sermon.
All this is not to say that Warnock, who is senior pastor of Atlanta's Ebenezer Baptist Church, has not expressed support for Wright in the past. He has, repeatedly.
In defending Wright, Warnock has compared him to the Rev. Martin Luther King, Jr., according to the Atlanta Journal-Constitution. The paper reported in March 2020:
Warnock likes to remind audiences that King's final sermon was titled 'Why America May Go to Hell,' but he was assassinated before he could preach it. In that sense, Warnock says, Wright's 'Confusing God and Government' sermon is also about holding the country accountable for injustices and oppression.
In 2008, Warnock spoke to Fox News about Wright, praising him as a "preacher and a prophet." He said:
We celebrate Rev. Wright in the same way that we celebrate the truth-telling tradition of the Black church, which when preachers tell the truth, very often it makes people uncomfortable. And I think that the country has been done a disservice by this constant playing over and over again of the same soundbites outside of context.
His full interview can be seen here: