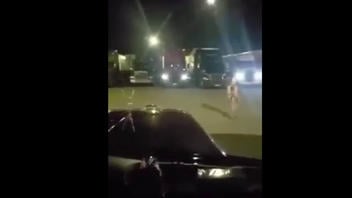 Does this video show "fully armed military units ... moving in Texas USA"? This video is presented without any evidence about where it was recorded or when. Because of the lack of information, it is impossible to draw conclusions about these vehicles at a truck stop or whether they, as claimed, are loaded with live ammunition. Many of the captions and comments on this video and variations of it on social media are alarmist.
The video was published by "Blazing Press" on YouTube on January 11, 2021, titled "1-11-21 FULLY ARMED MILITARY UNITS SEEN MOVING IN TEXAS USA!" (archived here) with this opening message from the Blazing Press narrator:
All right guys, I just got this video. I have no idea where it's from but it's somewhere in the U.S. This is a military group of military tanks. Totally completely live ammo, live armaments trucking through a truck stop somewhere here in the U.S. Like I said. I don't know where it's at. It was just posted. I'll try to figure out where it's from here in just a little while. I mean I'm messaging the poster of whoever posted this. But this has just been uploaded, and I'm pretty sure this is a part of what's happening here that we're starting to become aware of. This is what we told you guys was going to be happening maybe Monday? So there you go. By the way Blazingpress.com please get connected to us with all the links in the description of this video it's imperative that you get telegram on your phone not just get it on the just get it on your browser. I'm talking about actually downloading the app and putting it on your phone because the internet may go out apps may be going down any kind of server dependence of Websites is potentially compromised because of the conservative Trump- if you're a Trump supporter- Literally they are rolling out communism here- So here we go.
Click below to watch the video on YouTube:
This Blazing Press copy of the video has been edited in several ways. A portion of the video is duplicated and repeats twice, this results in the impression that there are more vehicles that roll by than the four that appear in shorter versions of the video. The first portion of the video's audio was replaced with new narration, which, contrary to the title that identifies this as a Texas truck stop, says that the location is unknown. A 20-second section in the middle of the video is just black filler for the narrated track before the video starts over with the original audio. The final video with the repeated cuts is 3 minutes and 39 seconds, most other copies are two minutes and four seconds, with some as short as 45 seconds.
Below are a pair of screengrabs of the Blazing Press video which show the same scene appears at 11 seconds and again at 2:40.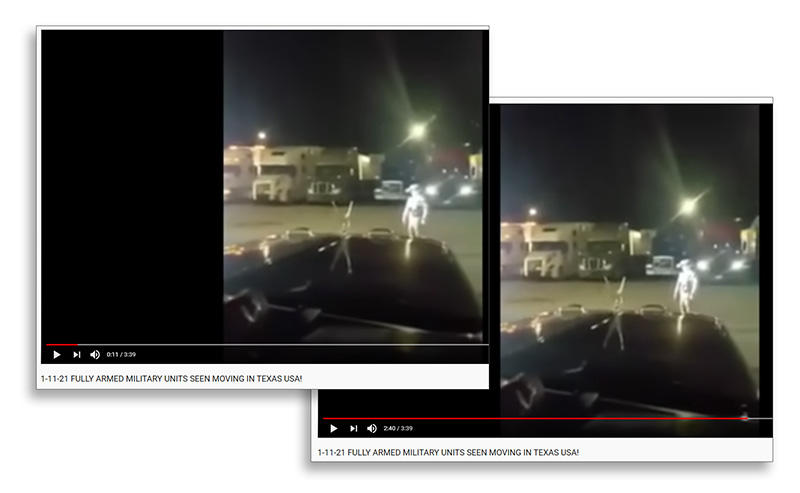 One of the more alarming statements added by the narrator is that they are literally, "rolling out communism here." In the comment section below the video, Blazing Press clarified that it was not meant that troops were rolling out communism. He wrote:
p.s. When I said "communism is being rolled out", I meant the democrats are doing that.... these troops I believe are the GOOD GUYS and loyal to the President
Some instances of this video being posted have intentionally menacing captions. One woman wrote on Facebook:
Army/National Guard in Texas. Stryker ICVs manned and armed at a truck stop. Have you EVER seen this before in public?

This is NOT a drill or a training mission... it is real and it is happening now. Official reason will be "training."

Also, they are all using night vision.
Justin Shackleton's Facebook
post
caption mentions the Insurrection Act of 1807:
Just up to get a drink of water in middle of night and checked Twitter quick. Lots of strange things going on with military movements all across the country. All kinds of chatter about Insurrection Act having been signed by President Trump. The Insurrection Act of 1807 is a United States federal law that empowers the President of the United States to deploy U.S. military and federalized National Guard troops within the United States in particular circumstances, such as to suppress civil disorder, insurrection, or rebellion.

Strange video of troop movements from late Sunday, January 10, 2021, allegedly at a truck stop in Texas. Training exercises are not performed with full battlements, so as not to panic civilians. That's what makes this peculiar, because the guns are mounted.
Texas was not the only state named as the location of this truckstop video. Other copies of the video posted on social media name Florida and Colorado Springs, Colorado. Another copy said it is a service plaza on Interstate 95 in New Jersey. The Hal Turner Radio Show also published an article claiming this was New Jersey. Although Lead Stories has been unable to definitively identify this location at this point,changing the purported location would broaden the reach of this video.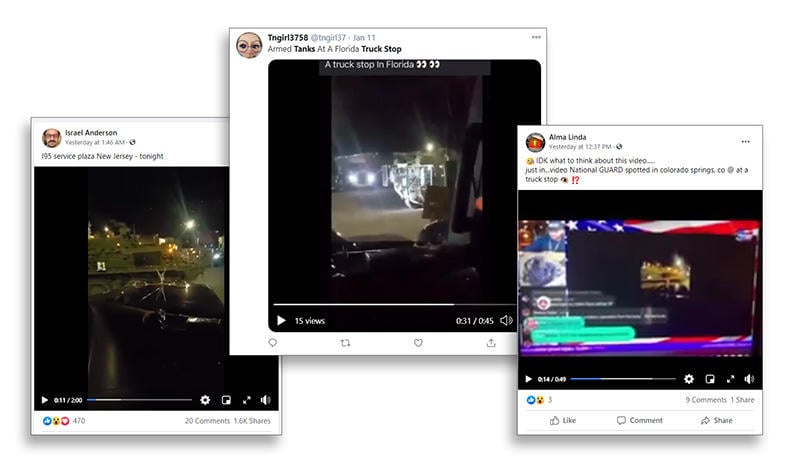 Several copies of the truck stop video were also uploaded to Bitchute with a deceptive preview thumbnail. The thumbnail image shows a military truck with a large "Trump - Pence Make America Great Again 2016" sign attached to the side. That is not found in the truck stop video. It is a click-bait image that dates back to November 2016 post-election protests, and shows a truck which was driven into downtown Indianapolis by a private citizen to counter-protest.
The Bitchute version of the video has been posted on Facebook both as both a link and as a screenshot. In some cases the video is no longer on Bitchute, but the preview image posted on Facebook shows the dramatic scene with no context.
Lead Stories contacted the Pentagon press operations office by email and learned that the Army, or Army National Guard, is the only service using these Stryker vehicles. The Army press contact confirmed that the vehicles in the video were not tanks, but Strykers. These rubber-tired vehicles can travel on public roads.
Without having more information, it was impossible to say where they were going or what they were doing. It would not be unusual for National Guard Units to travel to where they conduct training exercises.
The press office of the Army National Guard provided an audio copy of a media roundtable from January 11, 2021, hosted by chief of the National Guard Bureau, Army Gen. Daniel R. Hokanson. This roundtable was to address questions about the plans going forward to the presidential inauguration in the wake of the events at the capitol on January 6, 2021. In his introduction it was explained:
Right now, we have approximately 6,200 National Guard Soldiers and airmen from 6 states and the District of Columbia on the ground in the NCR supporting civilian authorities. We have received support requests from the Secret Service, Capitol Police, and Park Police, and have been authorized to provide up to 15,000 Guard members to meet current and future inauguration support requirements.

To date, our troops have been requested to support security, logistics, liaison, and communication missions. In case you are not already aware, the National Guard has a long and proud history of inauguration support and the forefathers of today's National Guard were present for the Inauguration of George Washington, and we have been part of every inauguration since.
In response to a question from CBS News regarding armored vehicles, Gen. Hokanson replied:
With respect to armored vehicles, I am not aware of any requests for armored vehicles at this time. None that I am aware of, not any conversations.
The National Guard press office also shared this infographic which shows two ways that the National Guard might be called upon to assist with supporting local law enforcement in Washington, D.C. This image will open in full resolution in a new window.
(source: U.S. National Guard infographic)
Lead Stories recently wrote about an online rumor that President Donald Trump had invoked the Insurrection Act. He still has not as of this writing. Here is Lead Stories' previous report:
President Trump has never made use of the Insurrection Act up to the time of writing of this article on January 11, 2021. In the wake of the events at the U.S. Capitol online, rumors started spreading the President invoked the act, but according to the actual text of the Insurrection Act, a public proclamation is required before the President can use any of the powers mentioned in it. No such proclamation has been made public, which would mean the powers granted by the act are not in effect.
The Joint Chiefs of Staff on January 12, 2021 issued a signed statement to all U.S. troops, condemning the insurrectionists' January 6, 2021 assault on the U.S. Capitol during the ceremonial counting of the Electoral College votes. The statement reminds U.S. troops of their oath to defend the Constitution and constitutional processes and the military code's emphasis on lawful orders.