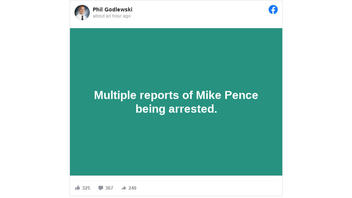 Was Vice President Mike Pence arrested during the chaos engulfing Capitol Hill on January 6, 2020? No, despite what social media posts are saying there is no evidence for this. Pence is still tweeting from his @VP account.
An example of the claim appeared in a post (archived here), published on January 6, 2021.
This is what the post looked like on Facebook at the time of writing:
(Source: Facebook screenshot taken on Wed Jan 6 21:03:33 2021 UTC)
However Pence was still tweeting half an hour after the above post went up:
The violence and destruction taking place at the US Capitol Must Stop and it Must Stop Now. Anyone involved must respect Law Enforcement officers and immediately leave the building.

-- Mike Pence (@Mike_Pence) January 6, 2021
Pence retweeted the same message from his official @VP account.
The vice president's press secretary later tweeted that Pence never left the capitol grounds and would return to the Senate for an evening session:
Vice President @Mike_Pence has returned to the Senate. He never left the Capitol.@VP was in regular contact w/ House & Senate leadership, Cap Police, DOJ, & DoD to facilitate efforts to secure the Capitol & reconvene Congress.

And now we will finish the People's business.
Vice President @Mike_Pence has returned to the Senate. He never left the Capitol.@VP was in regular contact w/ House & Senate leadership, Cap Police, DOJ, & DoD to facilitate efforts to secure the Capitol & reconvene Congress.

And now we will finish the People's business.

-- Devin O'Malley (@VPPressSec) January 7, 2021