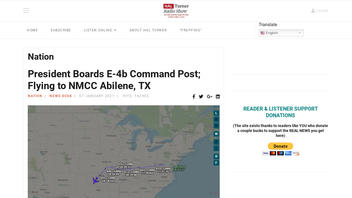 Did President Trump board an E-4b Command Post to fly to the National Military Command Center in Abilene, Texas on the evening of January 6, 2021? No, that's not true: President Trump was in Washington, D.C. on January 6 and 7. He delivered a mid-day address to supporters in Washington on January 6, and he delivered a video message from inside the White House. An Abilene newspaper also confirmed that the president was not there.
The claim originated from an article published by Halturnerradioshow.com in the early hours of January 7, 2021 titled "President Boards E-4b Command Post; Flying to NMCC Abilene, TX" (archived here) which opened:
President Trump boarded a "Nightwatch" Boeing E-4b aircraft late this evening and is flying to the National Military Command Center (NMCC) in Abilene, TX. There are only four such planes in the world. The E-4b is a Command and Control aircraft to allow a POTUS full, complete, and absolute control over all US Military assets, worldwide.

Word coming out of legal circles is that the Congress is in Washington "Committing Treason" and the President is "headed to the NMCC from where it is all being monitored."
Users on social media only saw this title, description and thumbnail:
President Trump boarded a
This reporting is not true. President Trump was not on his way to Abilene Texas, but was in Washington D.C. on January 7, 2020. On the evening of January 7, he made a speech from the White House Diplomatic Reception Room. The video was posted to his twitter account at 7:10 PM.
January 8, 2021
Below are two screen grabs from the The White House video posted to YouTube compared to an image of the Diplomatic Reception Room from the website of the White House Historical Association showing the distinctive panoramic scene on the Zuber Wallpaper.
(image sources: White House Historical Association and screen grabs from Youtube White House Video of January 7, 2021)
This rumor about President Trump flying to Texas may have originated from attorney Lin Wood who has been a prominent figure driving many conspiracies about the US election. Wood's Twitter account was suspended on January 7, 2021 as reported by thehill.com, "Twitter permanently removes pro-Trump lawyer Lin Wood from platform." The screenshot below spanning three social media platforms, was posted by a Facebook user(archived here) on January 6, 2020. It shows a Lin Wood post on Parler, sharing a cropped anonymized screenshot of a tweet. Wood's introduction says:
Please read the message below carefully. We have ONE President at a time. Our President is Donald J. Trump.
When President Trump speaks, listen carefully.
The screenshot reads:
Trumps in Abilene TX, at the Natl Defense Command Center.

So while congress is on capital hill committing treason surrounded by the military who is 'helping them' by Pences orders; Trumps in Texas at the command center watching....

You think if the military didn't have his back he would be there? or escaped Washington on AF1.

Sect. Of Defense is playing Pence and Congress; waiting for them to finish the crime.
(source: Facebook screenshot 1/8/2021 12:10 PM EST)
The Claims specific to air travel regarding the President Trump flying to Abilene, Texas were addressed by Abilene's reporternews.com on the morning of January 7, 2021 in this article, "Fact Check: President Trump did not fly to national command center in Abilene, TX"
According to those familiar with Dyess Operations, Dyess AFB is on a regular rotation for stopovers by an E-4B that would in be in the air in this part of the country. The flying command centers are part of the Air Force's Strategic Command that is under the Global Strike Command. As a B1-B bomber base, Dyess is part of the GSC.

White House correspondents reported Thursday morning that Trump is at the White House.
President Donald Trump's concession speech on Thursday, January 7, 2021 from the Diplomatic Reception Room inside the White House in Washington DC removes any question of President Trump having been flown to Texas.