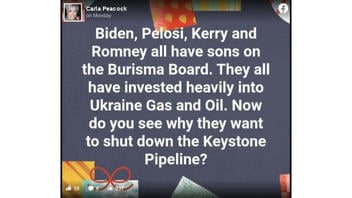 Do President Joe Biden, House Speaker Nancy Pelosi, Sen. Mitt Romney and climate envoy John Kerry all have sons on the board of Burisma Holdings? No, that's not true: None do. Biden's youngest son used to sit on the board of the Ukrainian energy company, but no longer. There is no publicly available evidence to support the allegation about the sons of the other three politicians.
The claim appeared in a Facebook post (archived here) published on February 1, 2021. It read:
Biden, Pelosi, Kerry and Romney all have sons on the Burisma Board. They all have invested heavily into Ukraine Gas and Oil. Now do you see why they want to shut down the Keystone Pipeline?
This is what the post looked like at the time of writing:
(Source: Facebook screenshot taken on Wed Feb 3 15:05:25 2021 UTC)
Hunter Biden used to sit on Burisma's board, but no longer. He left in 2019 and has since said that he won't work for foreign-owned companies during his father's presidency. See our previous coverage on that story here.
Regarding the sons of the other three politicians, there is no publicly available evidence to support that claim that they are on the board of Burisma. None is listed on the company's website, which has a page dedicated to its directors.
House Speaker Pelosi has one son, Paul Pelosi Jr. Lead Stories has written about his life before and has found no connection to the Ukrainian oil and gas company.
Sen. Romney has five sons -- Tagg, Matt, Josh, Ben and Craig -- who work in a variety of occupations.
Kerry, Biden's climate envoy, has three stepsons, none of whom are listed as directors of Burisma. H. John Heinz IV, Andre Heinz and Christopher Heinz are the sons of Teresa Heinz, widow of former U.S. Sen. John Heinz and now Kerry's wife.
Lead Stories reached out to Burisma Holdings to comment for this story. We will update, as appropriate, if we receive a response.
For context, to understand the post, the Keystone XL pipeline would have transported crude oil from Alberta, Canada, to refineries on the Gulf of Mexico. On his first day in office, January 20, 2021, President Biden rescinded the construction permit needed to complete the pipeline, as part of his effort to address climate change. Biden critics contend cancellation of the permit to add miles to the pipeline benefits foreign oil producers.
Lead Stories has written about Keystone XL in several previous fact-checks.