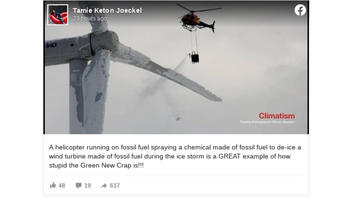 Does this photo show a helicopter running on fossil fuel, and spraying a chemical made of fossil fuel to de-ice a wind turbine made of fossil fuel? No, that's only partly true. The helicopter is just spraying plain hot water on the iced blades of a wind turbine in the municipality of Arjeplog in the Swedish province of Lapland. Wind turbines do contain some fiberglass, resin, and plastic, but according to industry surveys, this only amounts to 11%-16% of the turbine's mass. Steel makes up 71%-79% of a wind turbine..
The claim originated in a post (archived here) where it was published on February, 15, 2021. It opened with this caption:
A helicopter running on fossil fuel spraying a chemical made of fossil fuel to deice a wind turbine made of fossil fuel during the ice storm is a GREAT example of how stupid the Green New Crap is!!!
This is what the post looked like on Facebook at the time of writing:
(Source: Facebook screenshot taken on Tue Feb 16 17:08:55 2021 UTC)
A nearly identical post was shared on Twitter:
A helicopter running on fossil fuel spraying a chemical made from fossil fuels onto a wind turbine made with fossils fuels during an ice storm is awesome. pic.twitter.com/3HInc2qKb9

-- Luke Legate (@lukelegate) February 15, 2021
A February 1, 2015, article from the Norwegian publication Teknisk Ukeblad Media (in English) featured this photo and a story about the Swedish company, Alpine Helicopter, which had been working to devise a means to de-ice wind turbines. The water used is heated overnight with an oil burner in the water tanker truck. The water jet is controlled with a joystick during the de-icing.
According to Widgren, the price tag for deicing a wind turbine is equivalent to the value of two days' turbine production. He does not state the hourly rate for the helicopter flight.

- It is neither environmentally friendly nor economically wise to leave the wind turbine standing still. It is best to start production as soon as possible, says Widgren.

Before the park operator orders deicing, however, he should check the weather forecast.

- You have to talk to a meteorologist to make sure that the weather conditions are right, and that there will be good winds in the next few days. There is no point in removing ice if you get a new ice case a few days later, says Widgren.

No chemicals are added to the water, in contrast to aircraft deicing, which often involves extensive use of chemicals.
Below is a video posted in February 2016, from the YouTube channel of Alpine Helicopter showing the de-icing process:
According to the United States Geological Survey website, referencing a report from the National Renewable Energy Laboratory (page 65 of the pdf), steel is the main material that goes into making a wind turbine:
According to a report from the National Renewable Energy Laboratory, wind turbines are predominantly made of steel (71-79% of total turbine mass), fiberglass, resin, or plastic (11-16%), iron or cast iron (5- 17%), copper (1%), and aluminum (0-2%).
Fossil fuels are used in the making of steel and shaping it into industrial forms.
Lead Stories has reached out by email to Alpine Helicopters and will update with additional information if appropriate.