STORY UPDATED: check for updates below.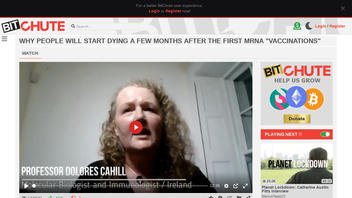 Do mRNA vaccines increase the risk of death for COVID-19 patients, provoke immune system over-reactions and turn patients into genetically modified organisms whose own immune systems attack them? No, that's not true: mRNA vaccines do not alter human genes. Cytokine storms, an immune system overreaction, are an occasional symptom of COVID-19, treated with the same steroids as those administered to former President Donald Trump. A UCLA infectious disease expert and clinician who treats COVID patients said his literature search found no reports of a surge of lethal "cytokine storm" deaths caused by mRNA vaccines and the FDA refutes claims of gene alteration and high risk of adverse reactions.
The claims originated in a video published by BitChute on December 31, 2020, titled "Why People Will Start Dying A Few Months After The First mRNA 'Vaccinations'" (archived here) which opened:
The cytokine storm as an antibody dependent response of the human body Mirrored from: https://www.bitchute.com/video/A5wDhtDdYdVe/
Users on social media only saw this title, description and thumbnail:
The cytokine storm as an antibody dependent response of the human body Mirrored from: https://www.bitchute.com/video/A5wDhtDdYdVe/
Appearing on the video is Dolores Cahill, a professor of translational medicine at University College, Dublin, Medical School who holds a Ph.D. in immunology.
Discussing her theory at length while displaying on-screen a 2012 research paper about SARS vaccines, Cahill tells viewers to fear mRNA vaccines for COVID-19, which she says will soon be causing deaths:
This mRNA, why it's so deadly is that it now goes into your genes and starts expressing and it starts stimulating the immune response from inside your body and it literally, you can't get rid of it, because the source of the viral protein ... you now become like a genetically modified organism...people will die, they'll go into like septic shock and then they'll go into organ failure within three four or five days and they will die if they don't get them seen.
But Prof. Timothy Brewer, a UCLA David Geffen School of Medicine infectious disease researcher who is also involved in treating COVID patients, said Cahill has it backward. In a February 9, 2021, phone interview with Lead Stories, he said she is wrong on the science:
One of the advantages of mRNA vaccines is they do not integrate at all and they don't even get into the nucleus of the cell. All the action happens in the cytoplasm so there's no concern about any genetic modification.
Brewer cited a 2018 research review in Nature Review that describes the state of the science of mRNA vaccination six years after the paper Cahill points to in the video. Lead Stories in December researched and debunked a claim that messenger RNA would rewire the human genome. That's not how it works.
FDA spokesperson Alison Hunt confirmed that in a February 16, 2021 email to Lead Stories, writing:
The two authorized COVID-19 vaccines contain mRNA. After the mRNA enters the cell it is translated into the virus spike protein. The mRNA does not enter the nucleus of the cell. The body breaks down mRNA within a matter of hours; once the mRNA is degraded, no more antigen can be synthesized.
Brewer said one of the problems mRNA vaccine research had to solve was the tendency of the messenger material - which triggers cells to make proteins that trigger the body's immune reaction -- to break down and not last long enough in the body to be effective. "It's been the opposite problem," to the one Cahill described, Brewer said. "The mRNA would degrade too quickly or it would not get into the cells." New approaches have packaged the messenger RNA so that it can trigger the body to develop defenses against the SARS-CoV-2 virus that causes COVID.
Brewer said cytokine storms -- an overly vigorous immune response -- have been a problem for a few COVID patients. From the beginning of the pandemic, clinical workers like Brewer have observed that some patients in the late stages of the disease suffer more from the over-reaction of their immune system than from the damage done by the virus itself. Steroids like dexamethasone have proven effective in tamping down the reaction, he said. That is one of the drugs administered to Donald Trump after he tested positive for COVID-19.
Brewer said he has found no research or reports of mRNA vaccines causing the cytokine storms predicted by Cahill, who is not a medical doctor and not a clinician treating patients.
FDA spokesperson Hunt said both mRNA vaccines were not made available under the Emergency Use Authorization until FDA had reviewed effectiveness findings and safety data from "clinical trials conducted in tens of thousands of study participants." She said the trials are conducted to the standards set forth by the FDA and, she wrote, were convincing:
FDA has determined that the totality of the available data provides clear evidence that both vaccines may be effective in preventing COVID-19 and support that the known and potential benefits outweigh the known and potential risks of the vaccine's use in millions of people, including healthy individuals.
Hunt said clinical trials will continue, to track the safety and effectiveness. Plus, manufacturers will carry out continuing studies to track occurrence of pre-specified adverse events of special interest, plus deaths and hospitalizations.
Lead Stories has been unable to obtain original public statement documents, but the Irish Times reported February 10, 2021, that University College, Dublin, Medical School has disassociated itself from Cahill's statements about COVID-19 and that the EU has asked her to resign as vice-chair of a multinational medical innovations organization, saying her statements about COVID could cause significant harm if taken literally.
2021-02-16T23:20:12Z

2021-02-16T23:20:12Z

Updated to add U.S. Food and Drug Administration comments about gene therapy and about safety testing of mRNA vaccines.