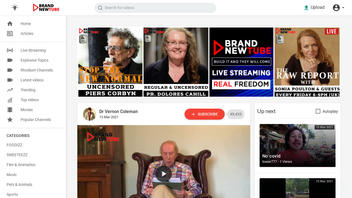 Are COVID-19 vaccines "weapons of mass destruction"? No, that's not true: There's no public evidence the vaccines put the future of mankind at risk. To the contrary, medical authorities widely agree the vaccines represent one of our best hopes of quashing the pandemic. The claim is one of several made during a video that recycles debunked conspiracy theories about COVID-19 and vaccines.
The claims appeared in a video (archived here) posted on Brand New Tube by "Dr. Vernon Coleman" on March 13, 2021. The video was titled "Covid-19 Vaccines Are Weapons of Mass Destruction - and Could Wipe out the Human Race." Toward the start, Coleman says:
We all know that the evil elite -- the Agenda 21 and Great Reset promoters -- have all along intended to kill between 90% and 95% of the world's population. Sadly, I fear it's probably too late to save many of those who've had the vaccine.

Millions doomed, and I fear that many will die when they next come into contact with the coronavirus.
Users on social media saw this title, description and thumbnail:
Dr Coleman says this is the most crucial video he's ever made about covid-19. Please share this video widely. To receive notifications every time Dr Coleman releases a new video, please download the brand new tube
Among Coleman's allegations are that an "evil elite" intended to wipe out up to 95% of the world's population, that the vaccines are gene therapy and that they may kill more people than COVID-19.
Independent experts have repeatedly disproven those theories, which are not supported by peer-reviewed findings by qualified researchers.
Coleman begins with references to two debunked conspiracy theories: "Agenda 21" and the "Great Reset."
Lead Stories has previously written about Agenda 21, which is the idea the United Nations has a secret plan to wipe out 95% of the world's population. See our reporting here. While it's true that Agenda 21 exists, the U.N. plan focuses on sustainable development. It's not secret, and it does not call for the near extermination of the human race. You can see the text of Agenda 21 here.
Similarly, the "Great Reset" is a theory that proposes the global elite are conspiring to impose a nefarious, secret agenda. In a recent blog post, the Institute for Strategic Dialogue offered the following description:
The Great Reset is the name of an initiative launched by the World Economic Forum (WEF) in June 2020 that called for 'fairer outcomes' and a rethinking of global investment and government expenditure in order to revive the world's economy in light of the catastrophic economic effects of the pandemic. Conspiracy theorists believe this initiative is in fact a plot to destroy capitalism and enact a one world government under the cover of COVID-19.

There's no credible corroboration for the conspiracy theorists' interpretation of the plan, which is explained in detail here.
Coleman clearly considers Bill Gates to be part of the global elite, mentioning the Microsoft founder by name in the video. Lead Stories has previously debunked the claim that Gates suggested eliminating about 10% to 15% of the global human population through the use of vaccines. You can read our earlier story here. Gates's quote was taken out of context; he was talking about possible strategies to slow down population growth to reduce CO2 emissions.
At 2 minutes, 10 seconds in the video, Coleman makes that claim that the vaccines for COVID-19 are gene therapy. He says:
For longer than I like to think about it, I've been warning about the dangers of the COVID-19 vaccines. I know that they shouldn't really be called vaccines ... But if I call them gene therapy, then the people who we're trying to reach, who've been told that they're vaccines, won't know what I'm talking about.
Coleman has made this allegation before, and Lead Stories has debunked it before. See our previous reporting here. The vaccines for COVID-19 do not modify a person's genes to treat or cure disease, which is how the U.S. Food and Drug Administration defines gene therapy. For a related debunk, Lead Stories spoke to Dr. Douglas Drevets, chief of infectious diseases at Oklahoma University Health Sciences Center. In an email, dated February 3, 2021, he wrote:
Vaccination, e.g. mRNA vaccination, does not alter any genes/DNA. It simply instructs our immune cells to make an immune response against a germ, or against a part or a product of a germ (e.g. a toxin - such as in tetanus or diphtheria).
In the video, Coleman further alleges, at 7 minutes, 2 seconds:
The vaccines weren't designed to prevent infection or transmission. The vaccines don't stop people getting COVID-19.
That's not true. According to the U.S. Centers for Disease Control and Prevention (CDC), all the vaccines currently available in the United States are highly effective at preventing COVID-19. Of course, that doesn't mean that someone who gets the vaccine could not contract COVID-19 -- there's always a chance -- but the odds are dramatically decreased with a vaccine, which may also help you from getting seriously ill if you are infected with the virus.
The CDC recognizes the COVID-19 vaccines as an important tool to quash the global pandemic. It recommends that people get the vaccine as soon as they are eligible. Here's more from the CDC:
Wearing masks and social distancing help reduce your chance of being exposed to the virus or spreading it to others, but these measures are not enough. Vaccines will work with your immune system so it will be ready to fight the virus if you are exposed. The combination of getting vaccinated and following CDC's recommendations to protect yourself and others will offer the best protection from COVID-19.
Coleman is not convinced. At 3 minutes, 10 seconds in the video, he says:
I think I was right to suggest that the vaccines could kill more people than COVID-19.
And later, around 8 minutes, 20 second, he adds:
The death toll is terrifying, but most authorities keep insisting that these are all coincidences.
Indeed, Lead Stories has covered these coincidences before. It is statistically inevitable that some people will get sick and die after getting the shot, for reasons that are totally unrelated to their body's response to the vaccine. People die every day of everything from heart attacks to cancer. The vaccine, administered to millions daily in March of 2021, will not prevent those deaths. The hope with the COVID-19 vaccines is that they will lower the number of people who contract the disease, which will thereby limit the spread and decrease the number of additional illnesses and deaths. See our analysis here.
Between December 14, 2020, and March 8, 2021, more than 92 million doses of a COVID-19 vaccine were administered in the United States. Some people experienced no side effects. Others had mild side effects, such as pain, swelling and a fever, while a small number of people experienced a severe allergic reaction, something the CDC describes as extremely rare. To date, the CDC, which investigates any report of death, "has not detected patterns in cause of death that would indicate a safety problem with COVID-19 vaccines."
By contrast, more than 2.6 million people have died from COVID-19 worldwide, including more than half a million in the United States, according to the latest numbers from Johns Hopkins University.