STORY UPDATED: check for updates below.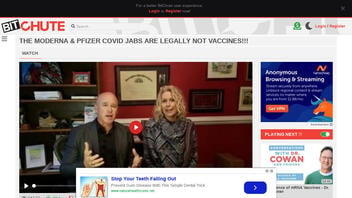 Have Moderna and Pfizer delivered vaccines that cannot legally be called COVID-19 "vaccines" and are these mRNA shots only designed to relieve symptoms caused by the S-1 spike protein, not by the SARS-CoV-2 virus? No, neither claim is true: The person making the claims is an exercise physiology expert without certifications in virology, epidemiology, vaccinology or public health. His claims directly contradict the consensus of clinical experts involved in treating COVID-19 patients. Similarly, his claims ignore the U.S. Centers for Disease Control and Prevention definition of vaccine. Finally, publicly available documentation by the U.S. Food & Drug Administration clearly states the Moderna and Pfizer vaccines defeat the virus that causes COVID-19.
The claims originate in a video published by BitChute on January 16, 2021, titled "The Moderna & Pfizer Covid jabs are legally NOT Vaccines!!!" (archived here) which opened:
Dr. David Martin methodically and accurately takes apart the phony story that Moderna and Pfizer are delivering vaccines. He reveals that Moderna admits that their patents say "gene therapy" not "vaccine." They put a synthetic RNA fragment embedded ...
Users on social media only saw this title, description and thumbnail:
Dr. David Martin methodically and accurately takes apart the phony story that Moderna and Pfizer are delivering vaccines. He reveals that Moderna admits that their patents say "gene therapy" not "vaccine." They put a synthetic RNA fragment embedded ...
Martin, for the sake of argument, substitutes his own definition for the legally-accepted CDC definition of vaccine and vaccination. Here is the definition that governs U.S. public health decisions about fighting the pandemic: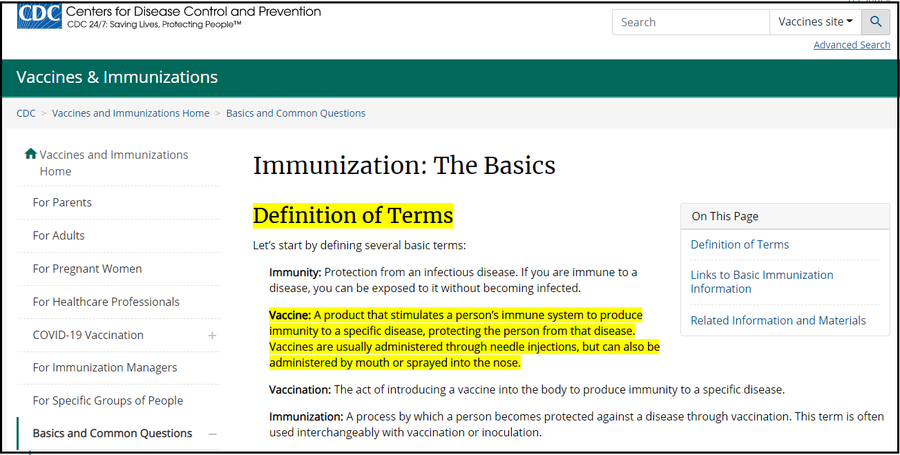 (Source: CDC website screenshot taken Wed Feb 2 17:33 UTC 2021)
Dr. Douglas Drevets, chief of infectious diseases at Oklahoma University Health Sciences Center, said in a February 3, 2021, email to Lead Stories that the mRNA shots are not, as Martin claims, gene therapy. Gene therapy, the infectious disease professor explained, is designed to alter a person's DNA to address disease caused by abnormal or missing genes:
Vaccination, e.g. mRNA vaccination, does not alter any genes/DNA. It simply instructs our immune cells to make an immune response against a germ, or against a part or a product of a germ (e.g. a toxin - such as in tetanus or diphtheria).
Addressing similar claims by a limited provider in December, 2020, Drevets told Lead Stories infection-preventing vaccines slow the spread of disease by reducing the number and severity of infections in the population. In his most recent email, as in December, he emphasized the careful clinical approach, saying that while other vaccines work this way, there is only preliminary data to document the new COVID vaccines' effect:
The presumption is that they will prevent some degree of spread. This was not tested for in the studies as to do this you have to identify cases, and then track down all the people that they might have infected.
In a February 4, 2021 email to Lead Stories, an FDA spokesperson said the FDA has not made expansive claims of the vaccines' ability to prevent transmission from carriers, nor of the duration of protection:
From our press release on the Pfizer BioNTech EUA and our press release on Moderna EUA: At this time, data are not available to make a determination about how long the vaccine will provide protection, nor is there evidence that the vaccine prevents transmission of SARS-CoV-2 from person to person.
Drevets said Martin's claim about vaccine only treating the SARS-Cov2 spike don't match the actual use of the vaccine in clinical trials. Vaccines were proven effective, Drevets said, against people found to have been sickened by the virus that causes COVID-19:
In the clinical trials, patients were identified first by symptoms, and then were tested for the presence of virus to confirm that the symptoms were caused by the SARS-2-CoV rather than some other virus. So in the person infection comes first then symptoms, but in the study infected people were first identified by symptoms and then by the presence of virus.
In its email to Lead Stories, the FDA said the spike protein is the indicator by which the mRNA vaccines fight the virus:
From our press release on the Pfizer BioNTech EUA: The vaccine contains a small piece of the SARS-CoV-2 virus's mRNA that instructs cells in the body to make the virus's distinctive "spike" protein. When a person receives this vaccine, their body produces copies of the spike protein, which does not cause disease, but triggers the immune system to learn to react defensively, producing an immune response against SARS-CoV-2.
Martin's claims are also directly contradicted in publicly available CDC documents.
Here, for instance, is the FDA's description of its approval of the Pfizer/BioNTech product: "...a vaccine for the prevention of coronavirus disease 2019 (COVID-19) caused by severe acute respiratory syndrome coronavirus 2 (SARS-CoV-2) in individuals 16 years of age and older.
CDC fact sheets also directly contradict Martin's claims. In materials provided to the public, the CDC says:
COVID-19 vaccination will help keep you from getting COVID-19
All COVID-19 vaccines currently available in the United States have been shown to be highly effective at preventing COVID-19.
All COVID-19 vaccines that are in development are being carefully evaluated in clinical trials and will be authorized or approved only if they make it substantially less likely you'll get COVID-19. Learn more about how federal partners are ensuring COVID-19 vaccines work.
Based on what we know about vaccines for other diseases and early data from clinical trials, experts believe that getting a COVID-19 vaccine may also help keep you from getting seriously ill even if you do get COVID-19.
Getting vaccinated yourself may also protect people around you, particularly people at increased risk for severe illness from COVID-19.
Experts continue to conduct more studies about the effect of COVID-19 vaccination on severity of illness from COVID-19, as well as its ability to keep people from spreading the virus that causes COVID-19.
In a December 17, 2020, phone call with Lead Stories, Drevets said preliminary data suggested the vaccines will reduce spread, even by asymptomatic carriers, and he provided this common-sense explanation:
...let's just say that you've been vaccinated. This organism comes. It sticks in your nose and it will probably be there for a few days. It may try to replicate...but because you've been vaccinated, you have an immediate immune response...And so the organism, the virus, never has a chance to replicate to get up to a sufficient number where you can then infect somebody else.
In the video, Martin said vaccine makers and regulators have just thrown together a cluster of symptoms, but that COVID-19 is not really a disease. The FDA, in its email to Lead Stories, rejected that claim:
Is COVID-19 a set of symptoms or a disease?
Coronavirus disease 2019 (COVID-19) is an infectious disease caused by the novel coronavirus, SARS-CoV-2, that appeared in late 2019. It is predominantly a respiratory illness that can affect other organs. People with COVID-19 have reported a wide range of symptoms, ranging from mild symptoms to severe illness. Symptoms may appear 2 to 14 days after exposure to the virus. Symptoms may include: fever or chills; cough; shortness of breath; fatigue; muscle or body aches; headache; new loss of taste or smell; sore throat; congestion or runny nose; nausea or vomiting; diarrhea.
Lead Stories reached out to Martin February 2, 2021, using the email by which his staff have handled our previous questions. We will update this report, as appropriate, when he replies.
2021-02-04T18:07:23Z

2021-02-04T18:07:23Z

Updated to include responses from the FDA.