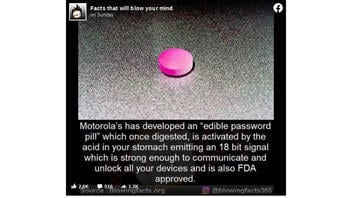 Did Motorola develop an "edible password pill" that could unlock a person's devices, and has it received FDA approval? Yes, kind of. In 2013 Motorola presented a novel idea -- a "vitamin authentication" tablet. This grain-of-sand-sized chip in a pill was manufactured by Proteus Digital Health as a way to track a person's medicine intake, and won FDA approval. Owners of the technology say it could be used to also broadcast passwords.
The meme appears in a post (archived here) published by "Facts that will blow your mind" on February 28, 2021. It reads:
Motorola's has developed an "edible password pill" which once digested, is activated by the acid in your stomach emitting an 19 bit signal which is strong enough to communicate and unlock all your devices and is also FDA approved
This is what the post looked like on Facebook at the time of writing:
(Source: Facebook screenshot taken on Tue Mar 2 15:57:09 2021 UTC)
The original purpose of Proteus Digital Health's chip was not to unlock a person's digital devices, but to authenticate if a person had taken their medication. In 2013 an alternative application for this high-tech pill, digital authentication, was not a Motorola product that was "ready to ship" but was presented as a novel idea at the D11 Conference for technological developments, where owners of the technology declared it could just as easily broadcast a personal password to unlock phones, computers and doors.
The case was made by Regina Dugan, who was from 2009 to 2012 director of DARPA, (Defense Advanced Research Projects Agency), a publicly applied technology research lab. In August of 2011 Google acquired Motorola Mobility and hired Dugan as senior vice president for advanced technology and products.
This video shows Dugan introducing the novel idea of an authentication pill or vitamin at the D11 Conference in 2013, where she states the technology is cleared by the FDA and could just as easily broadcast passwords as information about a person's medicine intake.
The patent for Proteus' pill was issued in 2011, and in July of 2012 the company received the first FDA approval for such a device as reported by mobihealthnews.com in the article, "Proteus gains de novo FDA clearance for ingestible biomedical sensor," Approved Proteus Ingestible Sensors are listed on the FDA website.
Google sold Motorola Mobility in January of 2014.
CNBC.com reported on June 15, 2020, "Proteus Digital Health, once valued at $1.5 billion, files for Chapter 11 bankruptcy"
The Silicon Valley company develops ingestible sensors that communicate when medicines are taken, plus a wearable patch that monitors the response. At one point, the "smart pill" maker was valued at $1.5 billion according to Forbes.
Lead Stories reached out for comment to Motorola's press contact by email and will update this fact-check, as appropriate, if they respond.