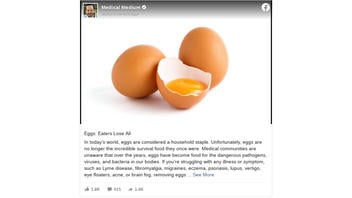 Does eating eggs feed pathogens and "feed" heavy metals in your liver, fostering disease? No, that's not true: The claim was published without citation of evidence. Nutritionists and other medical experts say this naturopathic claim ignores the established scientific consensus of how the human body functions and ignores the fact that millions of people eat eggs with none of the complications warned of in this claim.
The claim is found in a Facebook post (archived here) published September 30, 2020, and circulating online under the title "Eggs: Eaters Lose All." It opened:
Medical communities are unaware that over the years, eggs have become food for the dangerous pathogens, viruses, and bacteria in our bodies.
This is what the post looked like on Facebook at the time of writing:
(Source: Facebook screenshot taken on Mon Mar 22 23:41:44 2021 UTC)
"What's the evidence and what's the source of these claims?" wrote Patrick Solverson, a Ph.D. professor of nutrition at Washington State University's medical school. Floyd College of Medicine staff circulated among themselves Lead Stories' questions about the claim in January, 2021, before sending comments back to Lead Stories. "Pretty audacious to claim to be more knowledgeable than 'medical communities.'" Solverson wrote.
Prof. Susan Kynast-Gales, a Ph.D. clinical professor of nutrition and dietetics at the Floyd College of Medicine who researches the effects of diet on liver function, called the claims "misinformation about infectious disease and egg consumption." In a January 21, 2021, email forwarded to Lead Stories, Kynast-Gales wrote: "The questionable claims involve issues that are not commonly reviewed in the nutrition literature about eggs...The Food and Drug Administration webpage that specifically covers food safety and egg consumption, also is notably devoid of information on the claims."
The Facebook post makes various claims which this fact check will address in order:
'Eggs have long been the preferred lab medium for growing viruses and bacteria.'
Not true. Solverson said labs are more likely to use purpose-grown cell lines, rodents, rabbits and goats for growing viruses. Egg yolks were in the past used as growth medium, but rodents are the most widely used.
The post then implies that because viruses and bacteria can be grown in egg medium, eggs will make existing viral and bacterial medical conditions worse:
Viruses, and bacteria can create symptoms and conditions like heart palpitations, fatigue, weight gain, hot flashes, anxiety, acne, and more. So when you eat an egg, you could be gradually worsening your condition without realizing it.
Eggs aren't to blame for viral or bacterial infections in humans, Solverson wrote. "Viruses and bacteria are everywhere, including on your skin, in your mouth and in your gut," Solverson's January 21, 2021, email said. "Thank goodness for our immune system."
The post then proposes a theory of eggs that flies in the face of generations of chemical research into proteins, which are not a living thing. It says:
The proteins in an egg are not mature because they're still in the development phase. For this reason, enzymes can attach to the protein in a unique process that only happens in an egg. This process makes it possible for the pathogen to easily absorb the proteins and enzymes through their membrane and use them for food.
"Proteins do not 'develop' or 'mature,'" Solverson wrote. "Proteins are a series amino acids bound together and folded into a functional unit in three dimensional space."
Pathogens and heavy metals 'feed' on eggs

Pathogens and heavy metals feeding on eggs in your liver, proliferate and create a stagnant, sluggish liver.
Solverson mocked this claim's simplistic description of eggs in your liver, writing:
Eggs are completely digested in the small intestine into their functional units: primarily water, amino acids, lipids, and some vitamins and minerals.

A great comprehensive breakdown available to the public for free is the USDA Nutrient database. There are no eggs in your liver, even if you're a female.